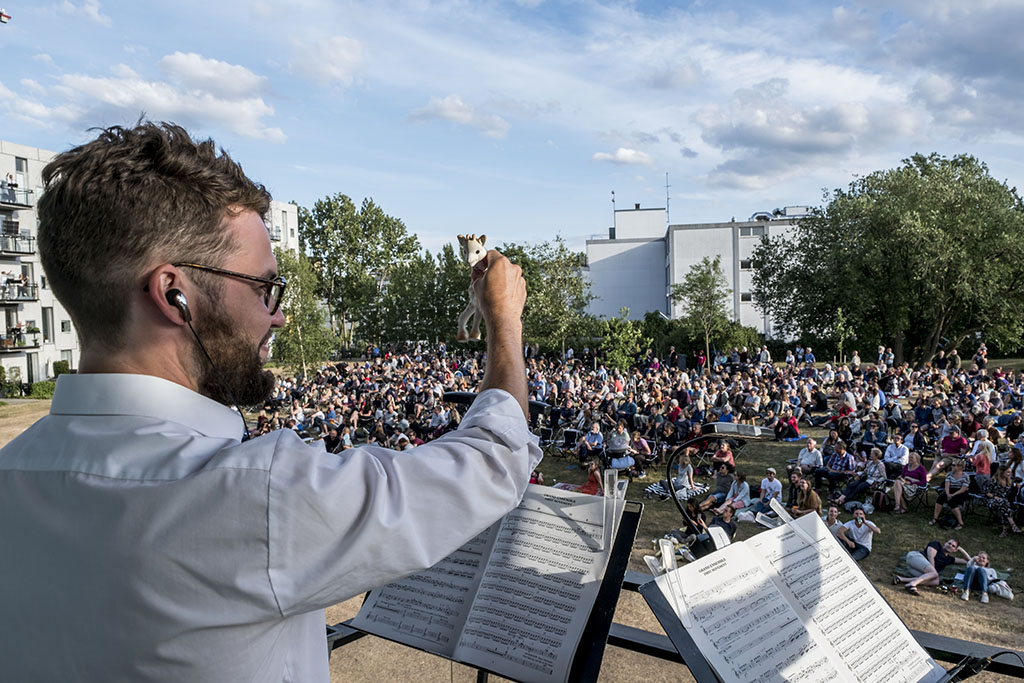 About Metropolis 2018
Season programme for Metropolis 2018
– all power to the audience
Metropolis 2018 gives the power to the audience. This summer's programme with international performance and art in urban space presents artists who seek to change the world through the creation of communities and the spirit of togetherness.
We move art out of the comfort zone, out into the city and right into our daily lives. We dream about a parallel society, cohesion, and a new world order. And we invite the audience to join in.
There is no fourth wall between art and reality, and no comfy seats to lean back in. An apartment block, a crane, a train, an abandoned industrial building, one tonne of salt, a tent in a natural park, a beach, a pier in the centre of the city form our city stages, where new communities are formed and new thoughts are created.
Brace yourselves for a summer where we shall sleep together and dream about a new future. Where we shall dance together in an interpretation of our city. Where we shall listen together to the sounds of daily life interpreted by a symphony orchestra. Where we shall meditate at sunrise to a minimalistic dance ritual. Where we shall make time stand still.
You will get mud on your shoes and sun in your eyes. Altitude sickness and stage fright. But if you want to participate there is a summer packed with transforming performing art before you.
See the full programme on www.metropolis.dk
opHAV by GLiMT
The Danish circus company is set to open with opHAV by an old harbour crane in Copenhagen's Southern Harbour. With the crane as a meeting place for travelers heading out into the world and for the people arriving here, GLiMT explores our tolerance for the unknown. Are we really as good at facing one another as we should be?
31 May-3 June at Slusens Bådebyggeri, Cph. S
THE NIGHT by hello!earth
The Danish performance company hello!earth invites you on a 14-hour collective journey through the night, where 30 people will sleep together and dream about a new society.
1-3 June / 7-9 June / 29, 30 June, 1 July on three secret places
GRAND ENSEMBLE by Pierre Sauvageot & Copenhagen Phil
Like in a doll's house, Pierre Sauvageot opens up the façade of the homes in a block of flats.People live side by side, yet know each other only from the everyday sounds. These sounds are transformed into a grand symphony performed from the balconies by 65 musicians from the symphony orchestra Copenhagen Phil with the residents of the flats in the lead roles.
15-16 June, Emaljehaven, Cph. NV
MADE IN COPENHAGEN by Joanne Leighton
Australian-Belgian Joanne Leighton invites 99 ordinary Copenhageners to create a dancing portrait of their city – the poignant mass choreography MADE IN COPENHAGEN. You can join too, read more here.
28 July on Blågårds Plads, Cph. N
9000 STEPS by Joanne Leighton
At sunrise and sunset at three magical places in the city, six dancers whirl round on a surface of 1 tonne of salt, soil or sand. On a beach, on grassland and on a central city promenade. They whirl us into a ritual connecting us with the power of nature and the collective's power to change.
31 July-5 Aug. in Naturpark Amager, Amager Strand & Ofelia Plads
FOR THE TIME BEING by Schweigman&
Dutch Boukje Schweigman and the audience seek to build a parallel society without time as a counterweight to city people's wild rides towards an abyss of stress and alienation. It is up to the audience to decide whether or not they are ready to build a new world.
16-18 Aug. in Pakhus 11, Cph. Ø
MOVE IT!
MOVE IT! is a weekend of performances and workshops merging circus, dance, parkour and skateboarding. This is where the disciplines and people meet for joint activities challenging gravity, balance and physics.
3o Aug.-2 Sept. in Inner City and on Vesterbro
REMOTE COPENHAGEN by Rimini Protokoll
Together with KØS we present German Rimini Protokoll's audio walk REMOTE COPENHAGEN, where the audience is in collective transit on a route through the city. People meet and are summoned to places of public transit such as train stations, which are transformed into places of conflict and negotiation.
14 Sept.-4 Oct., meeting place at Vestre Kirkegård, Cph. SV
METROPOLIS RESIDENCIES
Alongside the summer's performances, 15 artists will work with site-specific residencies across the whole city. Metropolis invites international and Danish artists to plunge into Copenhagen and create performances and art specifically for and with our city.
Under the themes ENGAGING THE CITY, WALKING THE CITY and BALANCING THE CITY, they will each work for a month with art that involves and engages; with walking as an art form and method; and with circus art that transforms the city. Keep an eye out for open house events, where the artists present their ideas and reflections.