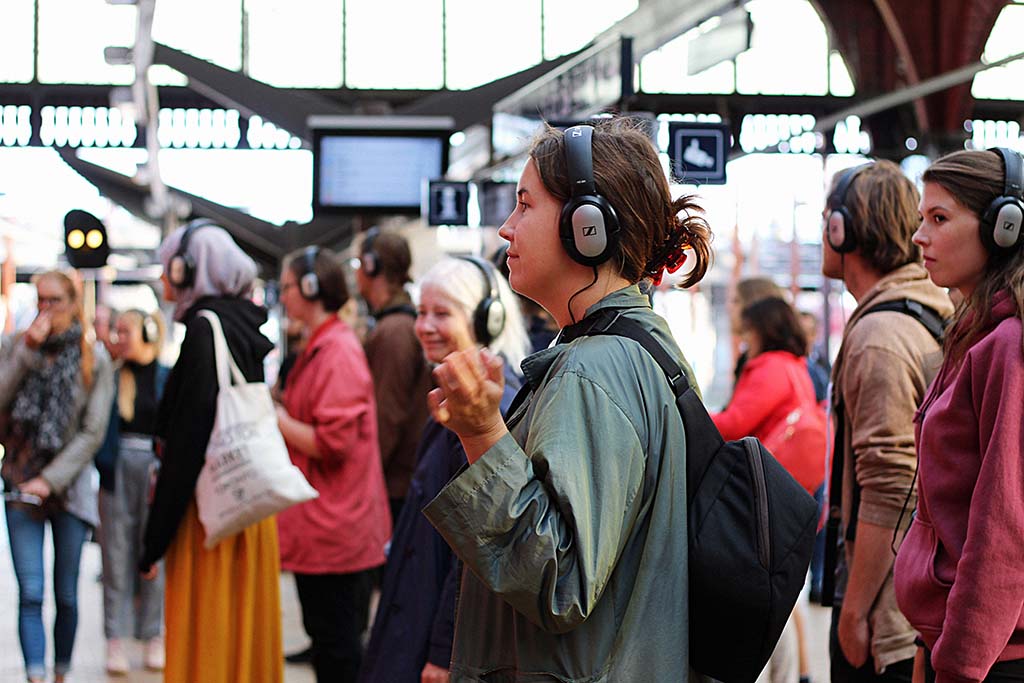 REMOTE COPENHAGEN – Rimini Protokoll
Audiowalk through places in transit
– commissioned by KØS
Museum of Art in Public Spaces
DATE 14 September-4 October at 17hoo
MEETING PLACE Vestre Kirkegård, Nordre Kapel – Vestre Kirkegårds Allé 15, 2450 Cph. SV
TICKET DKK 75 plus fee at www.billetto.dk / DKK 50 for stud./retired/unemployed
Buy ticket
Join internationally recognized multimedia collective Rimini Protokoll for a newly produced interactive and site-specific audio walk. The audio walk will take you on a journey through various transit sites, e.g. Copenhagen Central Station, giving you an experience and feeling of being in transit yourself.
Wearing headphones you will be guided by a synthetic voice – as we know them from GPS navigators. Presenting a myriad of intertwined stories around artificial intelligence and group decisions in transit, the collective audio walk will draw attention on the station areas as sites of conflicts and negotiations, on their architectural features and on the many different passengers, employees and local residents that come into contact at such sites.
The stories will be accompanied by diegetic sound recordings and atmospheric compositions created specifically for the places that the audience pass by during the audio walk. The audio walk ends at a rather extraordinary spot somewhere above the roof tops of Copenhagen.
The audio walk is commissioned by KØS Museum of Art in Public Spaces and is part of the upcoming exhibition project TRANSIT that will open 13 September 2018. TRANSIT focus attention on travelers' different experiences, terms and conditions in our present-day world of mobility, migration and globalization.  The exhibition is supported by Nordea-fonden. Read more on www.koes.dk. 
Remote Copenhagen is co-presented by Metropolis, who has previously presented Rimini Protokoll's performances 100% KØBENHAVN and CARGO SOFIA.
Duration: 2 hours
Language: Danish or English – English version available Tuesdays and Fridays
The audiowalk ends near Copenhagen Central Station, and you will therefore not return to Vestre Kirkegård.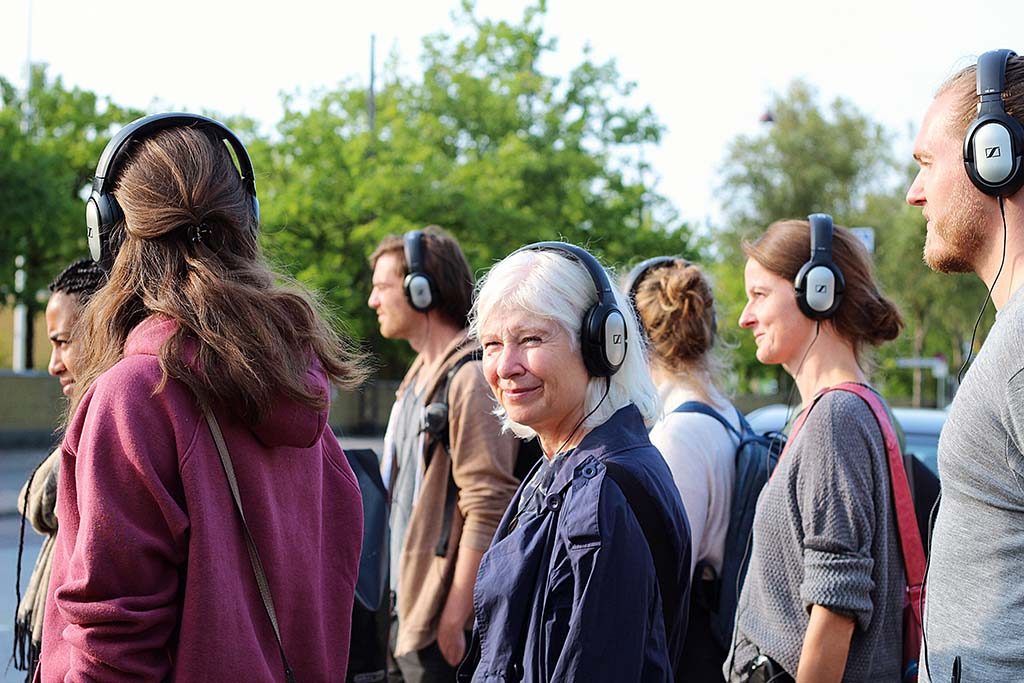 ABOUT RIMINI PROTOKOLL

Rimini Protokoll is a German multimedia collective of Helgard Kim Haug, Stefan Kaegi and Daniel Wetzel. They work in the realm of theatre, sound and radio plays, film and installation. Rimini Protokoll are especially known for developing participatory and debate-generating projects such as Cargo Sofia- X, Radioortung – 50 kilometers of Files and Situation rooms. Moreover, Rimini Protokoll often works with new technologies such as locative media. Rimini Protokoll is internationally recognized and have won several prices: Faust Theater Prize, European Prize for New Theater Forms, the Silver Lion at the Venice Biennale for performing arts and Excellence Award by japan Media Festival. They have recently exhibited at Haus der Kulturen der welt in Berlin and at CCCB in Barcelona.
www.rimini-protokoll.de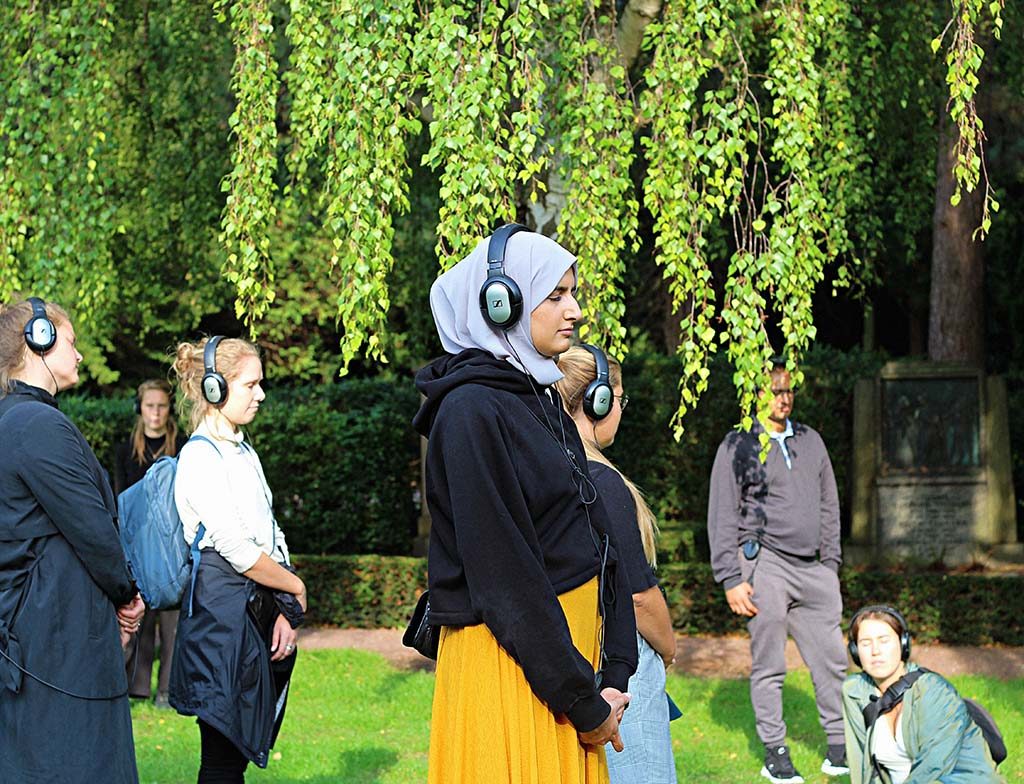 REVIEW
"The essence of Remote Copenhagen is the physical experience of being totally and intimately controlled per remote control. It is the whole game with The Voice that is interesting in Rimini Protokoll's contribution to the audiowalk as a popular, new genre. It gets a decisive twist with its digitalized surveillance perspective, managed by the agenda-setting German theatre collective…
Here it is us as spectators, who as actors take over the stage, the city space. But even when we are free to choose whether we want to go right or left, The Voice as a super-sharp clone of iPhone's Siri knows my next step. It is a bit like having God's voice in your ear."
Politiken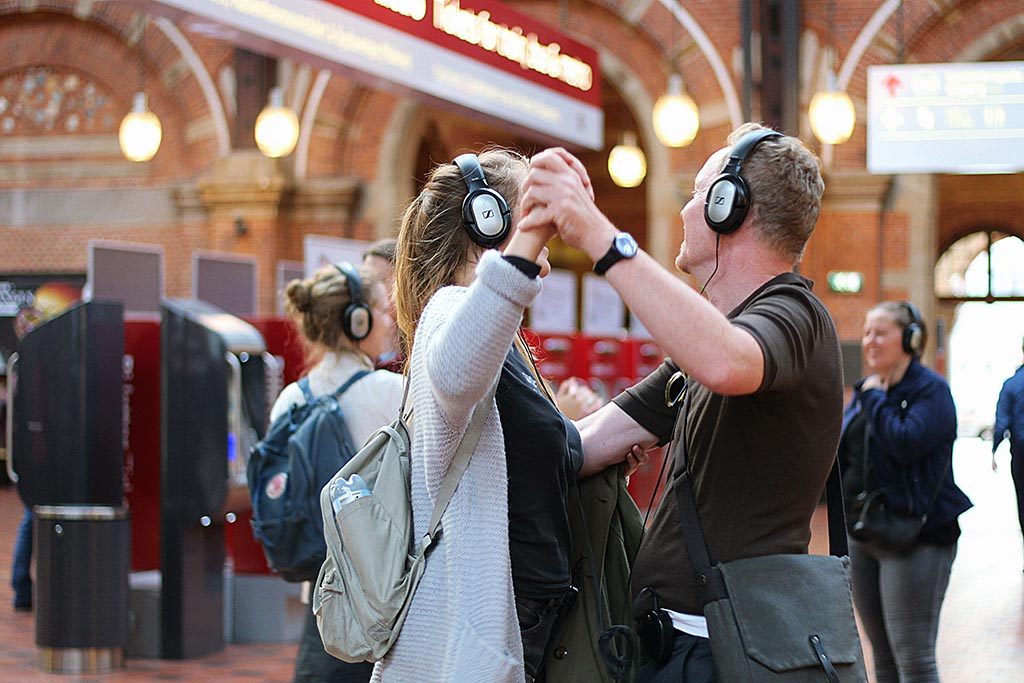 CREDITS

Concept, Script and Direction: Stefan Kaegi
Research, Script and Direction Copenhagen: Jörg Karrenbauer
Sound Design Concept: Nikolas Neecke
Sound Design Copenhagen: Peter Breitenbach, Karolin Killig
Dramaturgy: Aljoscha Begrich
Production Management: Caroline Gentz, Epona Hamdan
"Remote X" is a production of Rimini Apparat.
Photo: KØS
In coproduction with HAU Hebbel am Ufer Berlin, Maria Matos Teatro Municipal and Goethe-Institute Portugal, Festival Theaterformen Hannover/Braunschweig, Festival d'Avignon, Zürcher Theater Spektakel, Kaserne Basel.
Supported by the Capital Cultural Fund Berlin and by Swiss Arts Council Pro Helvetia and Fachausschuss Tanz und Theater Kanton Basel-Stadt. A House on Fire coproduction with the support of the Cultural Programme of the European Union.
In case of cancellation due to rain or sickness among the crew, you will receive an email from Billetto min. 2 hours before performance start. In case of cancellation, the ticket price (except fee) will be refunded and transferred directly from Billetto.