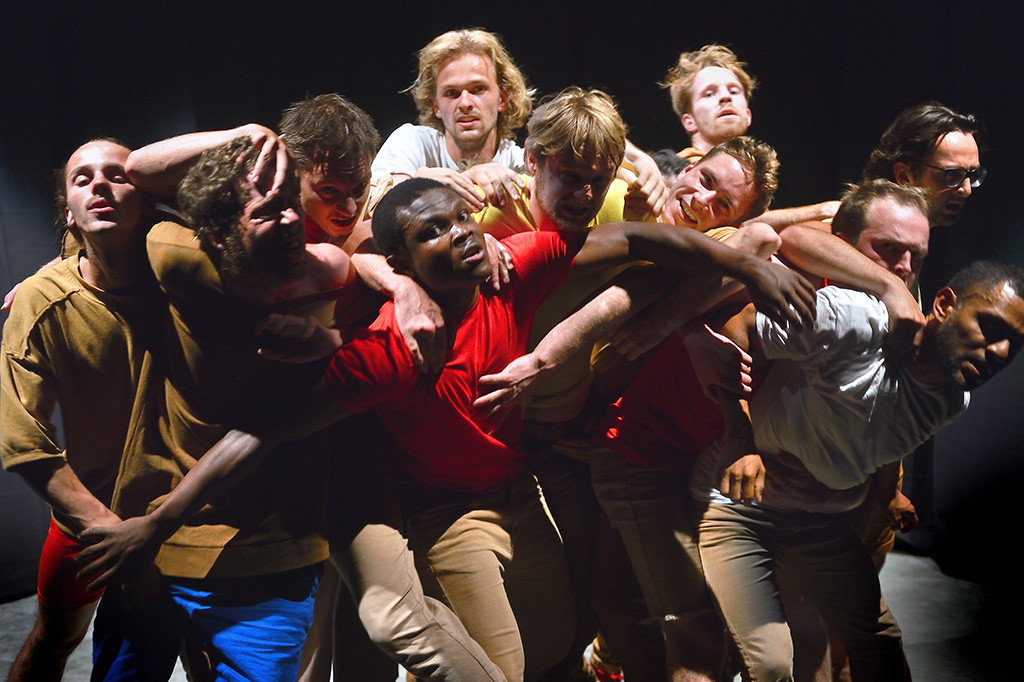 FOR THE TIME BEING – Schweigman&
The time has come to change the world – if we want
DATE Thu-Sat 16, 17 & 18 Aug. at 18.30 and 21.00 hrs.
VENUE Pakhus 11, Dampfærgevej 2, 2100 Copenhagen Ø
TICKET DKK 75 on www.scenebillet.dk
Buy ticket
Can we stop time? If only for a moment. FOR THE TIME BEING is an attempt. An attempt to create a vacuum, where time is floating. Where it stops, accelerates, passes by in slow motion. A place without time, chaos and deadlines.
The Dutch director Boukje Schweigman is outstanding in the way she deals with ongoing problematic issues and puts them into action – always without words, just by means of the body and movement. Her performance FOR THE TIME BEING is an intelligent chaos choreography, which toys with our perception of time. The 12 performers captivate the audience in an enigmatic game. A game without an apparent purpose, which confuses and teases, all while it creeps deeper and deeper under your skin.
Inside of this black Pandora's box of a scenography, you as audience will be on the floor. You stand in the way, you have to move, follow and duck down in order to avoid flying bodies. Boukje Schweigmann uses all of us in a clever and charming way to create her new society – with a pile of cardboard boxes as the only props.
FOR THE TIME BEING is an entertaining symbol of a world in self-destruction mode. A merry-go-round spinning out of control towards the abyss with fear, alienation and powerlessness as its passengers. The percussion group Slagwerk den Haag strikes the rhythm of a new agenda, where the earth revolves slower and slower while we run faster and faster.
FOR THE TIME BEING is liberating and surprising to logic and senses – an authentic bid for the performing art's potential to transform. If we want it to.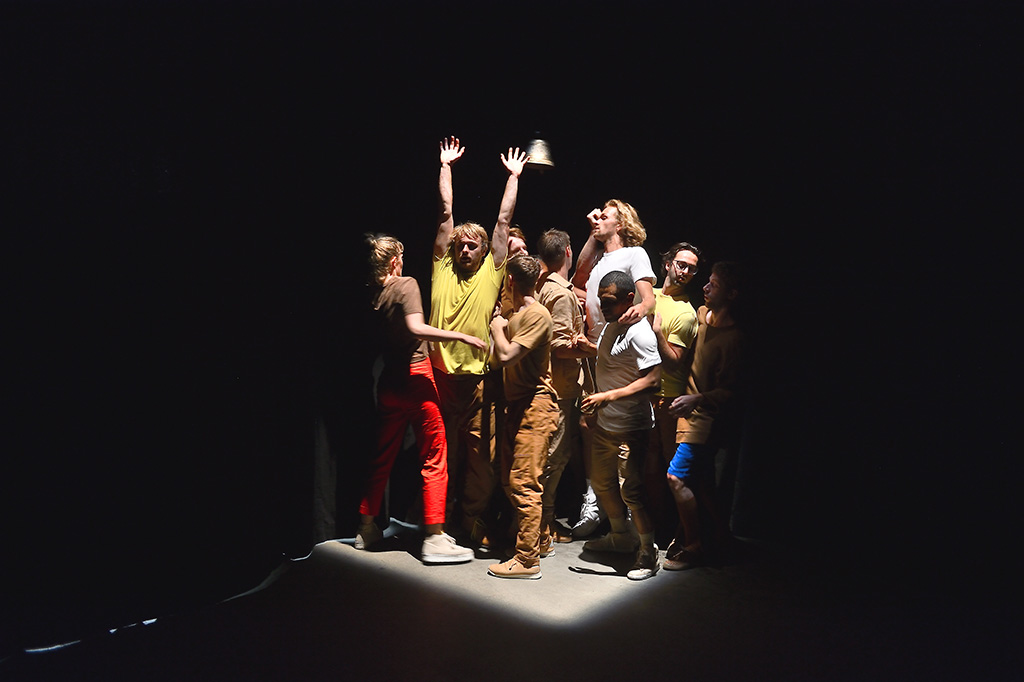 ABOUT SCHWEIGMAN&
With a refreshing lack of respects for attitudes and conventions, Boukje Schweigman, the women behind Schweigman&, has been a major name on the European performance scene for more than 15 years. She graduated in physical theatre from the renown Amsterdam Theatre School, which has bred a new generation of leading young Dutch artists. She is named queen of the sensory theatre with a unique ability to create visually strong and physically poetic universes, which mesmerize the audience. Her award-winning works have been shown across most of Europe, but is now for the first time in Scandinavia.
REVIEWS
"For the time being is a completely outstanding piece of work. Innovative, thought provoking and unforgettable. And not least entertaining. Of course, the work could not be realised without unmatched mimers, and better than those that Schweigman& can present, one has to look long for. A performance like For the time being is not something you have the chance to experience each season." Danstidningen
"What is it that we are looking at? Are they actors in a performance without words? Or copies of ourselves, viewed at a distance from the life that we otherwise live?… The battle becomes a powerful image of how we, as citizens, are divided by the will to be part of the community's fixed scheme and to resist it… Thus, "For the time being" becomes a gripping mix of self-propagation and an expanding inner space." Sydsvenskan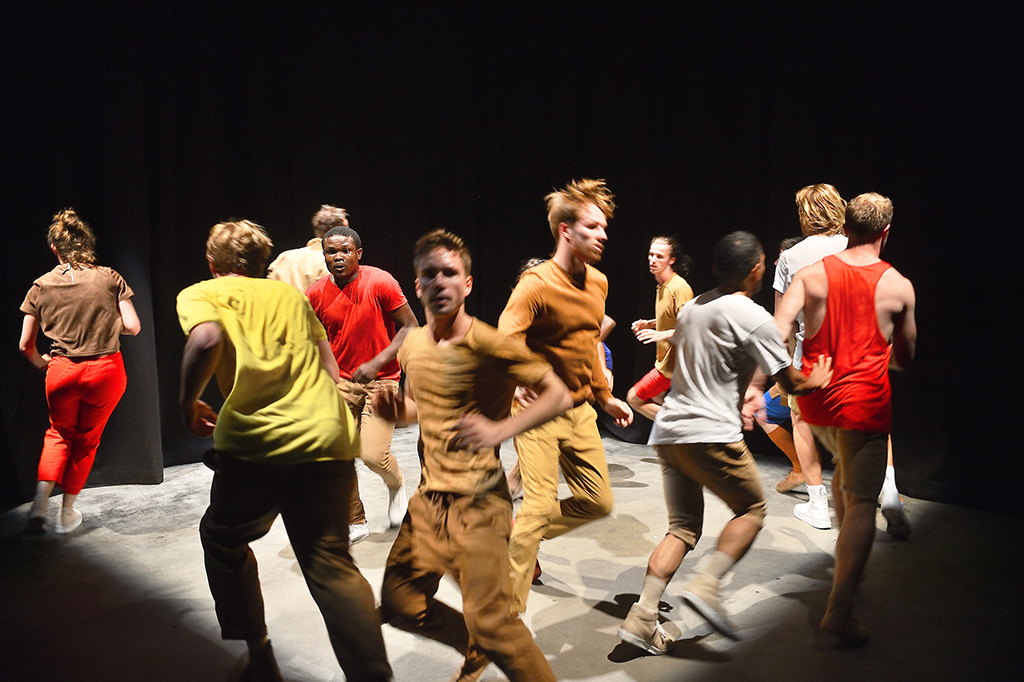 Duration: 70 min.
Recommended from: age 14
CREDITS
Director: Boukje Schweigman
Performers: Sieger Baljon, Sue-Ann Bel, Hannegijs Jonker, Jasper Koopmans, Vitaly Medvedev, Hali Neto, Moene Roovers, Ivar Schutte, Santino Slootweg, Rick van der Steen, Dwayne Toemere, Sus Verbruggen, Jurriaan de Vos, Luuk Weers
Sound composition: Fedor Teunisse, Frank Wienk
Scenography & lights: Theun Mosk, Grischa Runge
Costume design: Esmée Thomassen
Production: Linda Witpaard, Kas Pijs
Director's assistant: Anemone Oostvriesland
Coach performers: Toon Kuijpers
Co-production by Schweigman& and Slagwerk Den Haag
Photo: Jochem Jürgens
For Schweigman&
Production manager: Yoni Vermeire
Technical manager: Jurr van Diggele
PR & publicity: Lonneke Laurant
Managing director: Rachel Feuchtwang