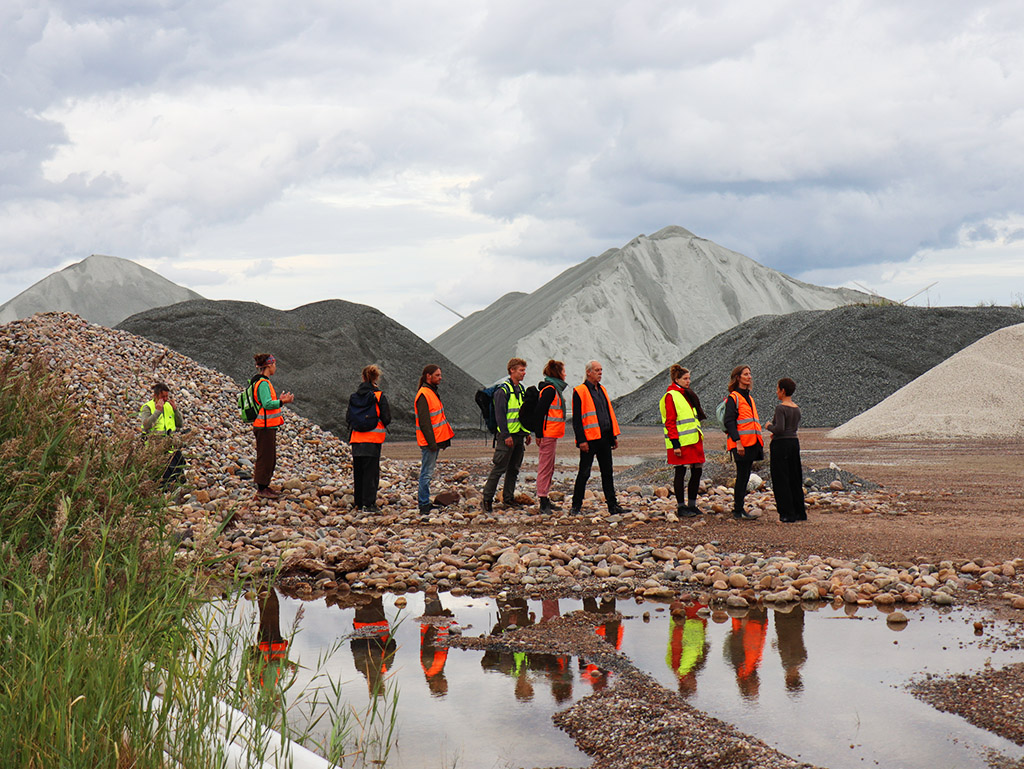 Performative Landscapes – interviews with the artists
Exploring new balances and interactions between human, body and "nature"
PERFORMATIVE LANDSCAPES was one of three Metropolis Residency programmes in 2020. Seven international artists lived and worked in Copenhagen for a month in August/September.
Here you can meet the seven artists and hear their thoughts about working within a site-specific context in Copenhagen as well as watch some footage from their work-in-progress presentations:
Nana Francisca Schottländer (DK) – co-curator
Nana Francisca works with co-creational encounters between humans and other-than-humans. Based on bodily immersion and relations, she explores performative potentials and encounters spanning species and modes of existence, both live as well as through mediated interventions.
Nana Francisca will collaborate with the participants through a week of research, explorations, reflections, walks, talks and exercises. This will be followed by two weeks of individual reflection and exploration and a final week of collective performative actions in a chosen landscape.
www.nanafrancisca.wixsite.com/nanafrancisca
Tora Balslev, DK
Tora Balslev is a performance artist and choreographer based in Copenhagen. In her work, she explores borders and overlaps between the human and 'other bodies' in search of a hybrid field.
She works with visualizing and unfolding body as landscape and landscape as body, using translating and physical strategies. For example she works with transforming the human body guided by movements of nature. With her work, she seeks to evoke another modus and create a shift of perspective on concepts such as 'nature', 'body' and 'we', opening up to other logics.
At Metropolis she will develop first drafts for her upcoming project City Matters, a guided tour that claims that "matter matters", zooming into asphalt, concrete and bricks of urban landscapes – and the geological and molecular nature of this matter. The project is exploring possibilities of a new sensitivity towards the city's "dead matter", re-narrating our relation to these fragments of nature.
Tora is also interested in prototyping for a new series of detournement and translating pieces combining ultrasound scanning of bodies with garden design as well as urban landscapes of con- or destruction.
Tora is the artistic director of Daily Fiction, an independent unit within Det Frie Felt of Danish stage art. Being part of an accelerating world, spending more and more time in virtual spaces, Daily Fiction explores the intimate and exclusive potential in live arts and the analogue meeting between audience and piece.
www.dailyfiction.dk
Lilli Döscher, Germany/France
Lilli Döscher develops a practice as a fine artist in echo with urban space. From experiences in the field of theatre in public space and a crossing of the Atlantic as a sailor on board an old sailing ship, Lilli retains a taste for challenge and a necessary sensitivity and adaptability to her surroundings. Faced with the diverse challenges of cultural work, she develops, together with other cultural workers, unusual methods of reflection and exchange. During her studies at the FAIAR (Professionalization for Art in Public Space) in Marseille, she deepened her multidisciplinary approach to artistic work in public space, which had been developed empirically until then. She expands her approach to body-related work and combines elements from different disciplines.
My work consists of transversal, multimedia and collective projects. I primarily work with performance, choreography, theatre, installation, graphic and visual media and all intermediate forms. Themes of my work are often inspired by sociological, psychological phenomena such as medieval choreomania (Strassborg in 1518) or arise from the observation of society and environment.
Connected to these explored processes, I want to focus on the body in relation to questions about nature, climate and related changes. I would like to intensify, expand and open up my research for this future project during the residency. I would like to observe the body in its surroundings, to work with it in its environment in order to create choreographic elements out of it. I would like to create the vocabulary for the project in the context of landscape and post-industrial spaces.
The text nos Cabanes by Mareille Macé has inspired me a lot recently. It describes how our existing social system is exhausted and that a structural change is necessary. For this purpose, the environment would need to be understood as an actor and part of the global structure. It would need to be turned to the environment, a stronger contact to it would need to be established and the whole ecosystem would need to be involved in the processes. It proposes mutual understanding and integrative processes, human and nature as equal components.
Especially current developments of climate change and the situation in general raise questions for me. It also seems to me that science alone is no longer enough as a call to politicians and society to rethink and act. At this point, I see art as an important actor.

Alicja Czyczel, Poland
At this moment of my life, dancing is for me deep listening and embodied thinking liberated from language. It is also a practice that enables me to play with time and to reclaim my right to be out of time. My artistic routine is based on "the art of losing", which I undertake in order to retreat from knowing and open my body and mind for new sensorial and aesthetic potentialities.
I investigate imagination and movement of attention, produce spoken-word poetry in relation to the body using dance improvisation, somatic practices and vocal performance. I develop site-specific projects, choreographic workshops for kids and performative walks with the desire to extend choreography beyond the dance studio and theatre stage to the cultural peripheries. I create stage work drawing from experiences gained outside the black box. I'm currently based in Warsaw and I work as choreographer and dancer mostly in Poland and France.
I would like to treat the residency as a moment free from production pressures and a site for contemplation, experimentation and critical self-reflection. A sustainable art practice, as I see it, nurtures itself through time and it is supported by politics of care and friendship with the environment and one's nomadic community rather than constant challenges and abundant input concentrated on art production. This approach to art making requires trust, courage and self-love and it is not easy to defend in the current capitalist system.
During the residency, I would like to dive into research of what I call an inanimate couple dance – half human, half non-human dance form situated in natural surroundings. In this dance, a couple consists of a human performer and inanimate matter or non-human animal: cloud, plant, bee or foggy lake. Extending my own perception for the unconscious exchange transforms my body and creates specific hybrid corporealities. I call this process a trans-species soma contagion. I would like to take a closer look at interactions with inanimate beings, entities and materials as a sourceful encounter producing undisciplined forms of embodied knowledge. The research process will be about observing emerging corporealities, writing down experimental narratives and researching different kinds of object-oriented performativities connected with my desire to host in my body different worlds of imagination, in which dualisms such as female and male, animal and human, light and dark, rational and irrational dissolve.
https://cargocollective.com/alicjaczyczel
Daria Lavrennikov, Russia / Spain / US

A dancer, choreographer, artist-curator, and movement researcher. I work from and between languages – moving, being moved, perceiving, writing, speaking, sculpting and being sculpted by organic, recycled and non-organic materials of the body and environment. Working between body-based movement and land art, my practice explores solo and group tuning, improvising and composing methods that experience the body as a filter, as a field, as a relation with its environment, part of an affective ecology and geography. I am currently creating scores and tasks that bring attention and intention to the diversity of epistemological and perceptive frameworks we inhabit, gradually systematizing and structuring what I consider to be a life-art process and project.
I am experimenting with ways of reaching an audience, if it is possible, that relate to the migratory experience – the migratory body. My own migratory body relates and tunes to unknown and recognizable experiences – relationally, sensually, compositionally – through its interdependence with movement to survive and surprise itself.
Some important question for me in this project: how can we capture and share our process and practices with wider and still uncharted and voiceless communities, considering dance and performance, taught and performed, as tools for discovering and sharing deep knowledge and transmitting emerging messages about the human being and his/her diverse ecologies, mind and matter? How do we translate the auto-biographical and intimate bodily experience into material spoken, sculpted, and moved? What are the possibilities of micro-political infiltration and contagions of society that happen through different performative formats and contexts (site specific, durational, written, sung, installed, spoken, moved)? Bringing our attention to and perceiving the agency of nonhuman, how do our environments form, deform and transform our moving imagining bodies, individual and collective?

Lisa Brüning, Germany
Lisa Brüning is a German theatre director and performing artist from Berlin. She graduated at Hochschule für Schauspielkunst Ernst Busch and works internationally as a performer and director at state & off-theatres e.g. Volksbühne Berlin, Théâtre National du Strasbourg, Staatstheater Oldenburg, Yoram Löwenstein Studio of Performing Arts Tel Aviv, and Teaterøen Copenhagen. Most of her pieces are interdisciplinary research-works based on either autobiography or site-specific research. She is creating her plays based on associative writing at political or personal relevant sites. Her artistic focus is autobiographical work and the social impact of privacy.
In the residency, Lisa Brüning will research on the role of the ocean in our times. Based in Germany, she is most of the time far "on land" and away from the ocean, which is why the sea is even more an object of longing to her. 71% of the earth's surface is water. And 70% of the human body is water. With this relation, she will make artistic experiments during the residency to practically research the role of the ocean in times of climate change and in a time where many share a longing for being connected to a bigger whole. How to create this feeling with an audience? How to give the ocean a stage?

Mille Engberg Lundt, DK
Mille Lundt is a physical performer, contortionist and a choreographer. She has been studying at national circus schools in; Havana (Cuba), Moscow (Russia), Kiev (Ukraine) and finally graduated at E.S.A.C. in 2006 in Brussels (Belgium). Mille is the artistic director of the company "Off Road". She has collaborated with several choreographers and contemporary circus companies such as; Rachid Ouramdane, Anomalie & co…., Lars Rudolfsson, Cie For Want of A Better, Royal Bones, Cille Lansade and Rudi Skotheim Jensen.
Her work is represented in public spaces as well as in indoor atypical spaces and theatre spaces. She works in the crossover art field where she collaborates with sound artists, visual artists, circus creators, choreographers and photographers. She seeks to develop and incorporate new movements in relation to the environment that she works in. She approaches a specific environment and tests how it can destabilize, disrupt or even create new moving patterns. She seeks connection points between environment and physical work through the folding technique, the action that changes or twists the shape of a body position or a situation. In her work, she tests and experiments with different angles of viewing a landscape with the intention of challenging and playing with the viewer's perception of space.
For this residency, I would like to continue my research on my project "Structures", which concerns landscape, movement and sound. I work on these three elements as one whole organism or I place them as opposites. I question when something becomes perceptible and what the relationship is between what we perceive and what we know. Evoked by improvisation processes, my research relates to the site's environment to create visual and audio imaginative compositions. The concept relates to the structural compositions in a landscape. It questions the boundaries between the landscape and body. The body and landscape merge sometimes into one or stand out as opposite elements. The performed body breaks with the norms and opens for new ways of inhabiting a space. My intention is to inhabit a specific space using my body language to evoke integrity. The body I present is the anchor of anecdotes and functions as the silent storyteller staged in nature.
---
ABOUT PERFORMATIVE LANDSCAPES
This residency will explore the co-creation between humans and landscapes. In the era of the Anthropocene, the human-centered perspective of thinking must be questioned in regard to finding new ways to relate to nature and our surroundings.
How have landscapes shaped human interactions and vice versa? We will be working from an expanded understanding of landscapes as changing fora at the intersections of urban, natural, climate and human forces.
For this residency, we invite artists with a highly immersive, explorative and dialogical practice with the body at the centre.