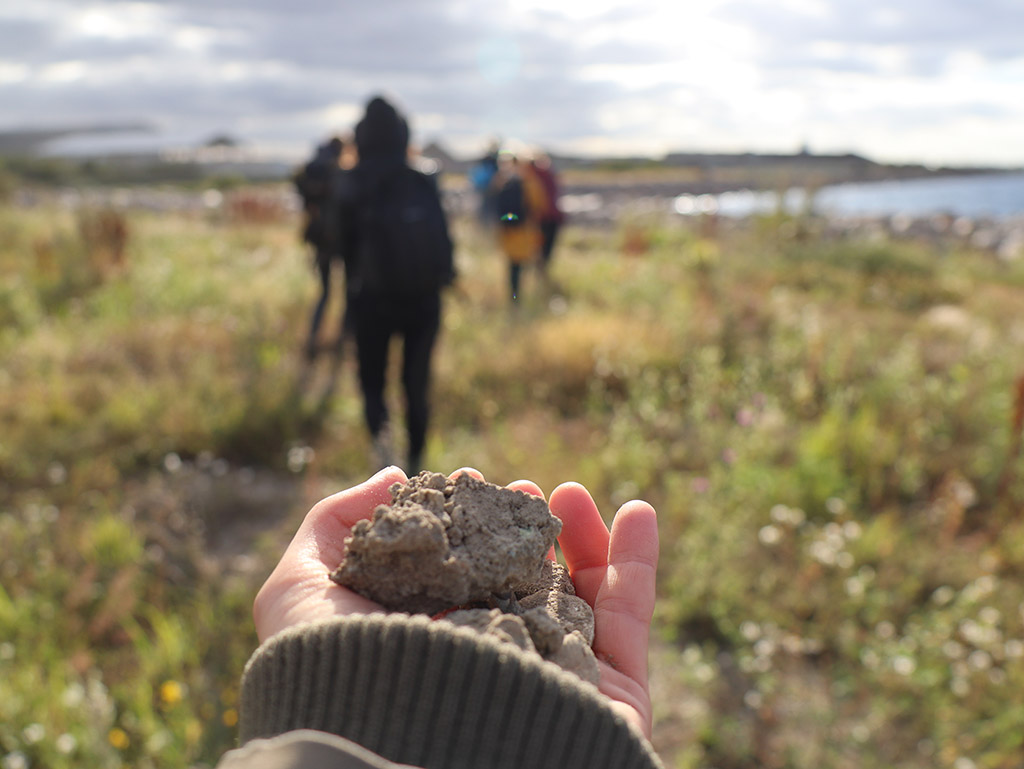 Mapping the City – interviews with the artists
MAPPING THE CITY was one of three Metropolis Residency programmes in 2020. Seven international artists lived and worked in Copenhagen for a month in July.
Here you can meet the seven artists and hear their thoughts about working within a site-specific context in Copenhagen as well as watch some footage from their work-in-progress presentations:
Salomé Mooij, The Netherlands – co-curator
Originally an educated theatre director, Salomé is working as a theatre maker and performer. Currently she is exploring mapping techniques and how to incorporate them performatively into her work on places of shelter in the city.
Salomé was part of Metropolis Residencies 2019. In 2020, she continued her own investigations as well as created formats of exchange between the residency participants. This allowed for possible collaborations within the residency and in the final week of collective mappings in a chosen area.
Salomé asked participants to bring their own artistic research question to form the basis of all work and collaboration within the residency.
Merel Smitt, The Netherlands
I'm an artist connected to the performing arts/MA, theatre maker in DAS Theatre in Amsterdam. I create interventions in different kinds of spaces and contexts that meddle with our everyday life thinking. The projects are research-based and often result in multiple outcomes that can be seen together as a whole but can also be experienced separately. I explore in an intimate yet collective way the dynamics and rules that we produce, follow and maintain on a personal, political and societal level. The interventions originate and result in installations, missions, websites, fictional campaigns, questionnaires, score-books, audio-tours, walks, role playing games, workshops, instructions and so on. The impact always lies within the participants who knowingly and unknowingly join me in various ways.
– The politics of waiting
I've recently started a research around how waiting forms a prominent feature in our everyday lives. During the 20th century, the increasing categorization and bureaucratization of time in the West, combined with the growing interference of the state with people's everyday lives, created multiple settings – such as traffic jams, offices, and clinics – in which people were compelled to wait. The state makes us wait and sometimes this waiting even becomes chronic in which we find ourselves in a waiting mode for years. We wait for employment, social welfare, education, food, shelter, health care, a place to live and so on. We are being taught in life that the active individual lives in the centre of a functioning society. In order to feel a part of society, we need to participate, be productive, make progress and develop ourselves.
In the residency I want to research how we can start seeing this unscheduled waiting time as being on strike from this progress and productivity. Why do we see waiting as failure and not as a potential space for protest, conversation, listening and regrouping? During this residency I want to map the city according to the places where waiting communities are present. Who is waiting, where is the waiting taking place and what are the tools used by institutions that make us wait? How can we create and offer a "counter script" to disrupt the action of waiting, make it not about failure and passiveness, but about a space where movement and empowerment is possible?
Zelda Soussan (FR) & Ruggero Franceschini (IT)
Zelda: FAI-AR: Superior Education of Art in Public Space. I create and direct street theatre interventions. They are usually based on a contextual fiction to infiltrate the day-to-day life. My works are site reactive and the observation of the urban space gives me the impulse to imagine performances to highlight and question its components, its fluxus, its logics or the main topics at stakes. Inside the performance, which is usually played by actors including myself, I try to create an equality between the audience and actors. I'm inspired by situationist practices, contemporary Brazilian street performance and theatre, and geographical and sociological approaches. I'm directing a company called LUIT, Urban Laboratory of Temporary Interventions, based in Paris.
One way or another, I always approach the idea of the commons: a resource used by rights holders who respect the rules they have written under the eyes of a governance structure that guarantees the preservation of the resource. How do we organize communities around a common? When the topic of the public space was appearing in the discussions, everyone was facing a big question: is the public space a common? How can it be? I will try to find and map the public spaces that are lived or dreamed as commons.
Ruggero: I studied acting in Piccolo Teatro di Milano, Italy, and completed my MA in Performance Design and Practice at Central Saint Martins, London, UK. Coming from a background of theatre-making and performing, I developed a site-specific practice shaped by the figure of the flâneur, playfully merging psycho-geographic wandering, promenade performance, site-specific art, and guided tours. Since 2017, I applied it to different urban contexts: from villages of the Italian countryside, to the suburbs of Athens, Greece, to the centre of London, UK, to the art district of New Taipei, Taiwan. I approached urban sites trying to see beyond their status and functions in the society, with curiosity and patience, walking through districts, trying to dialogue and engage with local communities. The dramaturgic and choreographic process of creation includes multiple methods: site-specific devising, improvisation techniques, audience participation strategies, set image making, materials recycling, etc.
For this Metropolis residency, I plan to research on a particular kind of map: an ornithological guide. Ornithological guides are small and handy books that you can quickly extract from your pocket and use, together with binoculars, to bird-watch. Such guides are an impossible taxonomic attempt of bridging the gap between a sedentary society (humans) and a nomadic one (birds). Nowadays, nonetheless, humans are also shifting to a nomadic society, constantly moving to escape, to work, to sightsee, both in our physical and virtual bodies. What would an ornithological guide of human migrations look like?
María Daniela Pascual Esparza, Ecuador/Spain (Finland)
I have a background in urban studies and performance art. Most of my works are site-oriented, and I've recently been working with plants. I'm exploring performances as ephemeral viewpoints, trying to enable, within a specific context, several ways of perceiving and relating to our bodies and our surroundings. Indeed, I wish to come up with invitations for paying attention, but without dictating where my attention or another's should go. I also find it easier to work in dialogue with others.
During the residency, I will focus on the relationships between mapping and inhabiting. I propose to begin by engaging with deep mapping and explore it through my practice. According to Brett Bloom and Nuno Sacramento, deep maps challenge accepted knowledge and embrace the frictions and multiple layers of a place. The process and outcome of the residency will inform my contribution to a project with Ava Grayson and Stephen Webb taking place in September 2020 on the island of Kuninkaansaari, Helsinki.
Diego Echegoyen, Argentina/Belgium
I have a performative and research-based practice. A hybridization of disciplines, crossing over performing and visual arts, literature, choreography, sociology and philosophy. A practice nourished from activism, biographic narratives, storytelling and the opening of my own thinking process.
Currently, these interests merge in the communicating vessels between the perception of the public and private spheres, between history and personal story (and storytelling), between past, present, and future.
After more than 15 years as a practitioner in theatre, contemporary dance, street performance and cultural activism in Buenos Aires, I moved to Brussels in 2018 to keep deepening in those fields and making them merge in my migrant practice. Since then, I developed a writing practice linked with the experience of walking through the city of Brussels.
Lately I've been working on the idea of overlapping cities, bringing Buenos Aires wherever I go. Which means bringing my subjectivity, turning this overlapping into a tool to build bridges between different cities and times through a displaced narration embodied by a performative body that is a living archive, a map of vivid experiences.
https://echegoyendiego.wixsite.com/diego-echegoyen
Natasha Davis UK/Croatia
I am a performance and visual artist with over 40 solo and collaborative projects in a range of media including live performance, installation, film and publication, often site-specific and participatory. My interdisciplinary, personal and politically engaged work focuses on displacement, crossing borders, body and memory. It mixes autobiography, fantasy, research and technology combined to create a form of resistance, but also serving as a diary of a personal life in the context of tumultuous political changes.
I collaborate with extraordinary artists, scientists, institutions and participants from all walks of life, creating work that is embedded in the belief that art can inspire social change. At the core of my work lies the embodied and poetic truth that working across borders is a potent space for opening a conversation about who we are, with a view to shaking up existing communities and initiating new ones.
During the residency, I'll be keen to expand my own mapping methodologies and dramaturgies with the knowledge shared by the group of the invited artists as well as the city itself. I will in particular be interested in mapping migration narratives in the city via the themes of my current interests such as migrants working in food and/or other industries, narratives of arrivals and departures, Nørrebro area stories, housing issues, etc. I am interested in how stories across the city can be mapped and what traces of these stories can be created in visible, invisible, abstract and other ways, experimenting with using fabric, movement, paint, perishable images, sound and digital technologies.
---
ABOUT MAPPING THE CITY
Working site- and situation-specific in the city necessitates exploring and connecting to places and non-places. It requires attention to the city's different physical layers as well as non-physical layers of social patterns, collective narratives, and emotional cartography.
Artists develop methods of gathering and structuring this information as part of their practice, using various mapping techniques and approaches.
This residency aimed at introducing, testing, inventing and experimenting with different mapping methods as well as encouraging and supporting individual approaches.
The residency also explored how to use the gathered data as material to develop new dramaturgical, choreographic and spatial formats, providing framing for performative work that is truly using the city as its material.