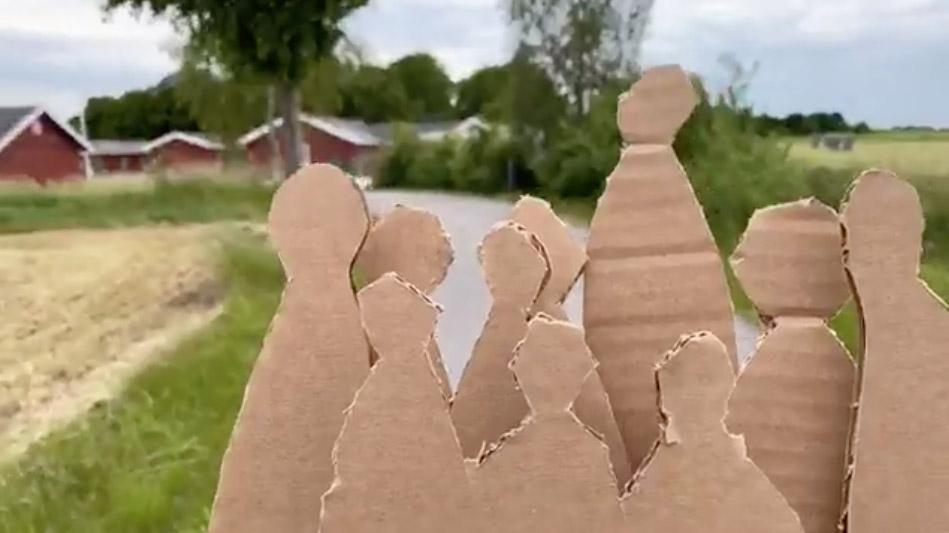 Wa(l)king Copenhagen 10-19 June – reflections and videos
NEW SOCIAL THINKING
Past, present and future are merged. The physical places become political arenas, where cultural, climate, refugee and migrant politics as well as structural racism are discussed and where aesthetics and poetry are highlighted as political tools to fight the status quo.
By Mille Højerslev
When we talked about social thinking at the beginning of the COVID-19 crisis, it was about standing together to minimize infection and stop the spread of the virus. Following the gradual reopening of society, the government's 'restrictions' have turned into 'recommendations'. It is now up to the individuals whether they will gather with 15,000 others for a demonstration in the streets of Copenhagen. Or cross the border and travel abroad, now that summer is no longer canceled. The fear of infecting others and getting infected no longer hangs heavily over the heads of the majority in Denmark. On the other hand, the fear of what kind of reality we welcome on the other side of the pandemic is growing.
Power to the culture and the people
Visual artist Kirsten Dufour Andersen opens this cycle of walks with the success story of Amagerbanen / Amager Railway, which tells of an activist group's struggle to bring political support to the area. In fact, the proposal was only recently adopted. This anti-capitalist story creates hope for other current cultural-political struggles such as the preservation of the Palads Cinema. But it also reminds us that power can still be found among the people.
The romanticizing of abandoned places
Once upon a time, Kongelunden was a rundown and not very attractive asylum centre. The residents became ill after a few months' stay, which was later found to be due to asbestos in the walls, which is why the buildings were subsequently torn down, and the residents spread out to the country's other asylum centres. Compared to e.g. Ellebæk, where the residents have neither their own kitchen, their own garden nor their own football team as at Kongelunden, the memory of the asbestos-stricken asylum centre is left in a tender light. Performance artist Cecilie Ullerup Schmidt shows how we easily romanticize abandoned places, their poetry and stories and remember places like Kongelunden for what it has become rather than what it was.
Dystopian landscape paintings
Scenographer and choreographer Jon R. Skulberg is differently dystopian in his expression. His walk through the night ends in a garden, where an almost mythological atmosphere prevails. It's like being on the Acropolis – right up to the moment a truck drives into the picture and breaks the fantasy. At one time, Skulberg creates abstract and hyper-concrete images that are a science-fiction film worthy of its details and colour composition. Are the cinematic landscape paintings a warning of our own downfall?
In Hans Christian Andersen's footsteps
Visual artist Jytte Høy uses another method to bring the past into the present. She walks around Amager along a route that the author Hans Christian Andersen tells about inches story "Journey on Foot. From Holmen's Canal to the East Point of Amager in the years 1828 and 1829". While H.C. Andersen moved away from reality – we must assume – and further into his own imagination, Høy brings out concrete places from Andersen's work and shows how they stand out today. In her backpack she carries more contemporary titles such as Werner Herzog: Of Walking in Ice, Tomas Espedal: GÅ and Rebecca Solnit: Wanderlust, all about walking.
#BlackLivesMatter
The structural racism that currently causes people around the world to walk on the streets in anger and protest is based on colonial remnants. A few days after the first #BlackLivesMatter demonstration – or manifestation – in Copenhagen, Michelle Eistrup takes us on a journey into the past. The Jamaican-born visual artist uses the live format to unfold her own family history and relate it to architecture, collective memory and oblivion.
The quarantine is forgotten – but not for Bo Madvig
Along with the surprising momentum of the #BlackLivesMatter movement, we in Denmark have moved into a new phase. Guests scramble at the bars and cafes as if the virus has left the country and the corona crisis has never occurred. The isolation and quarantine time feels almost forgotten. But not for actor Bo Madvig, who has kept a diary since the lockdown of Denmark came into force, and he reveals his thoughts. With us as witnesses, he must make a decision about whether he will break out of his quarantine or continue his isolation.
Similar personal experiences and the need to resist are seen by performance artist Seimi Nørregaard and dancer Snorre Hansen. Now when people and vehicles are again filling the streets of Copenhagen and you can no longer smell the sea at Nørrebro or see stars at night, these testimonies awaken our senses and bring poetry into everyday life.
The arts and cultural institutions vs. the shopping centres
The closure and especially the reopening is also a theme for composer Jakob Draminsky. He ironizes, among other things, about how the shopping centres were allowed to open before the arts and cultural institutions. He does this by doing a – I would call it – ghost concert in the Frederiksberg Center, where the only things you see are reflections of shoppers and people on the bike lane. You would wish that Minister of Culture, Joy Mogensen, is watching.
About those who depend on others
During COVID-19, several people decided that in the future they would prioritize the family and find a better home-work balance. Architect Dominique Hauderowicz deals with this in her walk, where she visits the 12 different institutions, in which we place people who are most often outside the labour market and therefore dependent on others; a kindergarten, a school, a job centre, a nursing home, a crematorium.
What does return to 'normal' mean?
The artists are trying to prolong and keep alive the critical sense, vulnerability and desire for change that COVID-19 awakened in many of us. What the videos have in common in this cycle is that they force us to reflect on the experiences that COVID-19 initiated. They remind us how important it is to keep the critical eye on ourselves, our working lives as well as our shared responsibility towards each other and society.
10 June: Kirsten Dufour Andersen
11 June: Cecilie Ullerup Schmidt
12 June: Seimi Nørregaard
13 June: Michelle Eistrup
14 June: Snorre Hansen
15 June / day: Jakob Draminsky
15 June / night: Jon R. Skulberg
17 June: Dominique Hauderowicz
18 June: Bo Madvig
19 June: Jytte Høy
The video diary continues until 8 August with a new artist each day.
Follow live on www.facebook.com/walkingcopenhagen.
Read more here.
SELECTED VIDEOS
10 June: Kirsten Dufour
11 June: Cecilie Ullerup Schmidt
12 June: Seimi Nørregaard
13 June: Michelle Eistrup
14 June: Snorre Hansen
15 June – day: Jakob Draminsky
15 June – night: Jon R. Skulberg
17 June: Dominique Hauderowicz
18 June: Bo Madvig
19 June: Jytte Høy