Wa(l)king Copenhagen 20-29 June – reflections and videos
CONNECTED THROUGH DISTANCE
Personal trauma, self-care as well as healing through poetic actions, breathing exercises and green surroundings are among the themes of this cycle.
By Mille Højerslev
"I have had a traumatic experience," says Lotte Faarup. The director lies on her back on an oriental rug and looks directly into the camera as she tells of the time she had her bag stolen by two boys who overtook her on a bike path. They were riding a moped, she a bicycle. The purpose of her walk will be to understand the perpetrators and their motivation to commit the crime. Faarup interviews – or interrogates – the police officer who reportedly should have taken care of her case, hoping to find new clues to move forward in her own investigation.
She visits the pizzeria from which she can see on her bank statement that the thieves have bought food. She then moves into affluent neighborhoods with large, expensive houses and begins to fantasize about the thieves' personality and psychology, as if she had access to this information. The walk ends outside the Sjælsmark asylum centre. We only see the back of Faarup. She no longer speaks. The camera rests on a mattress that says: "CLOSE THE CAMPS !! THEY STOLE OUR LIVES!"
The closing words and the heavy silence sharply contrasts the long, almost embarrassing interpretation and processing of the theft. The woman, played by Lotte Faarup, does not become wiser about the thieves and their motives. But her narrow and egocentric worldview is challenged and made fun of.
An uppercut for the Danish asylum system
A few days later, our attention is again directed toward Denmark's refugees and (rejected) asylum seekers. Visual artist Louka Anargyros explains that the idea behind his contribution to Wa(l)king Copenhagen comes from his exhibition Power Bottom, which was shown at Copenhagen Contemporary in September 2019. Here he presented an installation consisting of 5-600 fists that the audience could buy and bring home. The profits from the sale went to the organization Together We Push, which  is fighting for better conditions and more caring treatment for residents at the asylum and detention centres in Denmark. For this walk, Anargyros has produced 30 new fists to be delivered in person to those who have pre-ordered and paid for a fist and thus also bought into the work; its narrative, agenda and ideology. The profits continue to go to Together We Push to improve the lives of those living at Sjælsmark.
In this way, last week's focus on the asylum centres, which formed the starting point for performance artist Cecilie Ullerup Schmidt's walk, continues. How we treat newcomers and the weakest in society mirrors us as people. And a phrase like "CLOSE THE CAMPS !! THEY STOLE OUR LIVES!" unfortunately tells a sad story about the Danes.
What is, was and could a 'home' be?
From those who are in transit and don't really have a place to call 'home', attention is shifting to those who have the privilege of discussing the term 'home'. What is, was and could a home be? These three dogmas, dancer and choreographer Mette Møller Overgaard activates in her walk. She dances, walks, jumps, writes and spray-paints as she moves from her own address into the city and back home. She makes 'tags' on the city's paved streets, which encourages us to play: "Walk backwards, sit down, observe and write, walk side by side, take a seat" etc. At Blågårds Plads, she read aloud from a text that abstractly engages in dialogue with 'home' and the usual notions associated with it: 'Home is something to believe in. Home was the last day of school. Homes are summer dresses in red and yellow colours". Meanwhile, we see a number of older schoolchildren who at a distance look both safe and happy – as if they were at home in each other's company.
Home and away
Circus artist Synniva Byvard's walk is about the longing and the physical barriers that COVID-19 have created in relation to the restricted opportunities to be with those you long for, care for and love. Byvard's first meeting begins with a long warm hug and a long talk about the balance of being out and home, and about how it is possible to feel at home both in Denmark and in traveling out. Byvard uses the walk as an opportunity to meet with her friends and colleagues – physically as well as virtually – and create art. For example, Byvard is doing acrobatics and improvisational exercises via video calling. She participates in performances in the Botanical Garden and in a parking lot. She listens to friends singing – at a distance and in the same living room. She is playing on a roller coaster with another friend. The red thread of the walk is a Tibetan proverb referred to in the first of the videos, which says: "Wherever you have friends, that is your country. Wherever you receive love, that is your home". And there is no doubt that Byvard is at home in Copenhagen.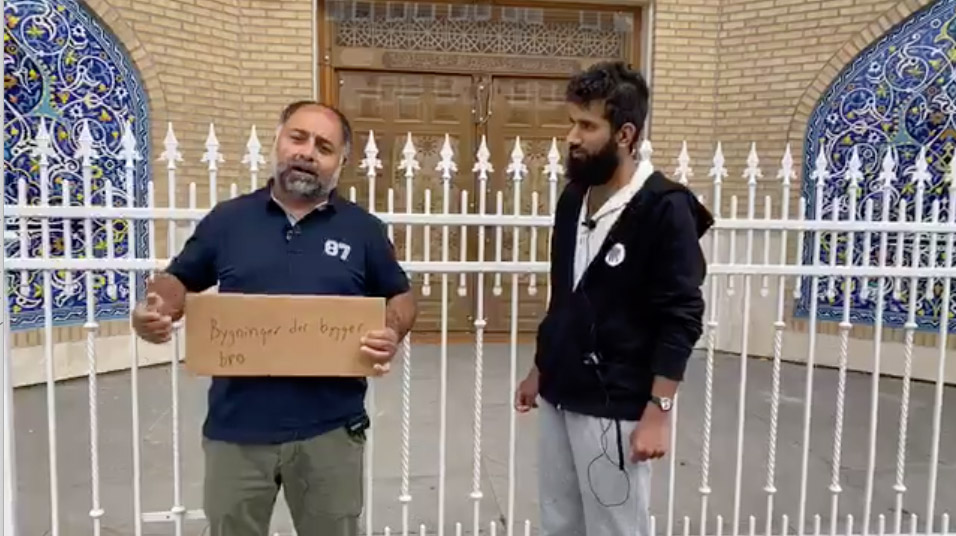 The architecture, the people and their interconnectedness
Architect Natalie Mossin has also chosen to investigate 'home' and the significance of architecture in relation to good communities. She has allied herself with the student Suleman Naim, who lives on the 13th floor of a high-rise building in Høje Gladsaxe. According to Naim, "safety, space and recognizability" are needed in order to build and maintain a healthy and good community. With that framework, he takes us on a discovery of his city, where he speaks to various locals who, like himself, have a relationship with architecture and see 'home' as something else and more than just a roof overhead.
The conversations all revolve around the question: "How does architecture contribute to the community here?" We meet an artist who has created a decoration project in Mjølnerparken, a resident of a garden house association and a group of young people in a youth club. "Here we are all together," one of the young people tells us briefly and precisely without knowing that these words can actually stand alone as a conclusion to the walk. Because, as Mossin also summarizes in the end, "architecture is something we create together". The architecture is not finished when the buildings are ready. It evolves and may change over time as it is received, inhabited and used. The framework plays a role, but the content is the most important. "But you can start off by choosing good materials and having good intentions for he architecture," Mossin adds.
During COVID-19, breathing is not just inhalation and exhalation
As last week, this cycle also offers therapeutic features. Visual artist Sophie Dupont reflects on our breathing and how it connects life to death; our lungs unfold at birth and stop producing oxygen when we die. COVID-19 has made that fact even clearer and brought life and death closer together. Several people have become aware of their own breathing. For some, it has become a source of anxiety. Dupont, who, in addition to her artistic practice, also teaches yoga, calls for us to take ownership of our breathing and direct our attention inward. Focusing on the breath and insisting on the slowness create a spiritual space where the inner and outer world meet. During his walk, Dupont takes us out into the blue and green surroundings; at the harbour, on the sandy beach and in the park and forest. She presents us with a number of specific exercises we can do in front of the screen or on future walks. We are invited on a journey into the world where the senses are awakened, the trees and grass have voices, and the sea has ears. But most importantly, we travel into ourselves.
To build a new society through poetic acts
Eleven performance artists (who are part of Sisters Hope and Metropolis' Sensuous City residency programme) use their bodies and senses to discover and explore poetic layers of the city with the goal of creating future images of a desirable community. Some of the performers walk through the city with blindfolds, among others in the tunnel under Copenhagen Central Station, and balance on the platform's yellow dots indicating the distance to keep to the trains. The idea behind their continuous research is to heal the population through poetry and poetic acts. Others lay flowers on cold buildings where life is missing. The square in front of Copenhagen City Hall is filled with abandoned shoes, and the camera turns to catch a group of women with transparent veils covering their faces. As with Sophie Dupont, these artists insist on the slowness and on awakening the senses of the audience.
Dancer and choreographer Thjerza Balaj has a similar political aim: She wants us to appreciate trees that clean the air, create CO2 and populate the city. For twelve hours, Balaj dances for and with various trees in Copenhagen. We salute maple, lime, horse chestnut and plane. Early in the COVID-19 crisis, the Danes were looking for green oases. Those who had the opportunity packed the car and drove to the countryside. The remaining people sought out densely populated parks and overcrowded beaches. This escape into the green underlines the general human need for fresh air and reveals the city's successful oases. But it also gives rise to rethinking the interior of the city of the future and prioritizing space for green oases and sensory outdoor spaces. Landscape architect Sybille Buhl Karottki, among others, points this out in a column in Politiken.
Balaj has bypassed the places that many of us pilgrimage to such as Frederiksberg Garden, Assistens Cemetery and Kongens Have. In fact, several of the places she stops, I cannot recognize or place. It makes me want to explore my city and find new green places and pay more attention to the urban nature. That day I ride my bike through the city to do various practical chores and send a thought to all the trees I come across on my way.
Sublim acoustics in Copenhagen?
Musician Birgitte Lyregaard also wants to awaken the senses – more specifically the sense of hearing. She has a simple goal: She wants to look for sound and good acoustics in various public spaces. We start in the musician's kitchen, where Lyregaard is brewing coffee. The sounds of grinding coffee beans, and the coffee machine howling and bubbling on the gas stove turn into a little everyday symphony, which brings back memories of the early days of the pandemic, when the coffee shops were closed, and many therefore had to be their own barista. The inspiration for this walk is found by Lyregaard in memory of a study trip to Krakow, where they visited an underground salt mine that had sublime acoustics. Who knows, maybe she'll find such a place in Copenhagen?
This 10-day cycle focuses on space in a concrete and abstract sense. Space is taken very literally when talking about man's relationship with architecture and the notions of home. One's emotional life and psyche is also described as a space one can enter, which several of the contributors relate to. The same with a trauma. With one's breath, one can create reflections and space in the body to accommodate opposing emotions.
The relationship between outside and inside has been pulled into extremes during COVID-19. For many, the quarantine has felt like a confinement and a detention – whether you were in an apartment, an allotment garden, a summer house, a nursing home, an asylum centre or a prison at the beginning of the crisis. The emotions and frustrations, the need for fresh air, the green surroundings and the freedom to move freely are similar and describe general human needs. Through the distance, we have become connected and come close to each other's experiences.
20 June: Lotte Faarup
21 June: Birgitte Lyregaard
22 June: Natalie Mossin
23 June: Sophie Dupont
24 June: Louka Anargyros
25 June: Thjerza Balaj
26 June: Mette Møller Overgaard
27 June: Sensuous City Explorations
29 June: Sunniva Byvard
The walks continue until 8 August with a new artist each day.
Follow live on www.facebook.com/walkingcopenhagen.
Read more here.
SELECTED VIDEOS
20 June: Lotte Faarup
21 June: Birgitte Lyregaard
22 June: Natalie Mossin
23 June: Sophie Dupont
24 June: Louka Anargyros
25 June: Thjerza Balaj
26 June: Mette Møller Overgaard
27 June: Sensuous City Explorations
29 June: Sunniva Byvard