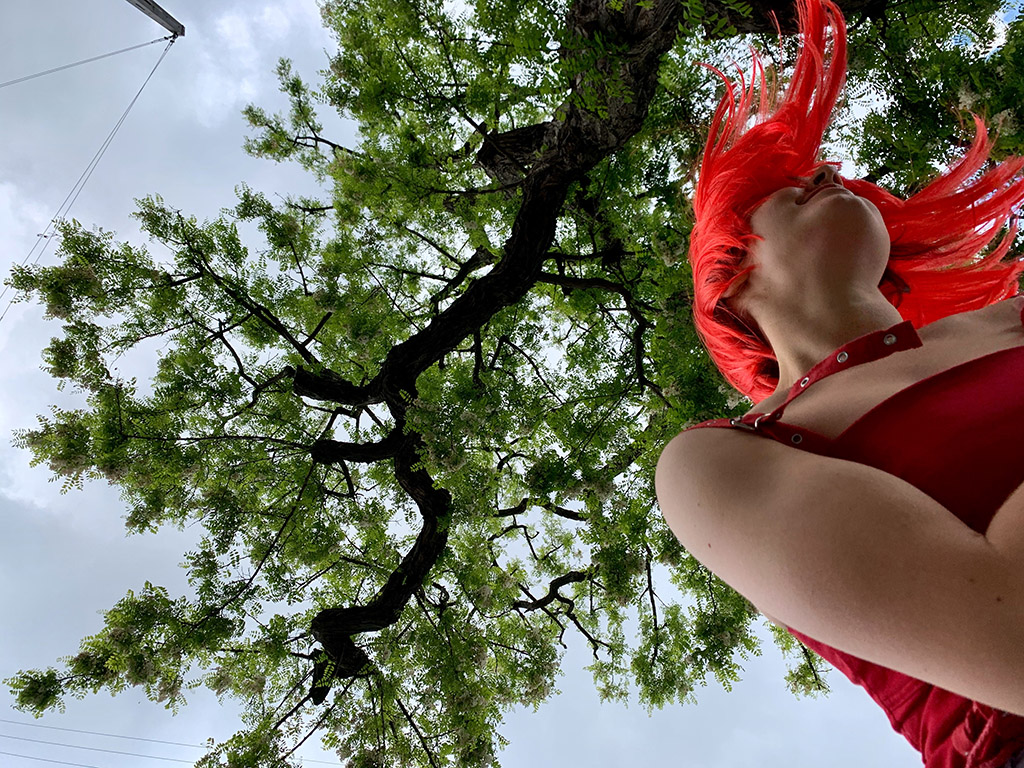 25. juni: Thjerza Balaj
TID: 25. juni kl. 5.00-17.00
STARTSTED: Biens Allé, København S
KATEGORI: Danser / koreograf
Live-stream hver hele time på www.facebook.com/walkingcopenhagen
12 WAYS: GIVING LOVE TO A TREE
a practice of making love
twelve ways of dancing with a tree
a dedication to
twelve city trees
this will be
twelve ways of giving love to a
tree 
Lorna is the girl in red, the girl on fire, the girl full of desire. 
"I like the colour red because it's a fire. And I see myself as always being on fire."
Arnold Schwarzenegger
During these twelve hours, Lorna will walk through the city with a desire to dance for and with trees. Lorna thinks it is a pity how overlooked trees are. Hopefully over time, her dance, redness, and your attention will give the trees the affection that they deserve. 
Save the city trees, each tree counts. 
DOCUMENTATION JUNE 25
FILM
05.00 h
06.00 h
07.00 h
08.00 h
09.00 h
10.00 h
11.00 h
12.00 h
13.00 h
14.00 h
15.00 h
16.00 h
17.00 h
ABOUT THE ARTIST
Thjerza is a Norwegian-Albanian dancer and choreographer based in Copenhagen, where she also graduated from The National School of Performing Arts in 2019. Her artistic interests are oriented towards physical practice relating to speed, pleasure and various modes of intensity. She works on finding fun and lightness despite of an, oftentimes, fucked up reality. 
She is currently working on a solo performance, where she puts the "I" between two worlds, balancing fiction and reality, suspending cultural boundaries and proposing alternative codes.
She worked with choreographers such as Ingri Fiksdal, Mute Comp. Physical Theatre and Frederic Gies. This fall, Thjerza is the first guest curator for Dansehallerne's programme New Sh*t.