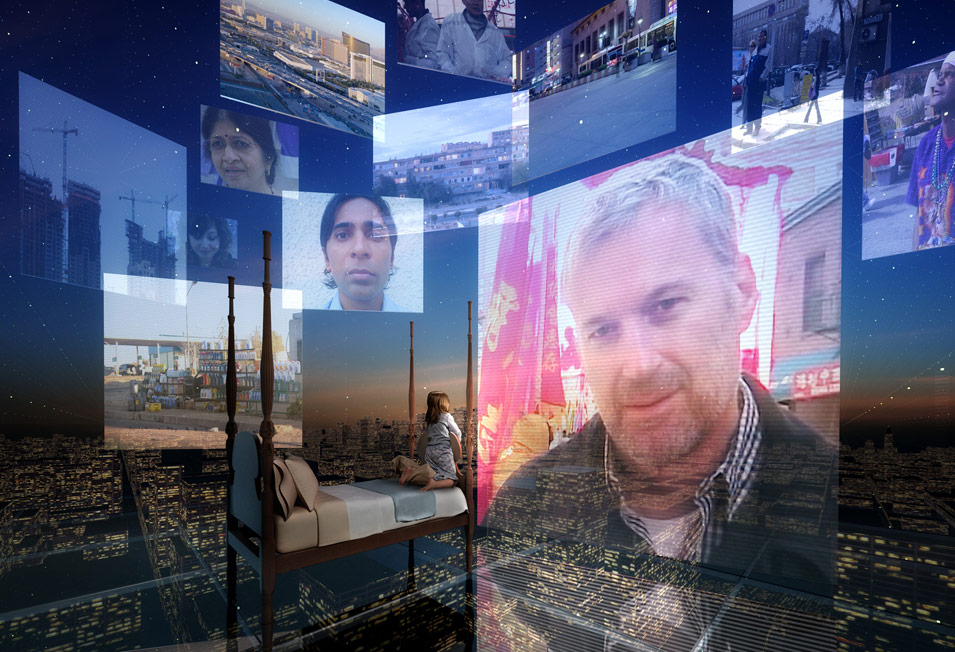 CONTINUOUS CITY – The Builders Association
MusikTeatret Albertslund // 11.-13.08.2009 kl. 20 // varighed: 90 min.
Multimedie-performance om mennesker i et globalt informationssamfund. The Builders Association mixer performance, tekst, video, lyd og arkitektur, når de fortæller historier om menneskets oplevelser i det 21. århundrede.
CONTINUOUS CITY fortæller historien om en rejsende far og hans datter derhjemme – om deres forhold, der transformeres af fart, hypermodernitet og svigtende mobil-forbindelser.
CONTINUOUS CITY handler om mennesker langt hjemmefra og om, hvordan vi nogle gange strækker os til det yderste for at kunne være flere steder på samme tid – online.
Omkring far og datter er der en række karakterer, som plejer deres egne transnationale forretninger. Fra en internet mogul, der udnytter netværk i udviklingslande, til en barnepige, der humoristisk blogger om mennesker og steder omkring hende.
CONTINUOUS CITY handler om mennesket i det globale informationssamfund.
"Continuous City surprises, questions, puzzles and fascinates with its mastery of the very technologies it speaks about. Visually superb, the show directed by Marianne Weems, evokes a multitude of small matters that will keep you thinking long after the last haunting scene." Le Soir, 2009
"Using the latest in theatrical stagecraft, The Builders Association makes most other multimedia theater look as if it's from the Stone Age." New York Times, 2008
Conceived by Marianne Weems, Director; James Gibbs, Dramaturg; Harry Sinclair, Writer
Sound Design and original music composition: Dan Dobson
Video Design: Peter Flaherty
Lighting: Jennifer Tipton
Scenic Concept and Design: James Gibbs, Stewart Laing, and Neal Wilkinson
Performed by: Moe Angelos, Rizwan Mirza, Caroline O'Neill, Harry Sinclair
Produced by: Claire Hallereau with The Builders Association / Neal Wilkinson, Production Manager / Joe Silovsky, Technical Design / Josh Higgason, Touring Technical Director / Chantelle Norton, Costume Designer / Ed Purver, Video Associate / Laura Mroczkowski, Lighting Associate / Tom Korder, Technical Development / Kate Goodwin, Stage Manager / Managing Director, Shoshana Polanco
Video footage by: Harry Sinclair (Mike and additional characters); James Gibbs (Las Vegas, Los Angeles, Tijuana); Mathieu Borysevicz (Shanghai); Ed Purver (Toronto); Deb's Blogs by Moe Angelos; Mirza Family Chats by Nabil Mirza, Rizwan Mirza and Ariba Sultan; Final Blog photos by Tammi O'Neill
Additional Design Concepts: dbox
Additional Dramaturgy: Jessica Chalmers
Consulting: Donna Cox and the National Center for Supercomputing Applications, Urbana, IL
XUBU Website Design and Development: Nick Reid and Ryan Shaw
Casting for child actor: Stephanie Klapper
Kim Whitener, Executive Producer
I samarbejde med og med støtte fra MusikTeatret Albertslund