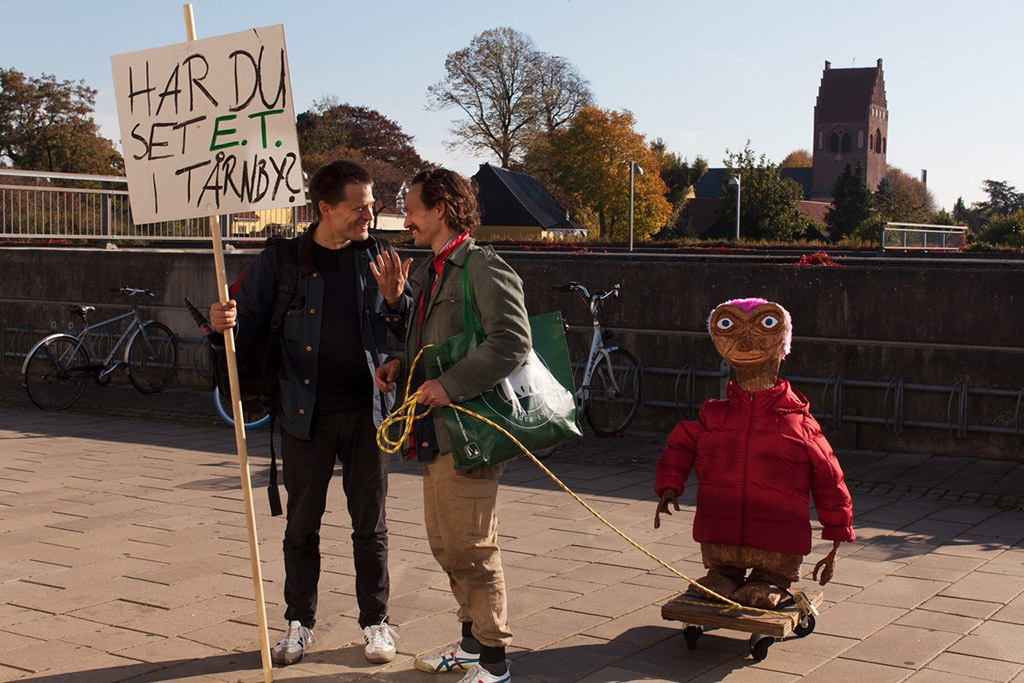 16. maj: Andreas Liebmann
TID: 16. maj kl. 06.00-18.00
STARTSTED: Glamsbjergvej, Tårnby
KATEGORI: Performancekunstner, instruktør
Live-stream hver hele time på www.facebook.com/walkingcopenhagen
WALKING TÅRNBY
Andreas Liebmann walks all streets in Tårnby accessible to pedestrians. Tårnby is the municipality where he happens to live after 44 years of living "abroad". (It always felt like "here", though). Every street will be walked. No streets are left out. The walking provides information, meetings, talks, thoughts: WORDS.
During the twelve hours, Andreas Liebmann condenses these words by writing on the street. Random passers-by will find these word-traces. The live-stream camera will get the chance to read them as well and project Tårnby Walking Words into the digital universe.
Tårnby is the sandwich suburb of Copenhagen. Enclosed by Denmark's capital and its airport, it prevails its identity in stillness. Andreas Liebmann's walk intends to massage the capillaries of Tårnby, get words, movement and perspectives out of it.
DOKUMENTATION 16. MAJ
FILM
KL. 06
KL. 07
KL. 08
KL. 09
KL. 10
KL. 11
KL. 12
KL. 13
KL. 14
KL. 15
KL. 16
KL. 17
KL. 18
ABOUT THE ARTIST
Andreas Liebmann is a Swiss performance artist, author and theatre director living in Denmark. He is part of the performance collective GASTSTUBE° (2001-2007 / 2019-….) based in Berlin, Basel, Brussels and Tårnby. His performances and plays have been shown in the German-speaking independent scene and in city theatres, in Denmark (S/H, Kunsthal Charlottenborg), Sweden, France, Bolivia, USA and others.
In 2017-18, he initiated the site-specific international performance festival Tårnby Torv Festival, which brought together neighbours, artists, activists and other citizens. 2020 he is conducting an artistic research project in Tårnby on a local specific notion of performance art: "Imaging the social".
His performance piece "Total International (Lokal)", which is planned to premiere in 2020, develops distance-specific ways of artistic cross-country collaboration on the background of the ecological crisis. Since 2016, Andreas Liebmann teaches idea and concept-based direction and performative practices at Den Danske Scenekunstskole.