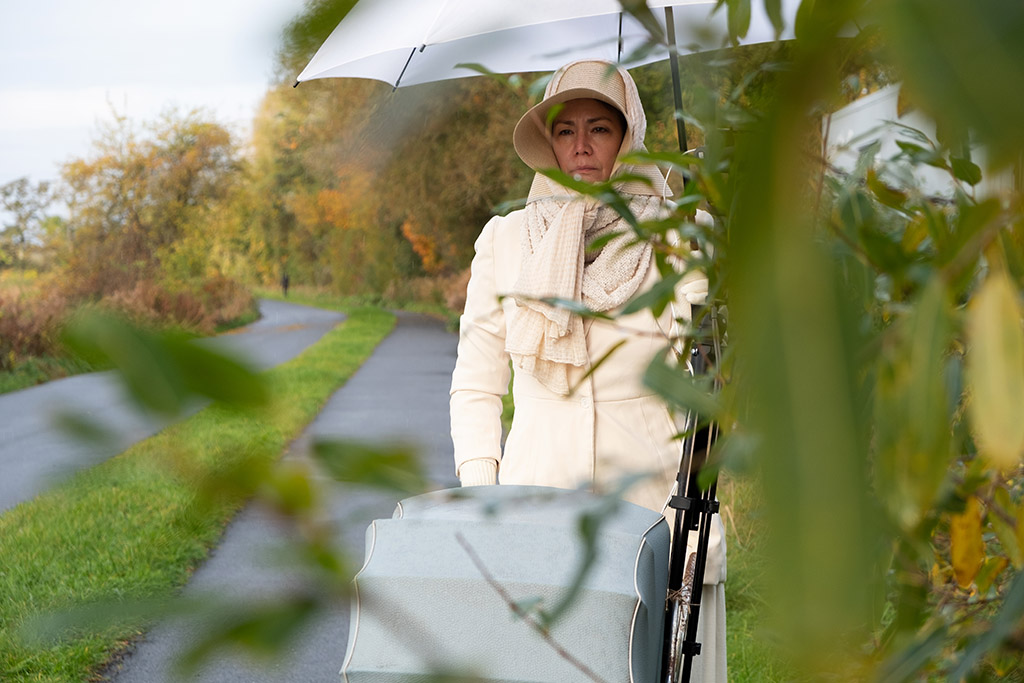 26. oktober: Yael Gaathon / Walking Landscapes Aarhus
TID: 26. oktober kl. 09.00-21.00
KATEGORI: Performance
RUTE: We are walking along Aarhus Å from Brabrand Lake to the outlet at the river's mouth near Mindet. This path is a designated cultural heritage area in the Interreg Europe project WaVE. For more info: aarhuswiki.dk/wiki/Aarhus_%C3%85_fra_Brabrand_S%C3%B8 _til_Mindet 
DELTAG: You can join just for a few short minutes, for an hour, or for the entire 12 hour walking meditation retreat. The slow walk we will use is a type of walking meditation, a combination of techniques from Butoh dance and Zen practice. Videos explaining the meditative walking technique will be posted a few days beforehand. There is no need to sign up. Just show up anywhere along the way and walk with us. Everyone is welcome! 
WALKING WITH THE SPIRITS OF THE PAST ALONG AARHUS Å
A slow meditative walk along the water, connecting to the past and the present with awareness to the life flow of the river that has nourished the area for hundreds of years.
The concept of the walk is inspired by the traditional Japanese life view which says that our everyday life exists side by side with the spirit world. Our ancestors and forebears are all moving around us. Also inanimate objects have a history and a soul, and every man-made item contains a little bit of the soul of the artisan who created it.
This tangible connection to the past has a profound influence on our perception of everyday life. It is a constant reminder that our life today is not separate from the past, but is built upon so many lives and events that came before us. It reminds us that every object that we touch has a history – maybe someone cared about this object, or someone invested energy and attention into creating it. This life view widens our outlook and gives us perspective on our life that is both humbling and inspiring.
The walk itself can be described as a meditative performance. It is a non stop pilgrimage – 12 hours of slow, flowing movement along the river from Brabrand lake until Mindet. We are walking today in the space between life and death, we are walking with the spirits and we ourselves are part of the spirit world. The walk is very slow and we focus our attention in the here and now, every breath, every movement, every step is mindful and present. We are also opening our minds to the landscape, to the history, to the spirits, the life around us, past and present. The live streaming will be on for the full 12 hours, with only a few small technical breaks. Every hour on the hour an old ritualistic Burmese bell will be rung and we will open our awareness to the space, explore our surroundings and allow open and free movement in our bodies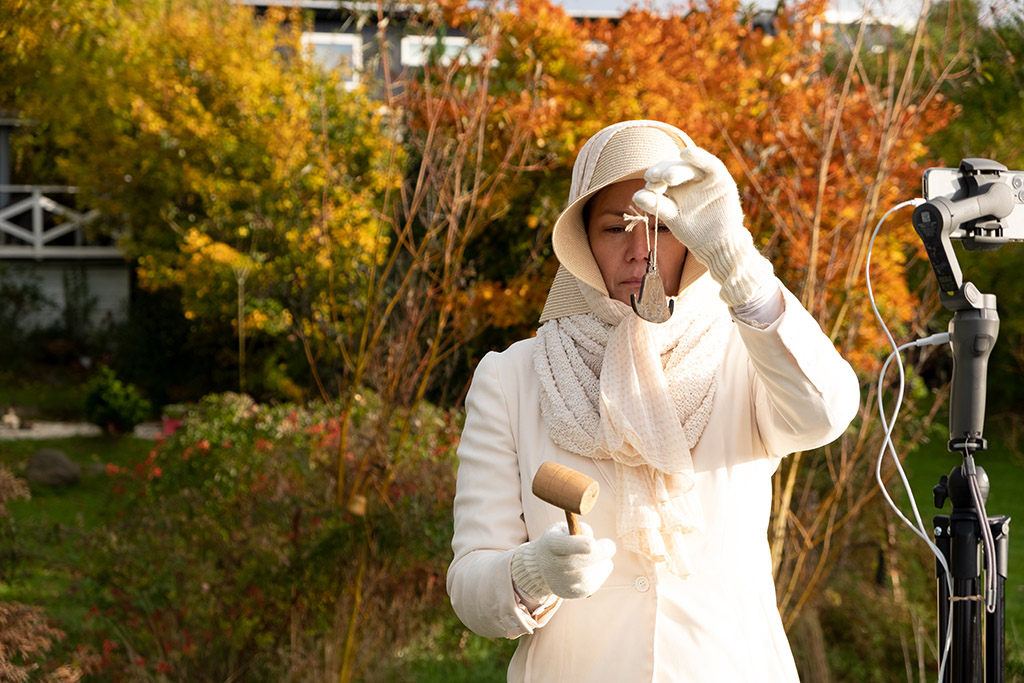 PARTICIPATE
The walk can be experienced both as a performance and as a 12 hour walking meditation retreat. The performance can be seen online through live streaming and live in Aarhus along the route. These will be two very different performances, as the camera will capture a completely different reality from that which the eye will capture in the physical space. If you are joining us as spectators on foot, you might want to bring your phones and log on to see both performances simultaneously. You can also join the walk and experience it as a walking meditation retreat.
If you are joining for the entire day or for many hours, please make sure to bring some food and water, warm layered clothing (to take off if too warm), comfortable warm shoes, and protection from the rain (if necessary). We will not take official food or toilet breaks. You decide on your own when and where to take them.
In this video Yael explains basic walking meditation techniques, for you to prepare, if you're joining in:
ABOUT THE ARTIST
Based in Aarhus Denmark, Yael Gaathon is the artistic director of the Butoh company Blue Cliff. Over the years Yael has been developing her own unique performance style and artistic language, drawing from her background as an actor and Butoh dancer and creating the visual design for her pieces. As an artist Yael seeks to connect to the deeper levels of our human consciousness and remind us of the beauty and vulnerability which is at our core. Her style has often been described as atmospheric, poetic, aesthetic and meditative.
Yael started her career as a theater actress in Israel, graduating from acting school in '93. The following year she became a member of the internationally acclaimed Itim Theater Ensemble, performing with them worldwide. She began her training in Butoh in 1995, and later became a student of Yoshito Ohno. Today Yael choreographs, directs, performs and teaches Butoh and theater at schools and private workshops. Her latest performance "Shinpai Shinaide – Don't Worry About Us" has been nominated for two Reumerts 2019.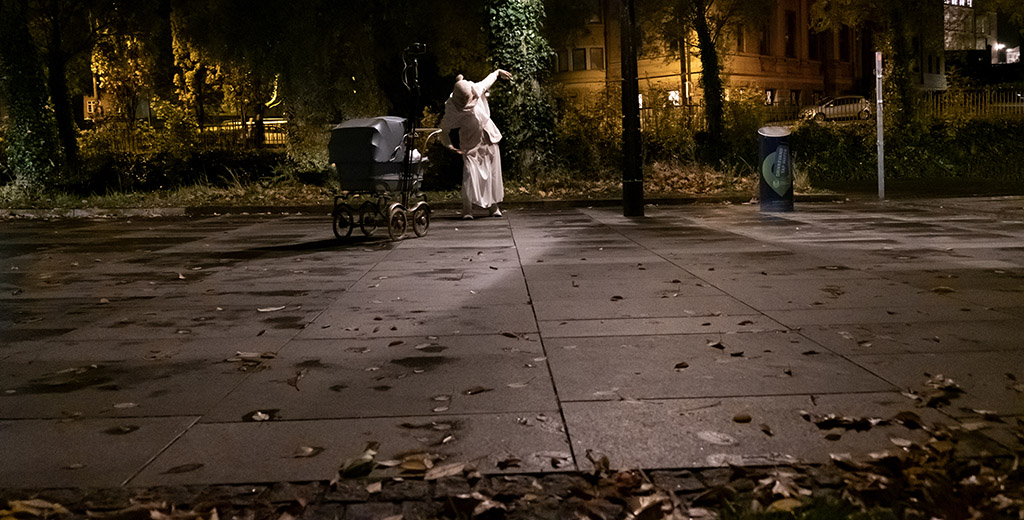 DOKUMENTATION
VIDEOSAMMENDRAG
VIDEOS – de 13 nedslag
26. okt. kl. 9
26. okt. kl. 11.30
26. okt. kl. 13
26. okt. kl. 15
26. okt. kl. 16.30
26. okt. kl. 17.30
26. okt. kl. 19
26. okt. kl. 20
26. okt. kl. 21
Fotos: Louise Kirkegaard