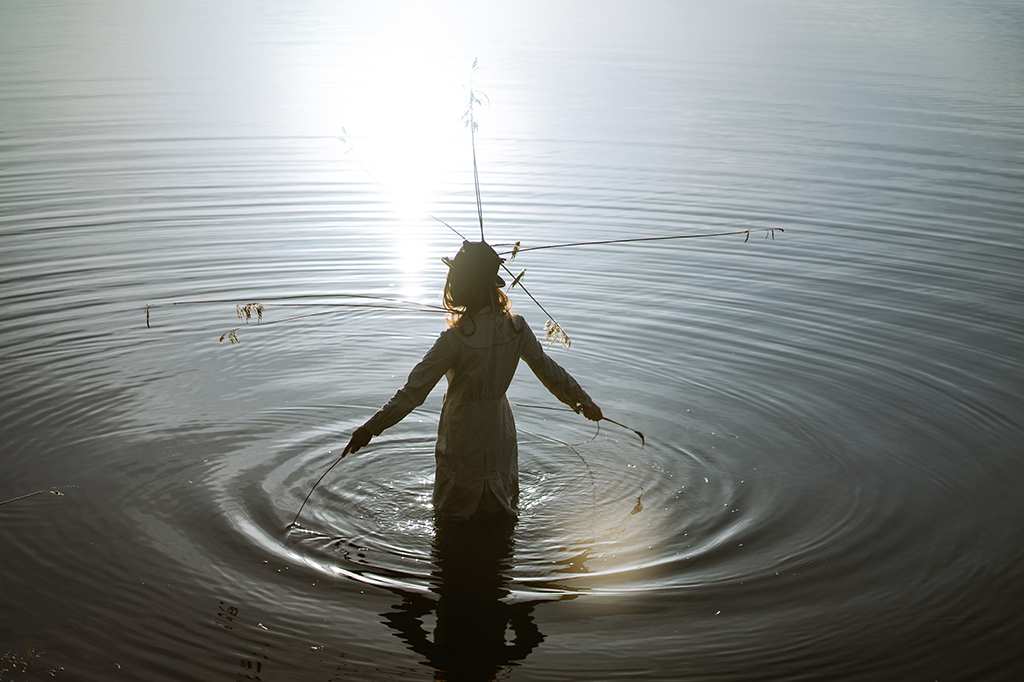 19. juli: Vita Malahova / Walking Landscapes Silkeborg
TID: 19. juli kl. 10.00-22.00
RUTE: Fra udspringet af Funder Å til Arnakkekilden ved Silkeborg Bad
KATEGORI: Performance
DELTAG: Vandringen kan opleves online. Derudover er du velkommen til at mødes med Vita ved Arnakkekilden efter hendes vandring kl. 22.00 og høre om hendes oplevelse.
Soil, plants and I
This will be a personal research on soil and water materials as a way to access roots and memory. Every hour I will stop and connect with a place through soil, water and plants. I will morph and transform materials, making them interact with my body and movement. From this symbiotic interaction, which takes place in the space of a childish sandbox, I will create moving and evolving masks.
Through the altered appearance, the mask wearer can imagine another existence. But the mask also conceals its face and thus its identity. Sometimes giving birth to new evanescent identities, other evoking creatures from my memory, which thus become the echoes of an ancestral land. The body, covered by soil, water and plants is in action, in joy and in struggle, whispering the forgotten ancestor tales, revealed by gestures, much more than words.
OM KUNSTNEREN:
Vita Malahova is an actress, mask maker, and theatre-maker born in Latvia. She holds a Bachelor of Physical Theater at the Accademia Teatro Dimitri (CH) and is a founder of the physical theatre duo I Patom Theatre. Vita is attracted by playfulness as a strong connection to the people, their nature, and life story. Since 2016 she has been collaborating with theatre platform "Hakkehuset" from Silkeborg and recently took part  in site-specific projects LIVETS VAND and Silketråd.  Currently, Vita does her Master in "Expanded Theater" at Bern University of the Arts and works as a freelance actress and theatre-maker between Denmark and Switzerland.
Follow Vita:
www.instagram.com/vita_malahova/
vitamalahova.github.io/web
DOKUMENTATION
VIDEOS
19. juli kl. 10
19. juli kl. 11
19. juli kl. 12
19. juli kl. 13
19. juli kl. 14
19. juli kl. 15
19. juli kl. 16
19. juli kl. 17
19. juli kl. 18
19. juli kl. 19
19. juli kl. 20
19. juli kl. 21
19. juli kl. 22
CREDITS:
Portrætbillede: Valdis Jansons
Topbillede: Junjala Photography