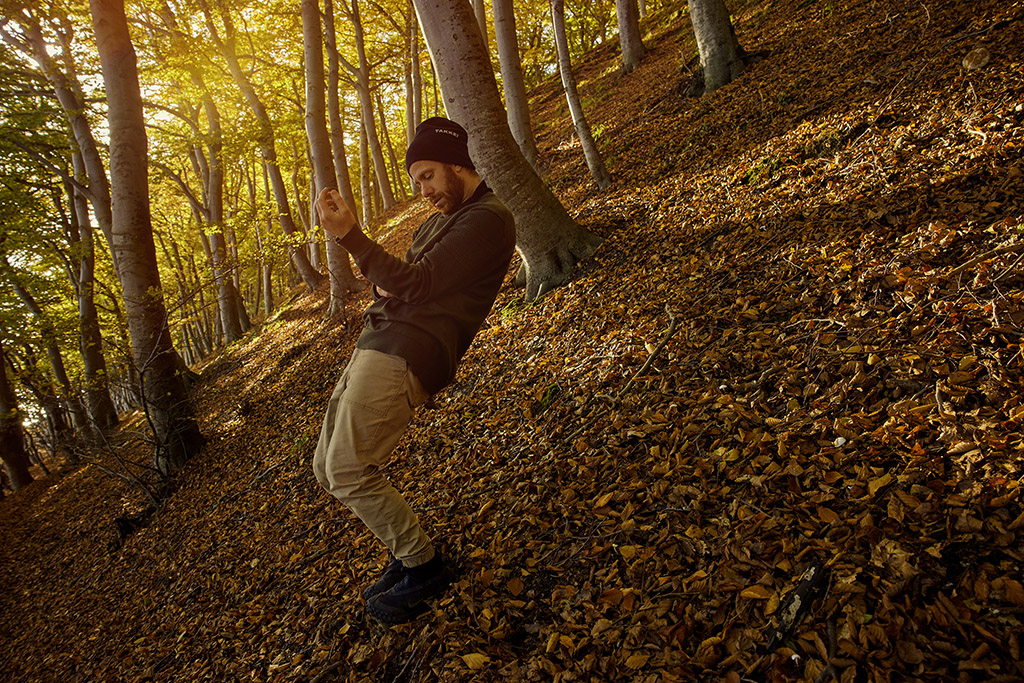 23. oktober: Mirko Guido / Walking Landscapes Aarhus
TID: 23. oktober kl. 07.00-19.00
KATEGORI: Performance
RUTE:
Starter ved Fløjstrup strand/skov og går langs kystlinjen til Riis Skov
DELTAG: Vandringen kan opleves online. 
SIPPING AT THE EDGE OF SAND GRAINS
​​They are telling us a story.
Stories
of a moment in time
a cusp
in a future-past.
Human beings began
to develop a new consciousness
that transformed
the sense of presence-absence
in the world, intuiting
networks of palpable relationalities
We live in a time when researches ranging from neural sciences to the study of terrestrial and ecological systems, from digital computing to physics, have altered our common understanding of what it means to be human in the 21st century. It seems increasingly necessary to establish a more subtle perception of ourselves within the environment, as well as a more egalitarian relationship between humans and even with the non-human.
For his performance "Sipping at the edge of sand grains", Mirko constructs a futuristic story about highly perceptive and intra-active bodies, capable of connecting the convergences of the internal micro-cosmos with the dynamic networks of the surrounding world.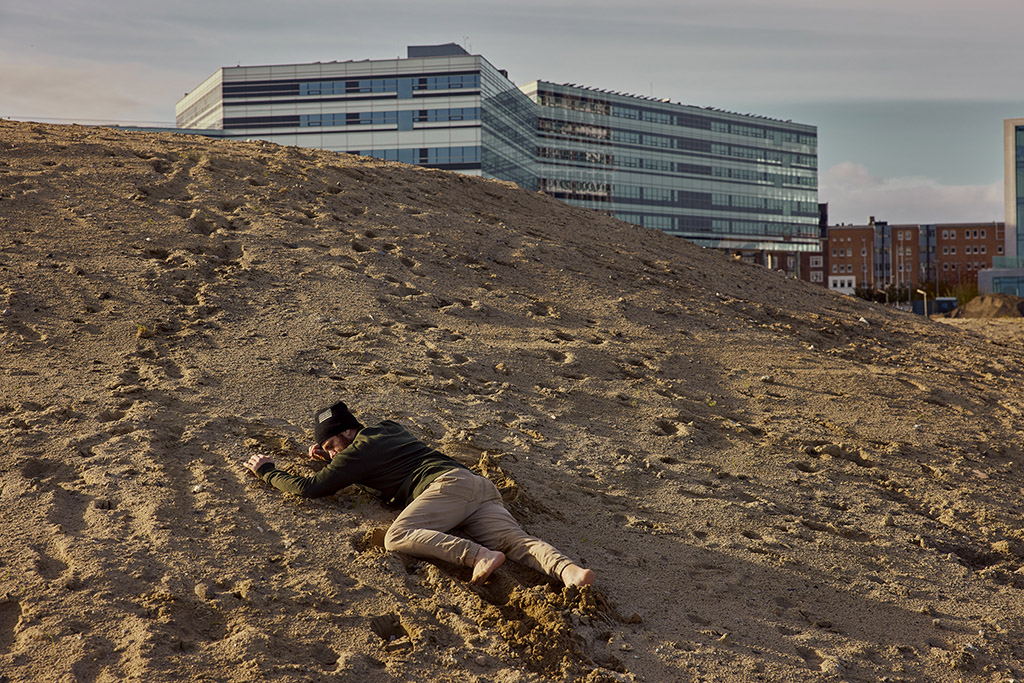 Starting from a critical interrogation of anthropocentrism, and with sci-fi overtones, the performance delves into the question of the meaning of being human in this times. It invites a reflection of the embedded, extended and embodied self, through the imaginings of an ecological vision that is not only environmental, but also of the self, and socio-political.
The work draws from local historicities and anecdotes, political issues, scientific knowledge, and with a visual storytelling approach, the choreographic practice interweaves dance, spoken word, and camera movement. The performance traverses the landscape like a breathing canvas; a living stage where fictional imaginaries overlap and intersect with the actual site. Conceived as a choreographic work for the camera, every hour a performance will be live-streamed on the Walking Landscapes facebook page, with the possibility of capturing all 13 performances afterwards. Each video performance is an episode in the overall narrative, like a fragment, a close encounter with a particular point in the landscape and story.
​
ABOUT THE ARTIST
Mirko Guido works with contemporary choreographic practices, investigating the relational and multilayered dimensions of the body and the self. His processes move through notions and methods of intersubjective and cumulative networks. He uses a variety of means including dance, participatory methods, storytelling, text and video, and his choreographic work can take form across diverse environments, from theater to alternative and site-specific spaces, or text publications. He holds a Master's degree in Performative Practices from DOCH/SKH in Stockholm. His works have been presented internationally, and he has been artist in residence at centers such as Summer Studios Rosas and Work Space Brussels; Uferstudios, Berlin; PACT Zollverein, Essen; Dansens Hus, Stockholm among many others. As a dancer he has worked with a wide variety of choreographers, engaging in very different methods/styles/poetics, at Cullberg Ballet, Staatstheater Wiesbaden, Staatstheater Saarbrücken, Tanz Theater Bielefeld and Theater Hagen.
DOKUMENTATION
VIDEOSAMMENDRAG
VIDEOS – de 13 nedslag
23. okt. kl. 7 – epilogue
23. okt. kl. 8 – change of paradigm
23. okt. kl. 9 – sensing the web
23. okt. kl. 10 – meeting Fabienne
23. okt. kl. 11 – within and beyond the body
23. okt. kl. 12 – meeting Katrine
23. okt. kl. 13 – entangled languages
23. okt. kl. 14 – reduce?
23. okt. kl. 15 – space within form
23. okt. kl. 16 – meeting Johanne
23. okt. kl. 17 – limbo
23. okt. kl. 18 – alsang
23. okt. kl. 19 – epilogue
Fotos: Allan Toft