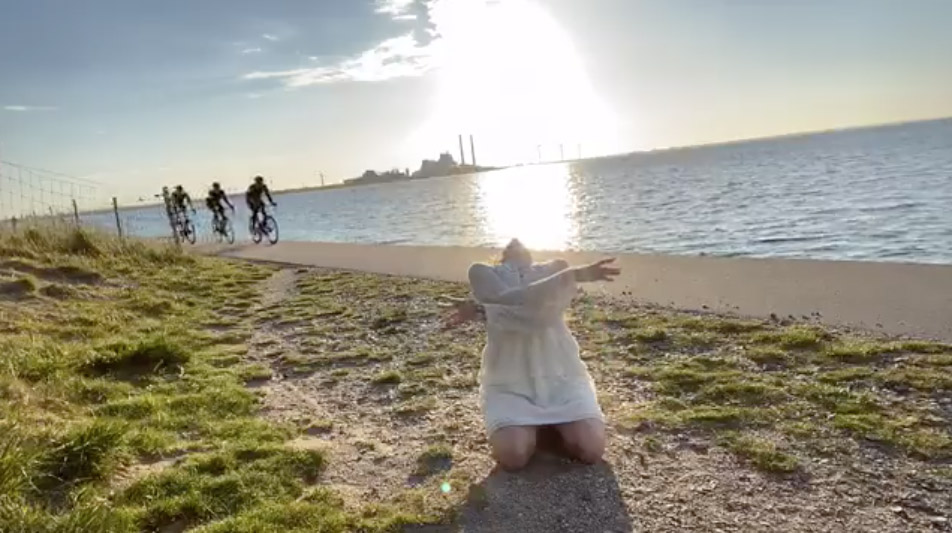 Wa(l)king Copenhagen 21-30 May – reflections and videos
Amazing dystopic horizons, the body as emotional barometer, and night walks to uncover other realities 
With more time to prepare, artists are extending their ambitions and exploration of the city. The act of simply walking develops into elaborate, individually sculpted narratives as pages of a diary of our metropolis.
THE BODY AS EMOTIONAL BAROMETER
Contortionist Elise Bjerkelund Reine took us on a 35 km walk around the coast of Amager, finding some incredible seaside landscapes as she took us through her 12 emotional stages of corona virus lock-down: energetic nostalgia in a tree, claustrophobia, frustration, conscience, anxiousness, acceptance, confusion, horny, restless, melancholia, in denial and finally at peace.
With Nana-Francisca Schottländer, the body literally became part of the landscape and part of the written narrative as human parchment paper with beautifully sculptured phases linking her home with barren rocks on the edge of Nordhavn's futurescapes.
Molly Haslund took on a brave 32 km demonstration of her provocative cardboard sign "I am so damn bored", as she challenged, one suspects, her totally pacified role as an artist and as a human bystander.
With the figure of the witch, this queer, transformative body of expanded possibilities, Valentine Tanz created a 12-hour ritual of reflecting on and healing wounds of loss and rejection.
DYSTOPIC LANDSCAPES
Gianluca Elia went in search of electro-magnetic waves rampant in the sleeping city, his computer translating Wi-Fi signals into the most extraordinary screaming and whispering soundscapes in dystopic industrial landscapes and closed spaces at night.
Kenneth Balfelt walked into the night to reach out to the homeless. They not only have to navigate the issues of increasing privatization, but also the issue of dark design, aimed at keeping them from finding a place of rest.
Choreographer Kalliopi Siganou started in another dystopic landscape, an almost totally empty airport, where she captures the atmosphere perfectly. She ended walking along the disused Amagerbanen with the first formal public in the project towards an almost celebratory finale.
Tomas Lagermand Lundme re-visited his own dystopic landscapes, specifically 12 places where he was abused and threatened. His walk became a poetic, vocalised ritual of reuniting his body with the city.
In-between all these landscapes, Christian Rønn placed himself in the tunnels, working on reconnecting the disconnections of our time through the time and space of sound.
CHALLENGING NORMALITY DURING LOCKDOWN
Marie-Lydie Nokouda, in the role of Camille Cloud, went to anonymous kiosks, backyards and parking lots. In the midst of suburban normality, she searched for her fictional letters, getting into absurdist Kafka-like and challenging situations.
Lina Hashim, with her ears attuned to overhearing – or monitoring – glimpses of everyday conversations in the city, revealed the random poetry of life.
The diary continues until 8 August with a new artist each day.
Follow live on www.facebook.com/walkingcopenhagen.
Read more here.
21 May: Lina Hashim
22 May: Valentine Tanz
23 May: Kalliopi Siganou
24 May: Nana-Francisca Schottländer
25 May: Elise Bjerkelund Reine
26 May: Kenneth A. Balfelt
27 May: Christian Rønn
28 May: Tomas Lagermand Lundme
29 May: Marie-Lydie Nokouda
30 May / day: Molly Haslund
30 May / night: Gianluca Elia