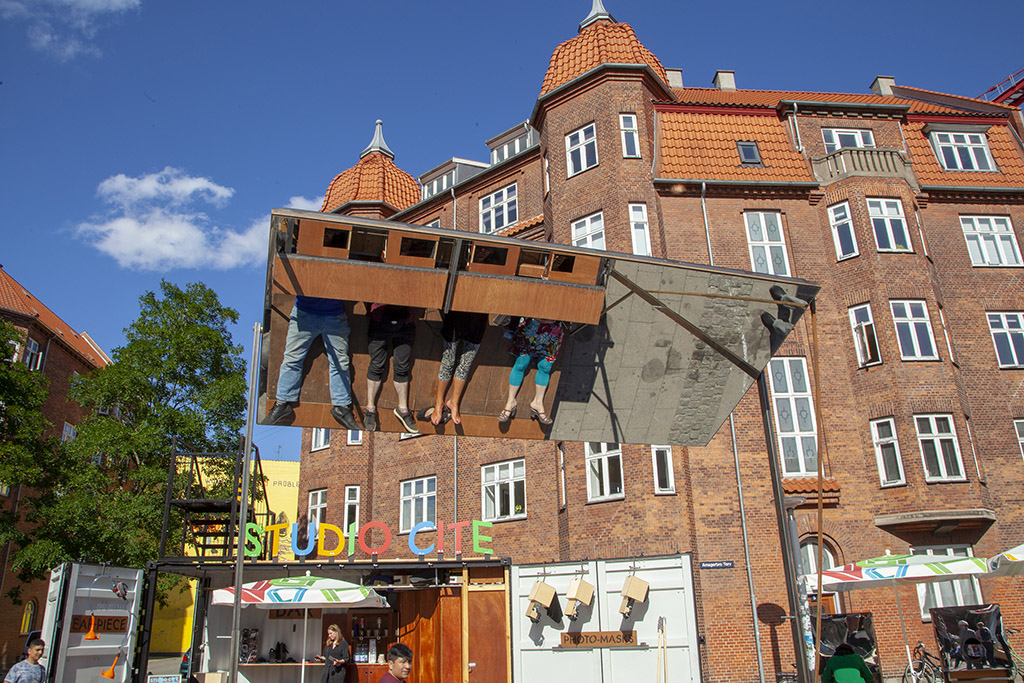 STUDIO CITÉ – Benjamin Vandewalle
Adventurous installations transform the world into a mirror cabinet
DATE & PLACE
4, 5, 6 July – Amagerbro Torv, Cph. S
8, 9, 10 July – Blågårds Plads, Cph. N
12, 13, 14 July – Enghave Plads, Cph. V
– weekdays 14-20 hrs / weekend 11-17 hrs
FREE
Studio Cité is a cross-over between a travelling funfair and a personal mirror cabinet with imaginative constructions created to explore the city – an artistic playground, where all amusements distort, confuse and disturb your vision and let you experience the city as if you were travelling with Gulliver.
Choreographer Benjamin Vandewalle excites our longing for playing with his creative installations and cubist-inspired periscopes, challenging our sense of perspective, proportions and location. How would the world look if your eyes were in the navel? Or if you were three meters tall? How do your surroundings look when an arsenal of mirrors splits the world up into fragments? Or when you lie on your stomach and is driven around with your eyes at street level?
Each of Benjamin Vandewalle's adventurous designs is like being invited into Alice's magical Wonderland. Here, nothing is like it seems. And anything can happen.
At three Copenhagen squares on Amager, Nørrebro and Vesterbro, this mini-village camps for three days at a time with all its installations, which don't come alive until you activate them. You can spend half an hour or stay for hours until you have explored each corner of your surroundings with the mobile constructions.
The walking performance FRAMING THE CIRCLE is also part of Studio Cité and requires reservation. Read more here.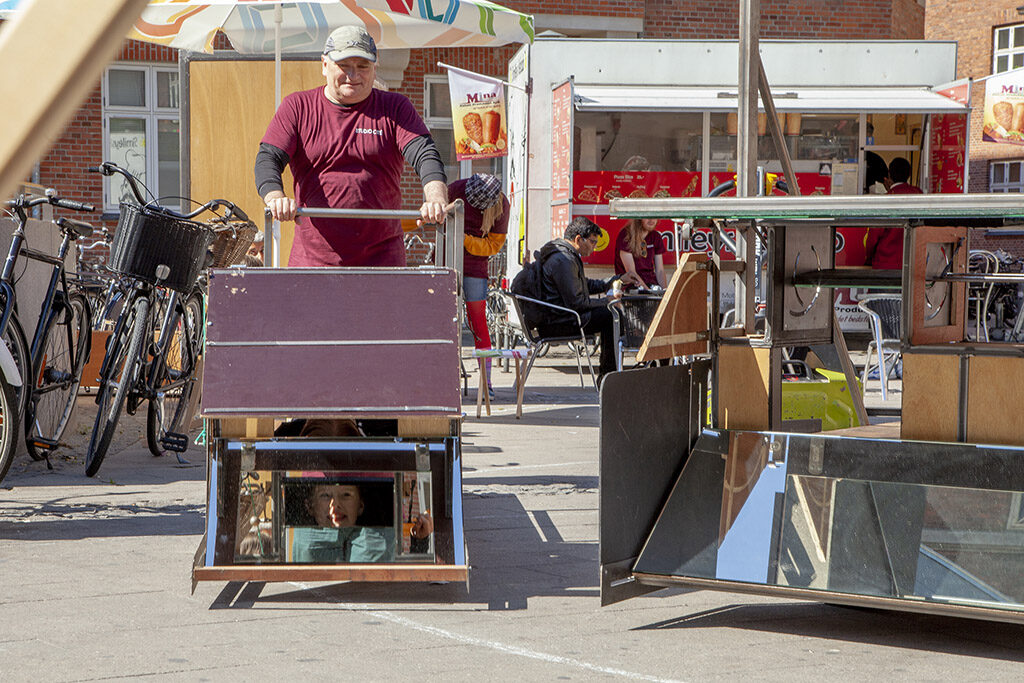 ABOUT BENJAMIN VANDEWALLE
Benjamin Vandewalle is a Belgian choreographer and dancer from the renowned dance school P.A.R.T.S. In 2012 he moved out of the theatre and made city space his experimental room.Here it is not dancers he choreographs, but the city, its residents and its everyday life.
Or, it is actually our gaze that he choreographs when he separates our vision from our body with his constructions. He blurs the distinction between spectator and performer and between reality and fiction, and he makes us question our senses.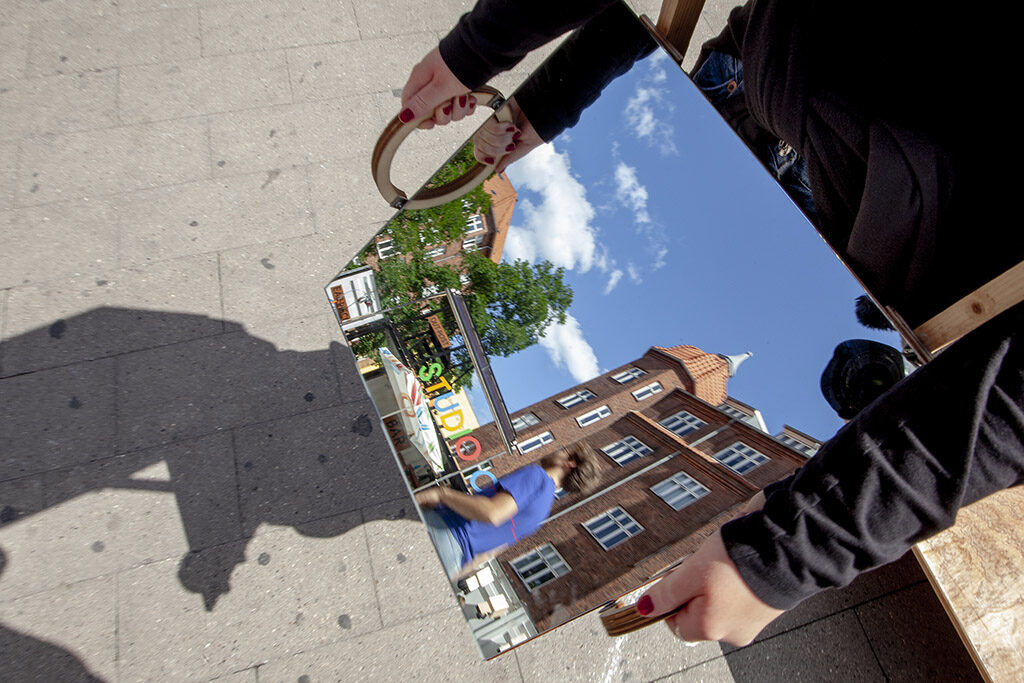 When we change the way we see the world, we also change our thoughts and ultimately our actions, so Benjamin claims. Thus, through his works, he gives us new ways of interacting with the world and makes us think about how we perceive our surroundings.
Benjamin will be in Studio Cité every day to meet people, guide people, talk with people and learn how his installations and performances affect our view of the neigbourhood – and the world.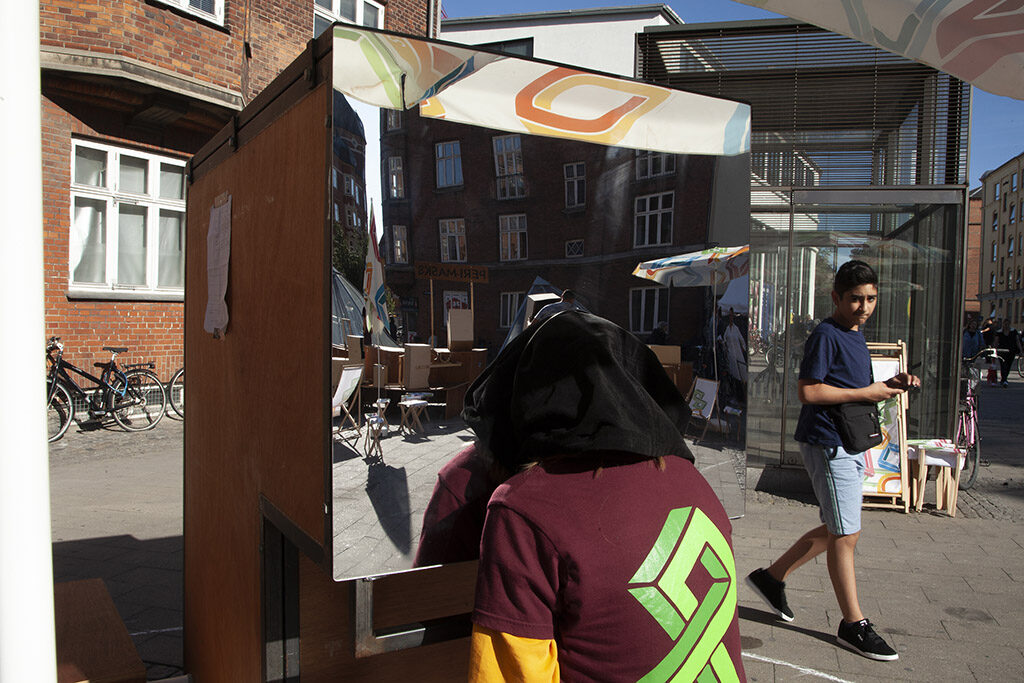 Studio Cité is: Peri-masks, Photo-masks, Inter-view, Inter-face, Peri-sphere, Peri-sphere XL, Micro-sphere, Framing the Circle, Tracking Traces, Out-post, a bar and a podcast.
Duration: You decide, but please reserve min. one hour
Recommended from 8 years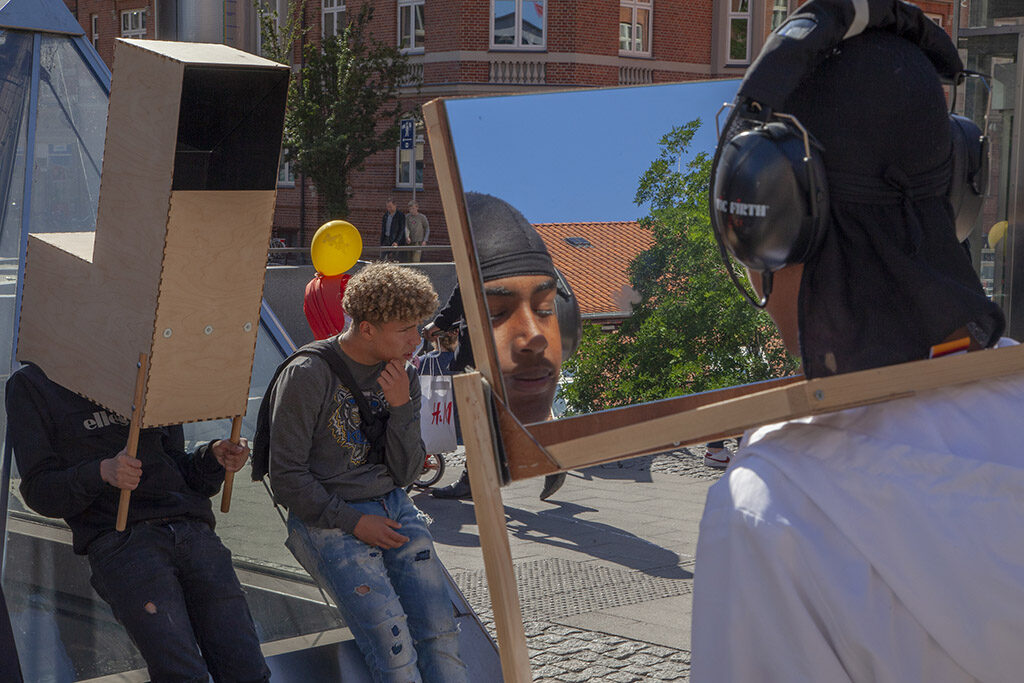 CREDITS
Concept & direction: Benjamin Vandewalle
Performance: Alice Van Der Wielen, Shosha Van Kranendonk, Yentl De Werdt 
Technical coordinator: Hans Van Wambeke, Jonas Vanhullebusch
Technical support: Bjørn Gunnar Otten
Technician on tour: Pierre Daugy
Technical engineering: Joris Festjens
Sound: Yoann Durant, Laryssa Kim
Sound engineering: Gert Aertsen, Leander Schönweger
Costumes: Sofie Durnez
Graphic design: Fien Robbe
Thanks to Aernout Vandewalle, CB service, Ivan Lucadamo
Production: Caravan Production-Brussels 
Co-production: SoAP-Maastricht, Kaaitheater-Brussels, Workspace-Brussels 
With the support of Amager Øst Lokaludvalg, Vesterbro Lokaludvalg, the Flemish Authorities & In Situ/European Commission.
Studio Cité is an IN SITU Pilot project that has received production support from the ACT project, which is co-financed by the EU Creative Europe Programme
Photo & video: Thomas Seest
www.caravanproduction.be/artists/benjamin-vandewalle/studio-cite