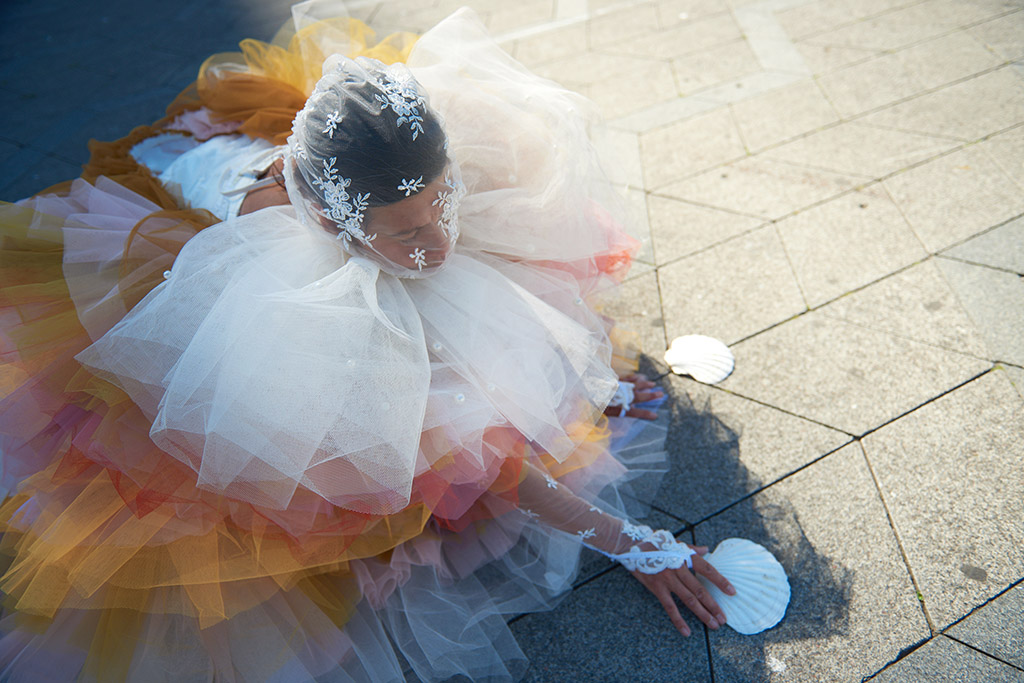 Musling / Renæssance Spind – by Lilibeth Cuenca Rasmussen
Performative rebirth of the Town Hall Mussel
DATE: Tuesday 9 Aug. / 5.30-8.00: drawing of the mussel on the square / 12.00-15.00: healing of the square with shells  / 15.00-19.00: ritual distribution of shells
PLACE: Copenhagen Town Hall Square
WHAT: Performance action
FREE
Like the woman in Botticelli's famous Renaissance painting of the Birth of Venus, she emerges from a large seashell. Performance artist Lilibeth Cuenca Rasmussen occupies Copenhagen's Town Hall Square in her voluminous tulle dress and welcomes passers-by inside her shell.
In its original form, designed by the Renaissance-inspired architect Martin Nyrop, the square in front of the Town Hall was a seashell. The mussel as a symbol of rebirth, fertility and the eternal journey.
As a ritual, archaeological excavation, Cuenca revives the original site by redrawing the shell, and as the mother mussel, she distributes her shells to passers-by.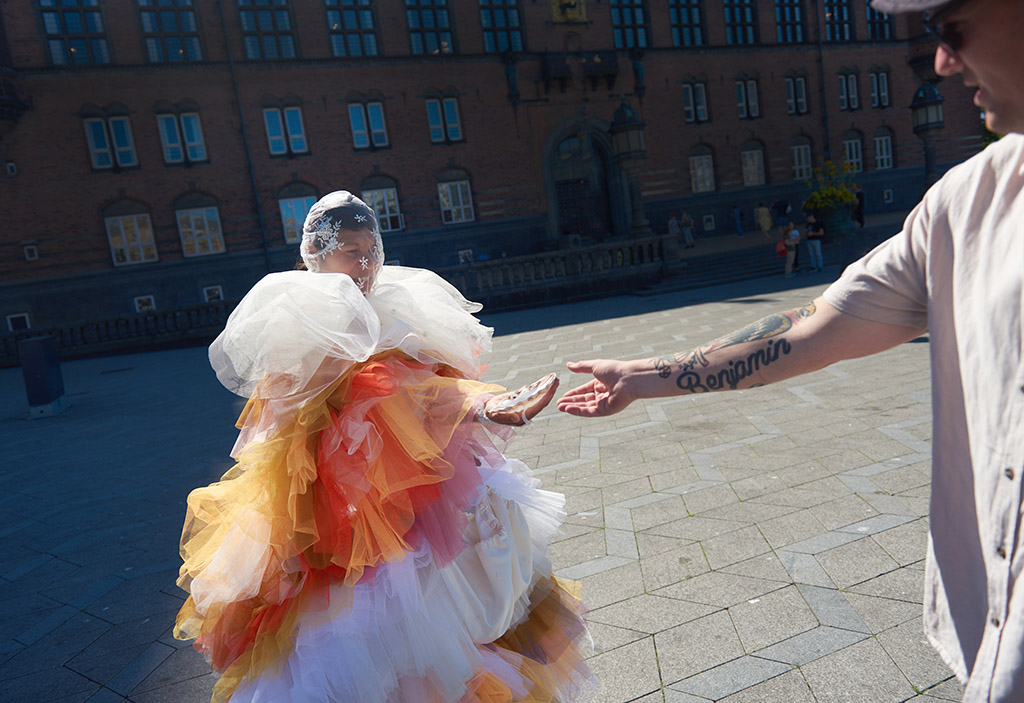 The reason is that the Town Hall Square is facing yet another of its countless (maligned) transformations. Over the years, the square has been a model for all kinds of architectural experiments and needs – a protective bunker, a bus terminal, a subway. As early as 1943, the mussel disappeared, and the square has never really found its own identity. And on August 22, a new construction project begins. The Town Hall Square fountain.
THE RENAISSANCE OF OUR TIME
Just as in the Renaissance people freed themselves from the strict dogmas of the Middle Ages, it is time for a rebirth. A paradigm shift. A renaissance for Copenhagen's Town Hall Square and for all of us.
In this time, when we are looking for a foothold in the midst of all kinds of currents and challenges – a pandemic, climate change, metoo, queering, Black Lives Matter, decolonialization – there is room to give birth to liberating ideas and create new points of reference.
Lilibeth Cuenca Rasmussen has written a manifesto for our time, which can be read in Politiken on 24 August. The manifesto will come alive on 9 Aug. as she embodies the mussel and shares her thoughts embedded in the hundreds of shells – like little bits of rebirth poetry.
The performance action 9 Aug. is carried out in collaboration with Politiken's Forhal and is also a prelude to the exhibition "Renæssance Spind" by Lilibeth Cuenca Rasmussen, which can be experienced in Politiken's Forhal 24 Aug.-29. Oct.
Lilibeth Cuenca Rasmussen was born in Manila, Philippines, and lives in Copenhagen. She graduated from the Royal Danish Academy of Fine Arts in Copenhagen and, in addition to her work as a performance artist, she is a professor of time-based and performance art at the Academy of Fine Arts in Bergen.
The recurring themes in Cuenca's works are identity in relation to gender, ethnicity and faith, viewed in a socio-cultural context. The works originate from performance and materialize in other media such as video, photography, painting and sculpture.
Cuenca often engages in cross-aesthetic collaborations with music, dance, design, etc. The works confront and engage. She uses the body, including her own, directly as a tool and medium in many works.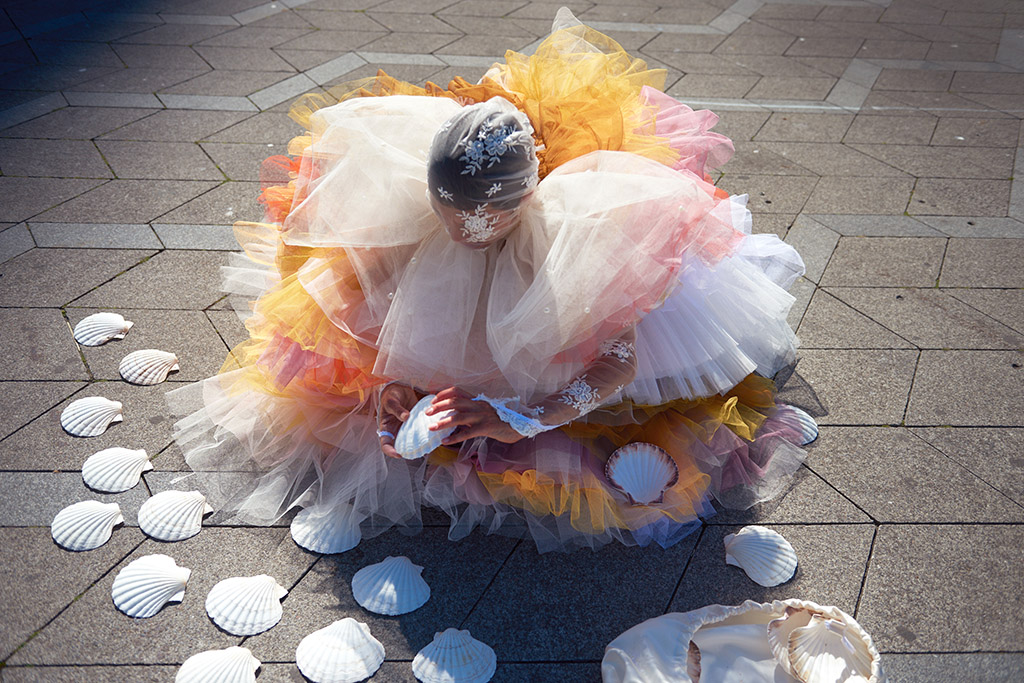 Photo: Marine Gastineau