15 June / day: Jakob Draminsky Højmark
THE NOT SO EMPTY SPACES – A POCKET OPERA
My walk is built on the opening phrase from the English theatre director Peter Brook's book "The Empty Space" from 1968:
"I can take any empty space and call it a bare stage. A man walks across this empty space whilst someone else is watching him, and this is all that is needed for an act of theatre to be engaged."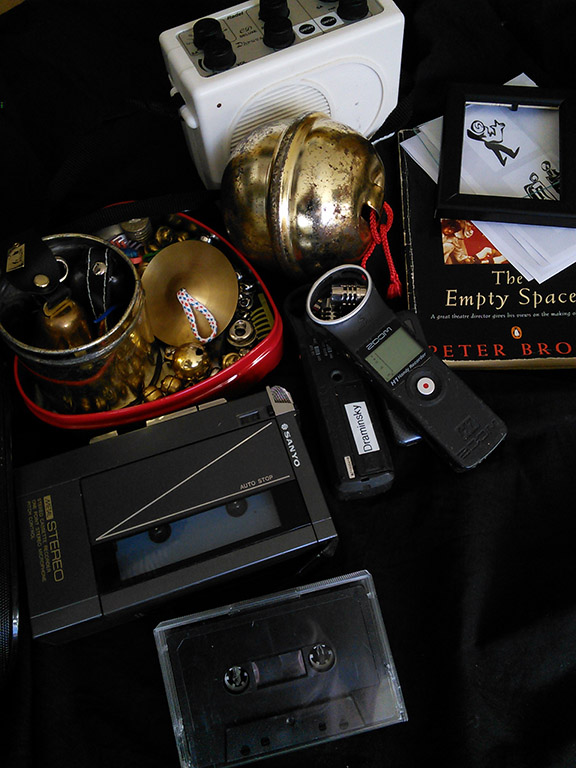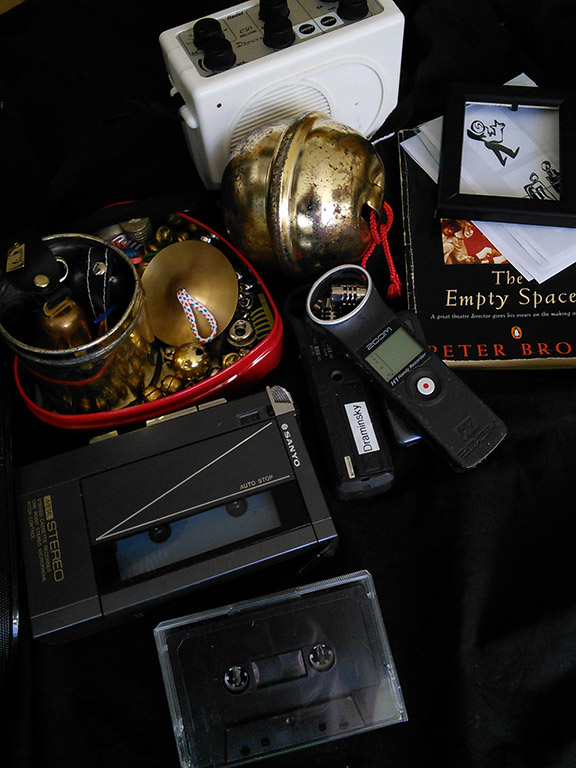 Exactly 20 years ago, I worked on a mobile electroacoustic opera project based on Brook's book.
Back then, I was very preoccupied with deconstruction. I had cut out random words and phrases from the works Brook mentions in his book, composed new music with this text material, and recorded it with 16 patient opera singers.
I loaded the recordings, which I had again cut up, into a computer programme that more or less randomly manipulated parts of the sound into unfamiliarity and left other parts raw and naked.
My assistant and I took the new audio material around to selected public spaces and played it over an eight-channel speaker system under the title aN eMPTY sPACE?
The idea was that whoever stopped, listened to the fragmented singing voices and looked around, could create his own personal musical dramatic narrative based on the everyday life around him.
During the Danish lockdown, I re-discovered the files from the old project and decided to once again let them accompany a day in the life of Copenhagen.
Today, I do not travel around with an assistant and a heavy computer-controlled speaker system, but have transferred a new mix of the original recordings to various small media-players that fit into the pocket of my jacket.
You will still be able to see me working in the public space, but today the audience will probably have to stop behind their screens to experience the overtures, acts, scenes and epilogue of the work in context.
The new story starts in the kitchen window of my own home in Colbjørnsensgade on Vesterbro and ends in front of the shop window in my friend Ole Valdemar's studio on Jyllingevej in Vanløse.
The route will be a zigzag trip between Vesterbro and Vanløse. Every full hour, I team up with one of Ole Valdemar's drawings at a selected window to allow my portable players to accompany its reflection on the now not so empty spaces that the Copenhageners have once again thrown themselves into.
In each of the two to four minutes long features, the voices coming from the small speakers of my players will blend with the tones and sounds of my minimalist one-man orchestra and other diegetic sounds of this moment's performance space.
DOCUMENTATION JUNE 15
FILM
05.00 h
06.00 h
07.00 h
08.00 h
09.00 h
10.00 h
11.00 h
12.00 h
13.00 h
14.00 h
15.00 h
16.00 h
17.00 h
ABOUT THE ARTIST
Jakob Draminsky Højmark is a composer and musician with an interest in musical dramatic narratives, sound art and improvisation.
Draminsky has been responsible for ten international music-dramatic chamber productions since the 1980s, released several albums in his own name, and created soundtracks for a wider range of his own and others' video and theatre works.
As a performing musician, he has, in parallel with his international improvisation-based collaborations and many solo concerts, acted as a side-man for the French toy pianist Pascal Comelade.
Draminsky has been associated with the experimental music scene in Barcelona between 1990 and 2007 and was awarded the second prize in the Henning Larsen Foundation's international competition Music and Architecture in 2017.
His live-music created for Holger Madsen's 1918 anti-war film, A Trip to Mars, has been performed in Denmark, Japan and Taiwan for the past few years.
www.multisounds.dk/artist-info/gigs/
www.youtube.com/watch?v=T1R1szJK2E8