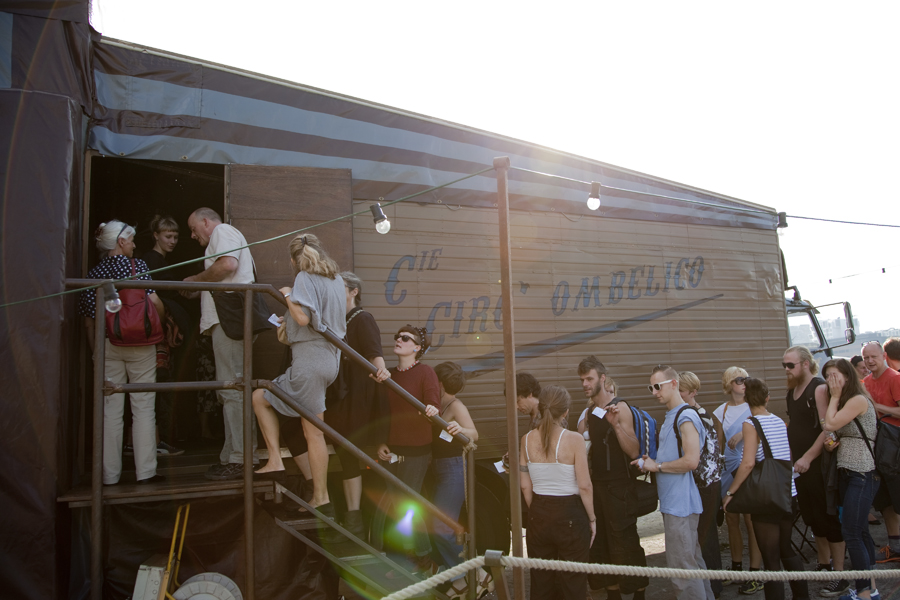 DA/FORT – Circ'ombelico
STED Islands Brygge v. Kulturhuset
DATO 26. – 28. aug. & 30. aug. – 1. sept. kl. 17 & 20
PRIS 135 / 75 kr.
VARIGHED 45 min.
BEMÆRK Anbefales fra 8 år
Enkelt og rørende Ny Cirkus med parakrobatik i en lastbil
Den gamle lastbil danner rammen om ærligt, minimalistisk Ny Cirkus. Vognen er lastet med tilskuere, som sidder helt tæt skulder ved skulder. På den lille scene ser vi direkte ind i et stykke hverdag. Vi ser ind bag husmurene og ind til det liv, som udspiller sig bag vægge og facader i hele byen.
I det klaustrofobisk kompakte rum dukker karaktererne op og forsvinder igen gennem hemmelige døre, skjulte lemme og bevægelige flader. Hverdagen fortættes med nonchalant akrobatik til et smukt og ordløst drama om livets almindeligheder – og besværligheder.
Den naive stil, underspillede humor og præcise akrobatik udstiller det store i det små. Her er ingen spektakulære scenarier, ingen storladne gevandter og ingen pompøse konstruktioner. Det er Ny Cirkus uden omsvøb.
CREDITS
Koncept og medvirkende: Jef Naets & Iris Carta
Instruktion: Titoune
Musik: Jochem Baelus
Teknik: Olivier Melis
Produktion: Cie Circ'ombelico
Co-produktion: Centre Cultural Agora – Scène conventionnée de Boulazac, Humorologie, Krokusfestival/CC Hasselt, Le Carré Magique – Scène conventionnée de Lannion-Trégor, Theater op de Markt/Dommelhof, Les Tombées de la Nuit, Vlaams Centrum voor Circuskunsten
Støtte: the Flemish Government of Belgium, Villanella, SACD, Latitude 50º, Cirque Trottola
Foto København: Thomas Seest
Med støtte fra Vlaamse Gemeenschap.
'Da/Fort' is a strange, mobile and site-specific circus project. Circ'ombelico invites you into an intense, physical and wordless encounter in the belly of their old-timer truck, where partner acrobatics play the lead role. Inspired by the lack of space, this story is a tribute to the beauty of everyday life's dullness.
www.dailymotion.com/video/xen0le_arts-de-la-rue-circ-ombelico-da-for_creation