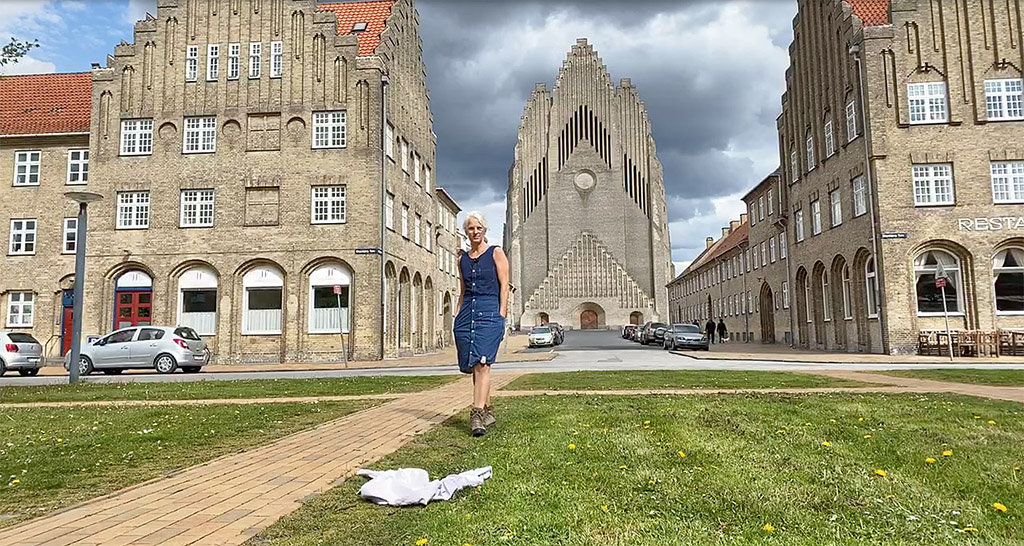 17 May: Anja Franke
TIME: 17 May 08.00-20.00h
START: Byskovvej, Herlev
CATEGORY: Visual artist / photographer
Live-stream each hour on the hour on www.facebook.com/walkingcopenhagen
RUNNING OUT OF BLUE
I live and work in Herlev, from where I will walk in a circle through the suburb surrounding Copenhagen. Previously, I have sewn walking suits and clothing fragments out of recycled shirts. I have them all on at first, and then on my walk I will take them off one by one at each stop. The 12 pieces of clothing become objects ready to be exhibited at a future exhibition.
I use the walk as a mental realization methodology, moving into the unknown to map and search for new routes and to open up new patterns of thought.
Through the creative transformation process, where a used garment is transformed into a new one, I point with a 'meticulous aesthetic' indirectly to the necessary change that we all on the planet have to imagine.
DOCUMENTATION MAY 17
FILM
08.00 h
09.00 h
10.00 h
11.00 h
12.00 h
13.00 h
14.00 h
15.00 h
16.00 h
17.00 h
18.00 h
19.00 h
20.00
ABOUT THE ARTIST
Anja Franke (b. 1962) is a trained photographer in Copenhagen and New York (1985), visual artist and Cand.Phil in Art Communication and Theory at the Royal Danish Academy of Fine Arts (1994). Former professor and pro-rector of Fyns Kunst Akademi 1997-2004. Member of Akademirådet since 2008.
Anja's artwork is site-specific and mixed media, based on feminist strategies focusing on identity, gender and the environment. Anja is artistic director of IHi-InstantHERLEV Institute, Art & Site Research, which provides a platform for international art exhibitions in her private garden and in the public realm, where questions regarding public and private space in relation to cultural constructions in the local and global environment are addressed.