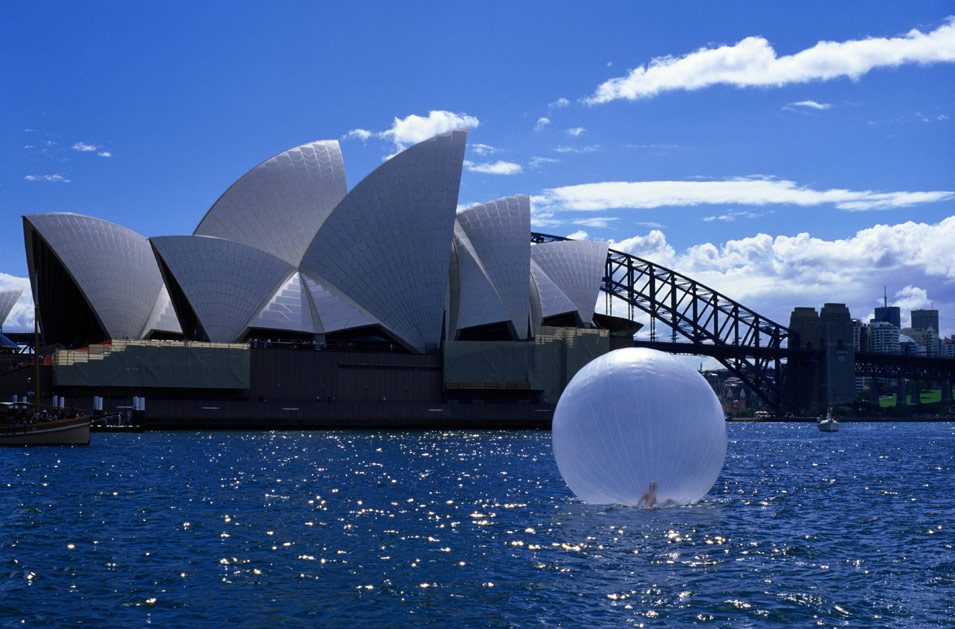 BY BEIJING – Zhu Ming / Dai Guangyu / Zhao Liang / Yan Jun / Wang Yanan / Wang Mei
Remisen Bavnehøj // 04.-08.08.2007 kl. 21-24
De kommer alle fra Dashanzi Art District 798.
Med krop, kalligrafi, inspireret af mytologi og samtiden folder de et komplekst og voldsomt billede ud af Metropolen fra Riget i Midten.
De kommer alle fra Dashanzi Art District 798. Med krop, kalligrafi, inspireret af mytologi og samtiden folder de et komplekst og voldsomt billede ud af Metropolen fra Riget i Midten.
Det vigtigste af dem alle er Dashanzi Art District med sine hundredvis af gallerier, performancehaller og den nye kunstbiennale DIAF i Beijing. Herfra kommer seks udvalgte performance, installations- og arkitekturkunstnere for at indtage en 1.200 kvm tom industribygning på Vesterbro i København.
Med kroppen som symbol og som skyts placerer performancekunsten sig mellem det politiske, det sociale og byens rum – med komplekse, voldsomme og endeløse forandringer. Fandenivoldske, provokerende og samtidig med referencer til både kalligrafi, kropskunst, mytologi, taoisme og buddhisme sætter de an til en god portion humør og vanvid – altid i samspil med og som modspil til samfundsdebatten.
Deltagende kunstnere:
Zhu Ming // Dai Guangyu // Zhao Liang // Yan Jun // Wang Yanan // Wang Mei
Dai Guangyu (1955) was co-founder of the "Sichuan Youth red-yellow-Blue Group" and one of the leading figures behind the promotion of the "New Art" movement in China's southwest region in the late 80s. After 1989, when avant-garde art was forced underground, Dai Guangyu curated a series of important exhibitions in and around Chengdu (Sichuan province), in order to continue the spirit of New Art in China. Dai Guangyu is still one of the most brilliant artists on the Chinese performance scene, capable of transforming challenging and abstract concepts into expressive and fascinating art performances.
Zhu Ming (1972) was one of the most famous artists who lived in Beijing East Village in the early 1990s. Zhu Ming's performances deal with the passage of time, physical extremes, isolation and attempts of communication or the futility and ephemeral nature of such attempts. He uses his own body as an artistic material, encapsuling himself in huge bubbles. By putting his own life in danger in this manner, the bubble becomes a metaphor for the fragility of life and of the shifting human relationships.
Wang Yanan and Wang Mei / LE SE Dance Studio with "House"
LE SE Dance Studio is a long term collaboration of two female dancers, Wang Mei and Wang Yanan. Parallel to their own works, they often collaborate with driving avant-garde dance companies such as Beijing Living Dance Studio and the Tiger Paper Studio. LE SE which in Mandarin means 'Happiness and Obscurity', has the same pronunciation in some Chinese dialects as 'Garbage'. In their performances they convey processes of 'pollution' of soul and body through free expressionist body language.
LE SE Dance Studio will perform an improvised piece entitled 'House' that deals with the difficulty of being a body in a codified space. The concept of 'House' is originated from a mass of relics of dismantled houses. The city where we have been living for many years, turned instantly into relics, and high buildings rose, while the people living in the houses got lost again and again during the tremendous changes…The dance tries to find more particular and undoubted life trails.
Performers: Wang Yanan, Wang Mei – Music: Wen Dake – Video: SEBA
Zhao Liang (1971) with "Construction"
Zhao Liang's production ranges from experimental works to documentaries and video installations. On the one hand, he borrows the strict logic of straight documentary and its value in terms of providing historical, social, and political testimony. On the other hand, he borrows an aesthetic from the field of video games, B-movies, and music videos.
"Construction" is a 4-video installation – "Bored Youth" (2000) – "Buildings" (2002) – "Expropriation 1" (2007) – "Expropriation 2" (2007), that in an almost documentary way provides a critical, cruel and ironic record of Beijing's urban shifts. It intends to feel the anxiety that goes with the cycle of construction / demolition that dramatically transforms the urban landscape and society of the City of Beijing.
Yan Jun (1973) Sound artist and improviser, is a well-known music critic, poet and driving force of China's indie music and sub-culture scene for years. Yan performs with effect pedals, voice, sound forks to render loop and feedback sound, which is mostly involved to individual space/sound system. He also works with software and installation to create conceptual sound work. Yan Jun will use site-specific sound character of the space, as feedback and loop sound in order to render simple and subtle noise where silence is an essential part. It will be a kind of ritual of improvised performance between the artist and the environmental surroundings.
Curator Bérénice Angrémy is a French art critic, curator and art consultant, based in Beijing. She is manager of Thinking Hands, a Beijing based design & curatorship office, artistic director of South Gate Space, one of Beijing's leading venues for performance art, co-director of China Art Performance Project (CAPP), and executive director of the Dashanzi International Art Festival (DIAF).
By Beijing er kurateret af Bérénice Angrémy, Dangdai International Arts Festival (DIAF) og præsenteres med særlig støtte fra Center for Kultur og Udvikling