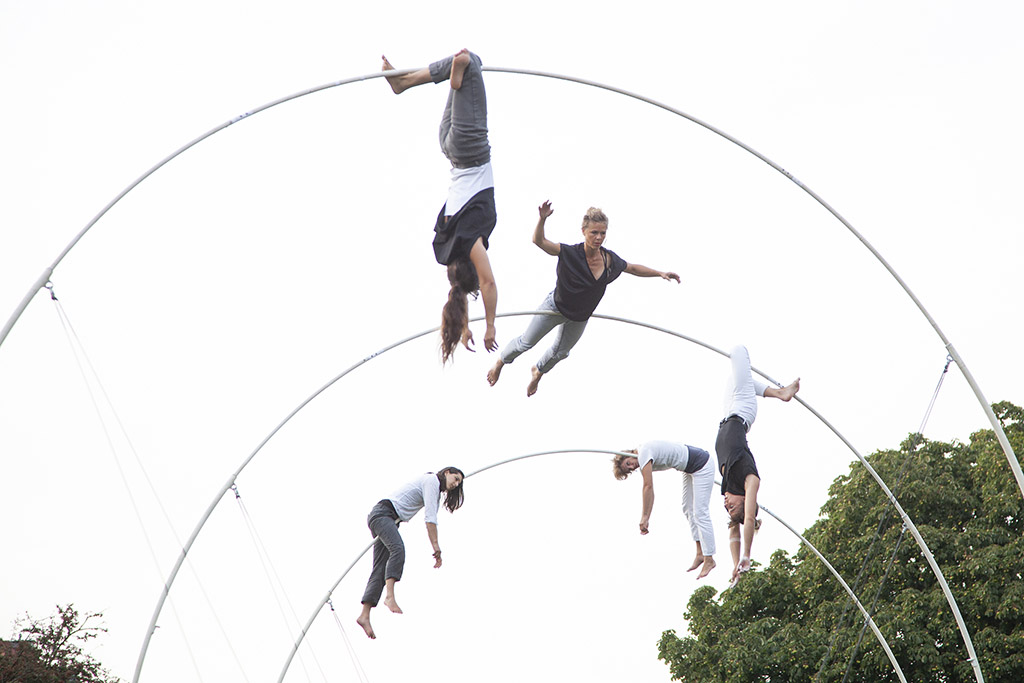 LA SPIRE by Chloé Moglia/Rhizome – Grønningen
Floating aerial acrobatics in a monumental spiral sculpture
DATE 30-31 Aug. / Fri. 19.00 hrs – Sat. 14.00 & 19.00 hrs
PLACE Grønningen, by Bogtrykkervej, Cph. NV
FREE
A giant spiral. 7 meters tall and with three large loops. Impossible to climb for an ordinary body, but for the five aerial acrobats in LA SPIRE the monumental construction is a tool to challenge the art of the impossible. The five women cast off gravity and move weightlessly up the metal circles of the spiral.
As us on the ground lean over backwards and hold our breath, the women struggle with all the strength in their bodies to stay afloat. Constantly they have to twist the body out of joint to find a way forward. Hands, feet, thighs seek the next grip on the metal tubes. And the next. And the next. They combine raw strength, poetry and vulnerability into a fearless struggle for survival.
Among them, they have the musician, who with her baritone saxophone and her special sound machines provides the music for this spectacular, meditative dream scenario. As live points on a map of the stars, the six artists create a magical moment outside of time and place. All senses on high alert. Everything is right now and here.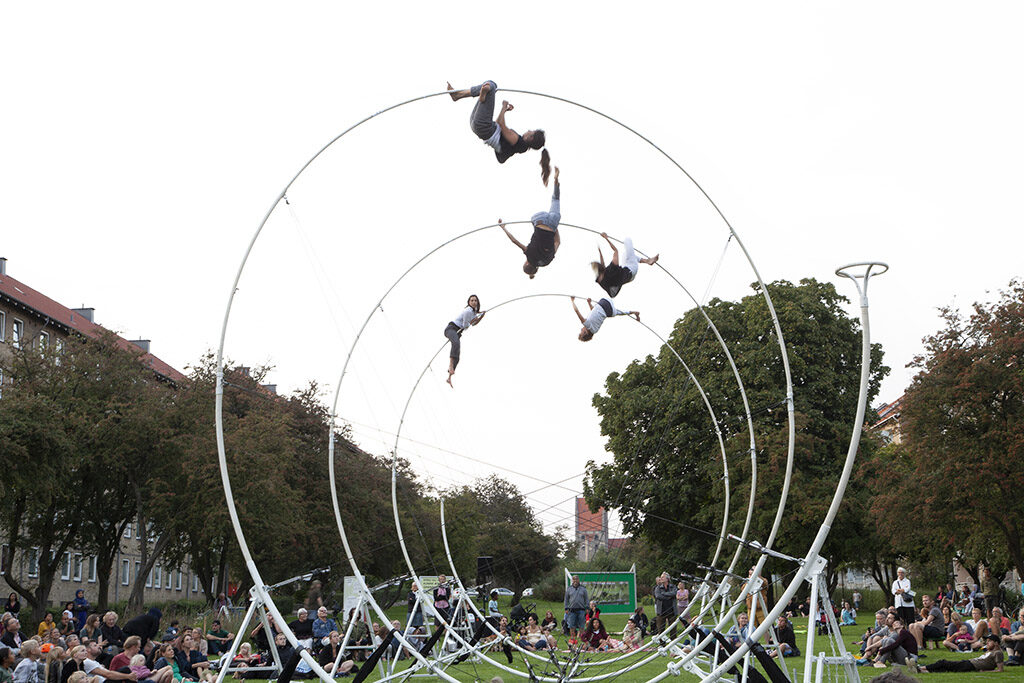 ABOUT CHLOE MOGLIA / COMPAGNIE RHIZOME
Last summer, the Metropolis audience fell over backwards at the sight of the powerful, graceful Chloé Moglia hovering seven meters up in the air in her solo performance HORIZON. Now she returns with the collective performance LA SPIRE, which builds on HORIZON and is created together with five fantastic aerial acrobats and an experimental musician.
Chloé Moglia is an icon in the contemporary circus world, and with her company Rhizome she creates performances that can take the breath away from anyone with their feet firmly grounded. Inspired by the four elements and based on her practice in the field of martial arts, she examines the emptiness through her artistic, meditative experiments.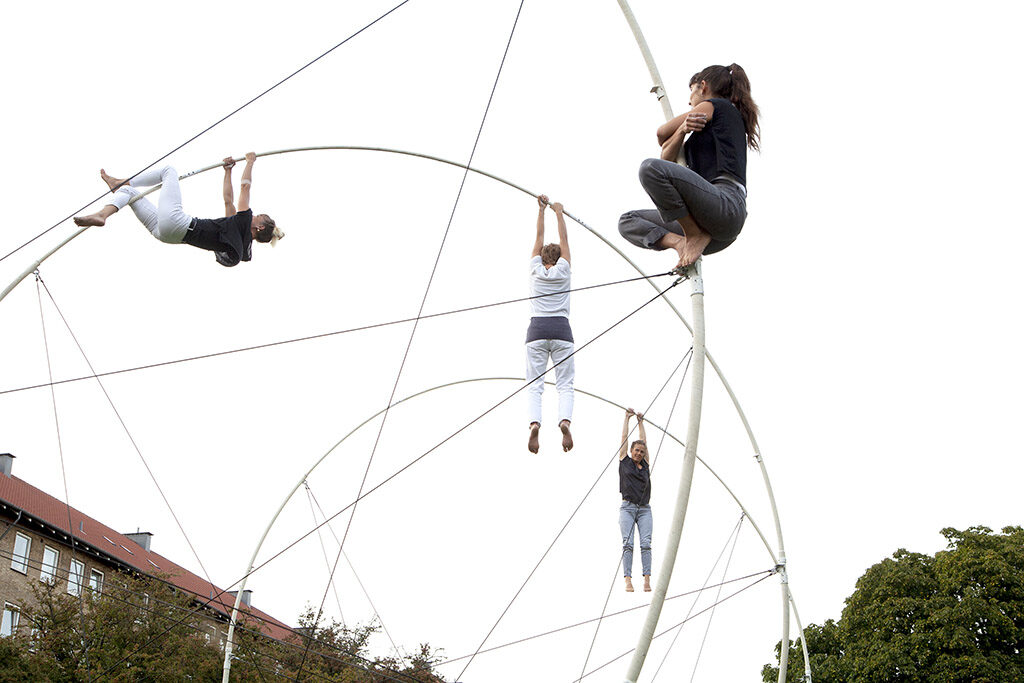 REVIEW
"La Spire was a wildly impressive performance. I, personally, have never seen anything like it, and the company deserves the highest praise for their acrobatic abilities, but also especially for their ability to both smile and tell all the little stories with their moves though they had to use all their strength to stay up. The enthusiasm was also felt by the audience who gave the show standing applause. It was breathtaking to see how a performance based on so much raw power also turned into art and poetry."
Ungt Teaterblod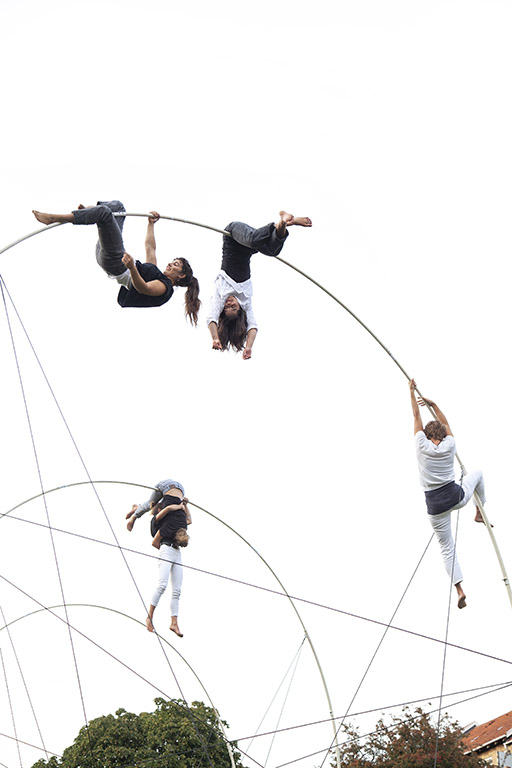 Duration: 40 min.
Recommended for all ages
CREDITS
Artistic director & stage designer: Chloé Moglia
Aerialists: Mathilde Arsenault, Fanny Austry, Anna Le Bozec, Mélusine Lavinet Drouet & Chloé Moglia
Live musical composition: Marielle Chatain
Technical design & creation: Eric Noël & Silvain Ohl 
Stage manager: Loïc Jouanjan 
Sound design: Gilles Olivesi
Sound manager: Laurent Guigonnet
Ligthing designer: Coralie Pacreau
Costume: Myriam Rault
Production: (2017) Rhizome – Chloé Moglia
Delegated administration: Le Quartz, Scène Nationale de Brest
Thanks: Laurence Edelin
Photo: Thomas Seest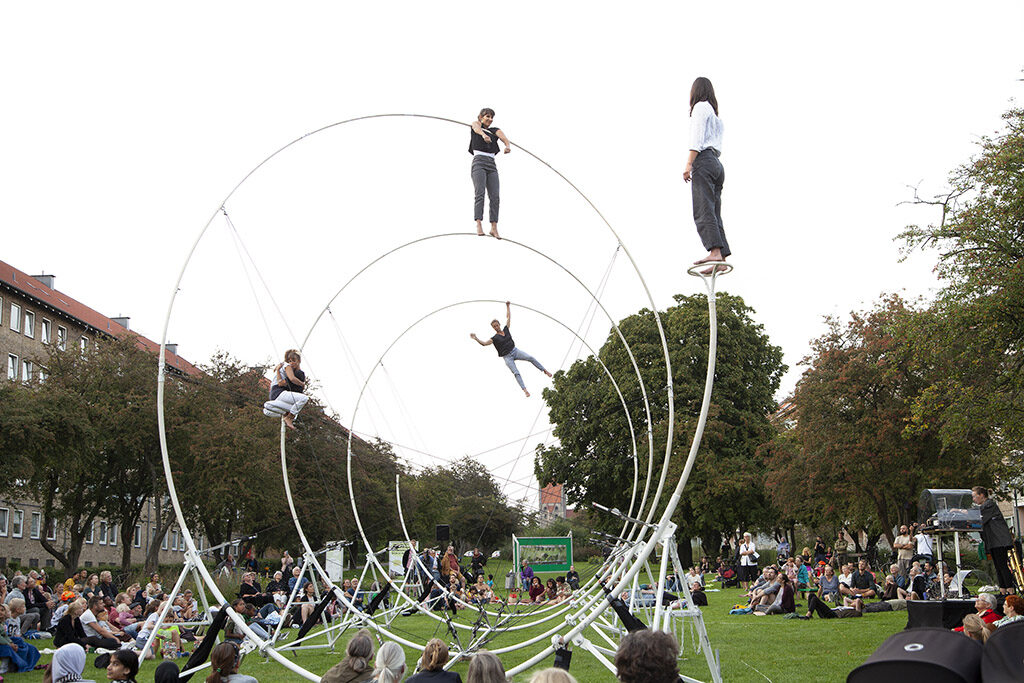 In collaboration with and with support from Områdefornyelse Nordvest, Bispebjerg Lokaludvalg, Københavns Kommune and Metropolis – Københavns Internationale Teater.