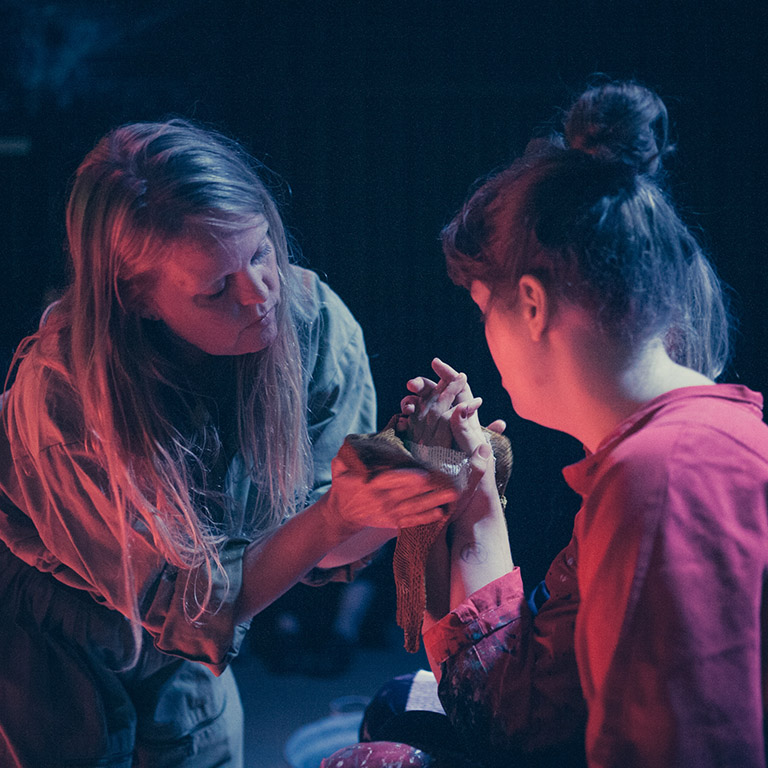 9 May: Jomi Massage
TIME: 9 May 08.00-20.00h
START: Oxford Allé, Copenhagen S
CATEGORY: Musician and performance artist
Live-stream each hour on the hour on www.facebook.com/walkingcopenhagen
I leave from home. I start walking at 8 from Oxford Allé on Amager to Kalvebod Fælled.
I'm looking towards the sea. At each stop, I make a plaster cast of a body part.
It will become 11 parts, just as the organ system is divided into 11.
Skeletal system – bones
Skin, hair, nails and mucous membranes
The nervous system
The muscular system
The hormonal system
The blood circulation
The lymphatic system
The digestive system
The respiratory system
The urinary tract system
The reproductive system
The immune system
The last stop will be to create a new body of the 11 parts.
If I meet someone on my way, just like it's time to go live, I'll ask them if they want to join.
If I get plaster casts from other people, I ask them if they want to take it home themselves, or if they want the cast to be part of a new joint body.
If the weather is good, I have musical instruments with me and can offer to sing for people while they do their casting. If the weather is good, I bring musical instruments and sing for myself. If the weather is bad, I ask if people want a song a capella while doing their plaster casting. If the weather is bad, I sing a capella for myself.
When I'm done, I go home with my new body.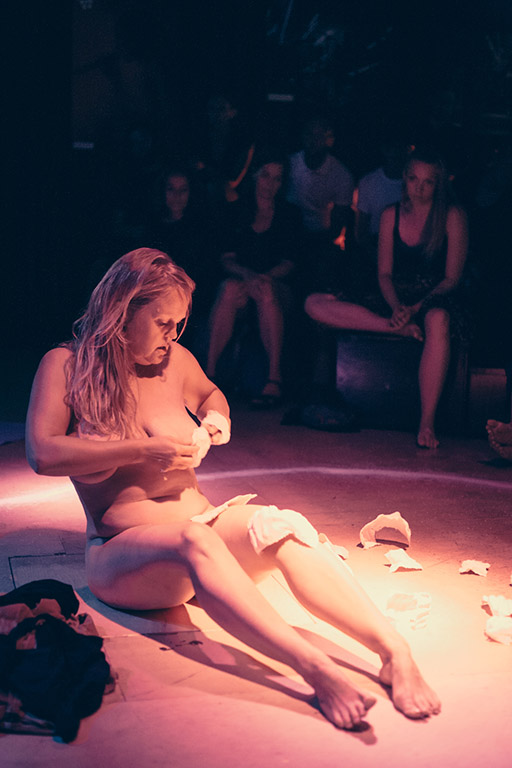 Effects brought on the trip:
Drinks
Food
Water for plaster
Container for gypsum water
Plaster gauze
Vaseline
Wet wipes
Hand alcohol
Backpack amplifier
Microphone
Delay pedal
Yoga mat
Bag for finished plaster
This walk is part of my series of performances "Rituals for Communities."
I have been performing these rituals in various forms since 2016. This will be ritual #18. "Rituals for Communities" is a study of communities and the lack of the same. A study of co-creation and the cohesion and differences of loneliness. A study of expectation and the nature of devotion alone and together.
DOCUMENTATION MAY 9
FILM
08.00 h
09.00 h
10.00 h
11.00 h
12.00 h
13.00 h
14.00 h
15.00 h
16.00 h
17.00 h
18.00 h
19.00 h
20.00 h
ABOUT THE ARTIST
Experimental vocalist, guitarist and pianist Signe Høirup Wille-Jørgensen, b. 1974, composes and performs across art genres as Jomi Massage and in Speaker Bite Me. Debuted as a writer in 2018.
Received the Bisballeprisen 2018.
Became part of Kraks Blue Book 2017.
Received project grant from DJBFA in 2017.
In 2016 was awarded DMF's Fiery Soul Prize.
Won in 2013 DJBFA's open composer competition.
Received the 2009 DJBFA honorary award.
Received in 2006 the 3-year work grant from The National Arts Foundation
Has toured extensively in Denmark and abroad. Has i.a. played at Roskilde Festival 6 times. Has written music for theatre, feature, short and documentary films for e.g. The Royal Theatre and Zentropa. Has composed concerts for i.a. DR Big Band, SMK and CPH:DOX. Has four times had the honor of being nominated for the music award Steppeulven. Member of the Project Support Committee for Music in The National Arts Foundation 2018-2022. Member of the composers' association DJBFA and has sat on the board and various committees. Part-time teacher at RMC since 2014. Appointed censor 2020-2024 for the Danish music conservatories. Owner of the company The Being Music.
Live photos: Morten Elbech Sørensen
Portrait: Miriam Dalsgaard