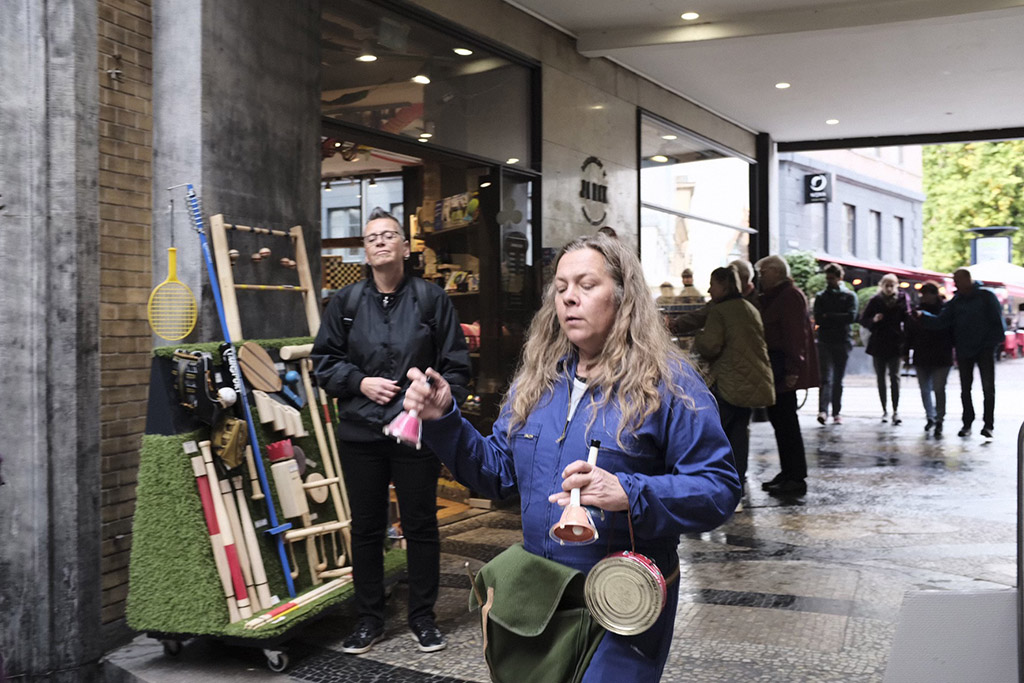 Awakening Resonance – by Birgitte Lyregaard
Secret music in the city's passages 
WHEN:
Fri. 16 Sept. & 23 Sept. & 30 Sept.
WHERE:
10.00-11.00: Copenhagen Central Station in the passage towards Vesterbrogade
11.45-12.45: Jorcks Passage (16., 23. Sept.) / Metro tunnel between Torvehallerne and Nørreport St. (30 Sept.)
13.30-14.30: Tunnel between Enghavevej and Otto Busses Vej, Cph. SV
WITH:
16 Sept.: Birgitte Lyregaard
23 Sept.: Birgitte Lyregaard, Anders Børup, Tanja Schlander
30 Sept.: Birgitte Lyregaard, Anders Børup, Tanja Schlander, Johanna Sulkunen, Carolyn Goodwin, Stefani Wisting, Irene Bianco, Kasper Schultz, Jørgen Teller
WHAT: Acoustic sound art
FREE
The city's public spaces each have their own special sound. But we often hurry through them and shut down the antennae of the ear so as not to be overwhelmed by noise. And the city's acoustic potential will go unnoticed.
Musician/sound artist Birgitte Lyregaard has set out to tickle our antennae and give us back the play with sound and space.
Together with other sound artists, she operates undercover in the city and entices our sense of hearing to discover the acoustics of architecture.
Awakening Resonance is a tribute to the human sensory potential in interaction with the city's acoustics. With sonic surprise attacks at three locations – chosen for their particular sound – the musicians set the places in vibration using voices, noise, bells, whistles, percussion and words. The passer-by is exposed to unexpected sound, and the ear is immediately wide awake – like a hunter on the hunt. What is it? Where does it come from?
As living sources of sound, the musicians move back and forth in the rooms to capture and amplify the atmosphere, sound and rhythm of the place – sometimes alone, sometimes together. Texts written on the spot express the situation of the place and the passers-by. In this way, the momentum and daily use of the places form the basis for three site-specific compositions – three different now-spaces in the the big city.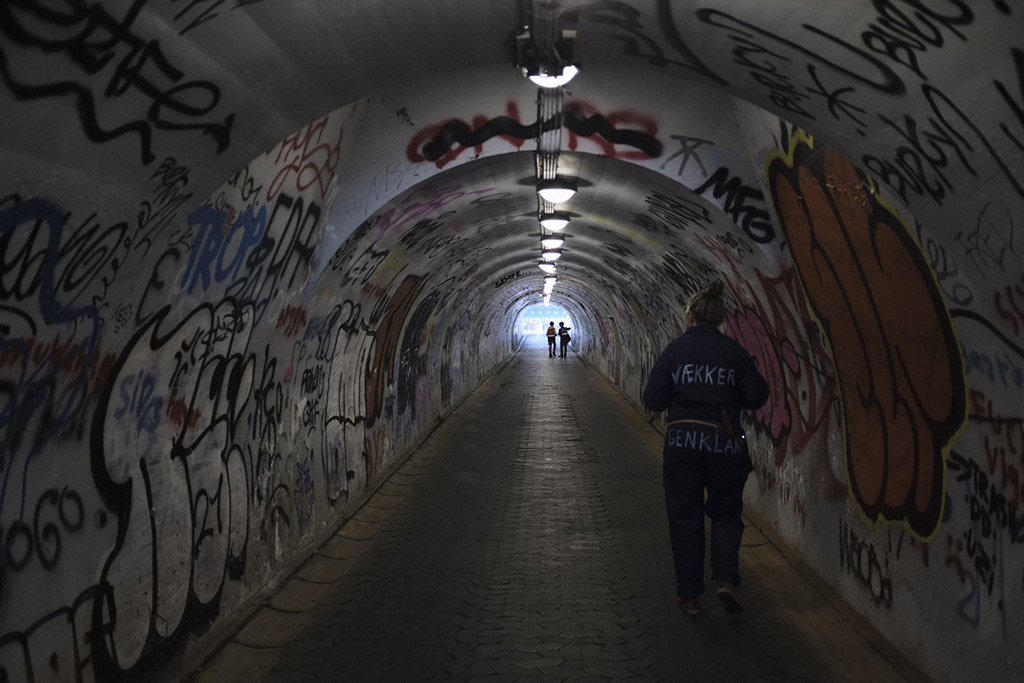 EDITIONS I, II AND III
Awakening Resonance runs over three Fridays in September and draws an exponential awakening curve due to its increasing number of participants. Partly in an investigation of the possibilities of sound multiplication, partly in the hope of inspiring an epidemic of sensory awakening that will hopefully continue indefinitely – and of which we can all be a part.
ABOUT THE PLACES
At Copenhagen Central Station, people swarm back and forth at a rapid pace. In the same way, the sound passes from changing directions, going both with and towards the passers-by. Like a sound curtain that plays ping pong with the traveler.
In the metro tunnels below Torvehallerne, you will be cornered sonically when the tunnels are transformed to agents in a composition of the moment, bathing the traveller in floating acoustics going to and from lunch, to and from question mark.
I metrotunnellerne neden for Torvehallerne kan man løbe sonisk om hjørner med hinanden og omdanne tunnellerne til med- og modspillere i en øjeblikkets komposition, der bader den rejsende i flyvende akustik på vej til og fra frokost, til og fra spørgsmålstegn.
And in the long Enghave tunnel, which is often populated by school children on their way, the sounds travel eagerly over long distances with and towards each other like stray particles in an accelerator.
Birgitte Lyregaard is an improvising, experimental vocalist and has always worked with the voice and the perception of sound. In her expression, she mixes elements such as poetry, imitation, and every sound and noise that the voice can produce. In recent years, she has also started to use various objects and materials such as percussion, bells, stone, wood and metal as sound generators. She carries all this with her in her many different musical collaborations and distributes it on stage through a filter of presence and responsiveness.
Birgitte has been active on the European and Danish experimental scene for almost 20 years. She has written, composed and toured with concerts and has often worked cross-artistically with dance and theatre-related improvisational concepts. Originally, she was trained as a jazz singer from the conservatories in The Hague and Rotterdam, and in 2017 she also became a certified sound pedagogue from the Lichtenberg Institute in Germany.
Photo: Tobias Kiel Lauesen