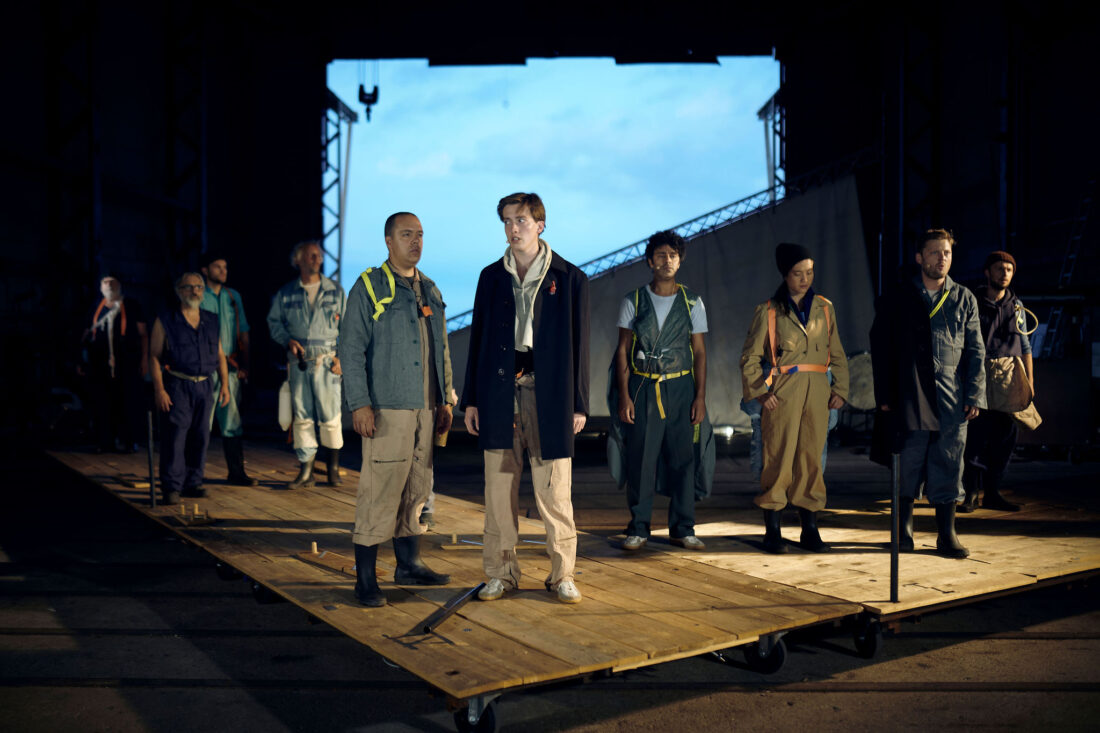 * Special event: WE, THE DROWNED – Walpurgis
Carsten Jensen's fantastic story transformed into stormy, international total theatre in Marstal
DATE 6-10 August at 20.30 hrs
PLACE HCC Bådeværft, H. C. Christensensvej 2, Marstal, Ærø
TICKET – DKK 210 / groups 150 / youth 100 – additional ferry t/r DKK 84 (*conditions apply) – SOLD OUT
DURATION 90 min.
WE, THE DROWNED is the title of an adventurous novel by Carsten Jensen, about the greatness and fall of Marstal, his city of birth – a tale about bold sailors, who defy fate, death and family in order to conquer the sea.
Hundreds of thousands of readers have become obsessed with the novel and its tales full of longing, lifeblood and deep human insight. Among the most passionate fans is the groundbreaking Belgian music theatre WALPURGIS. With the novel as compass and inspiration, they now set sail for the seven seas aboard drifting sailing ships and sinking warships to stage this modern Odyssey.
A story so deeply rooted in Marstal must of course be performed here, where the town, its inhabitants and the foaming sea set the scene, and where one of the city's historic shipyards provides room for raw, to-date total theatre with 20 performers.
The boundaries between past and present, myths and reality flow together, while we look through the eyes of ship owner Albert Madsen and see a world on collision course. When we fear Herman, the seagull murderer, and at the same time recognize him deeply inside ourselves. And when the widow Klara Friis takes over the helm in Marstal to change the course drastically.
On board are four Dutch musicians with an arsenal of haphazardly made instruments, a Belgian-Iraqi dancer, a violin-playing Albanian opera singer, a half-Chinese artist with a bass guitar, a 71-year-old Flemish actor with sea legs, two young hungry actors, a stage designer with a trumpet, a composer with a screw loose and eight local singers with the sea fog drifting in their veins.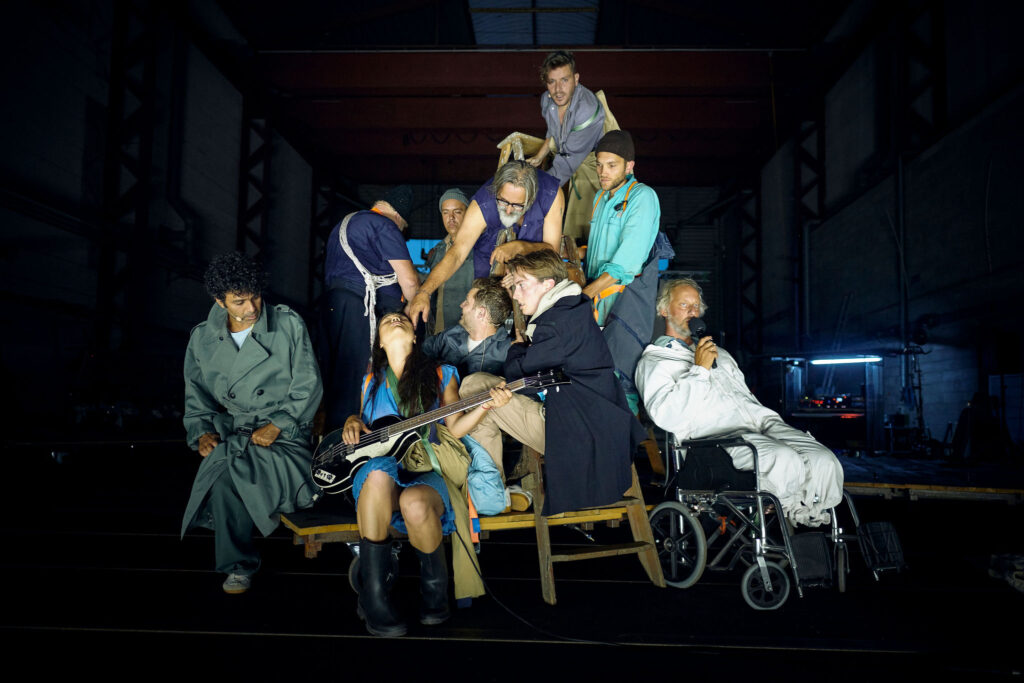 CARSTEN JENSEN ABOUT THE PERFORMANCE…
"I worked for five years on my novel about the Marstal sailors, We, the Drowned. Judith Vindevogel and her theatre Walpurgis have worked for at least as many years on their magnificent performance based on my book. They have been through storms and endured windless times in a not always easy production, but they never gave up their ambitions and dreams, and now they have finally landed in the same place, where I and so many sailors once set out from, Marstal harbour, where the view of the masts, rigs, sea and islands is the best possible backdrop. It will be great for me, for the novel, for the inhabitants and for the art and WALPURGIS. I can't wait for this summer's big event in Marstal! "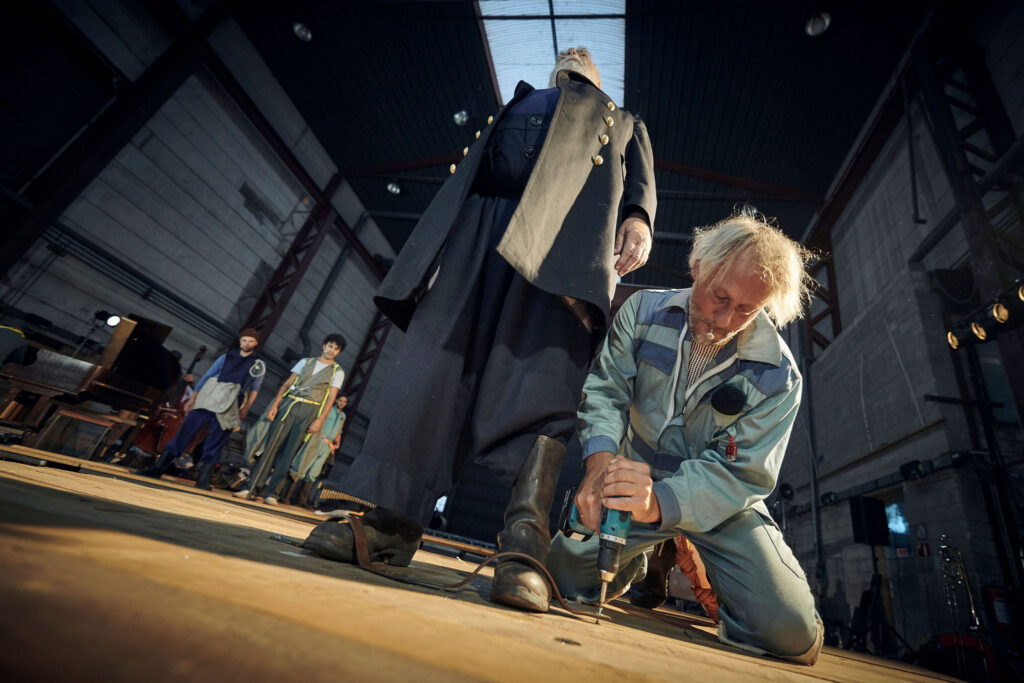 REVIEWS
❤️❤️❤️❤️❤️ "Carsten Jensen's Marstal chronicle is a theatrical triumph… There was a sense of having been part of something peculiar – something that, through the power of history and the exposure and manpower of the entire project, caused the fabulous Marstal chronicle to open with an own greatness." Politiken
⭐️⭐️⭐️⭐️⭐️ Fyns Amts Avis / ⭐️⭐️⭐️⭐️⭐️ Sceneblog
⭐️⭐️⭐️⭐️⭐️ Kulturkupéen / ⭐️⭐️⭐️⭐️ Iscene
⭐️⭐️⭐️⭐️ Ungt Teaterblod / ⭐️⭐️⭐️⭐️ Jyllands-Posten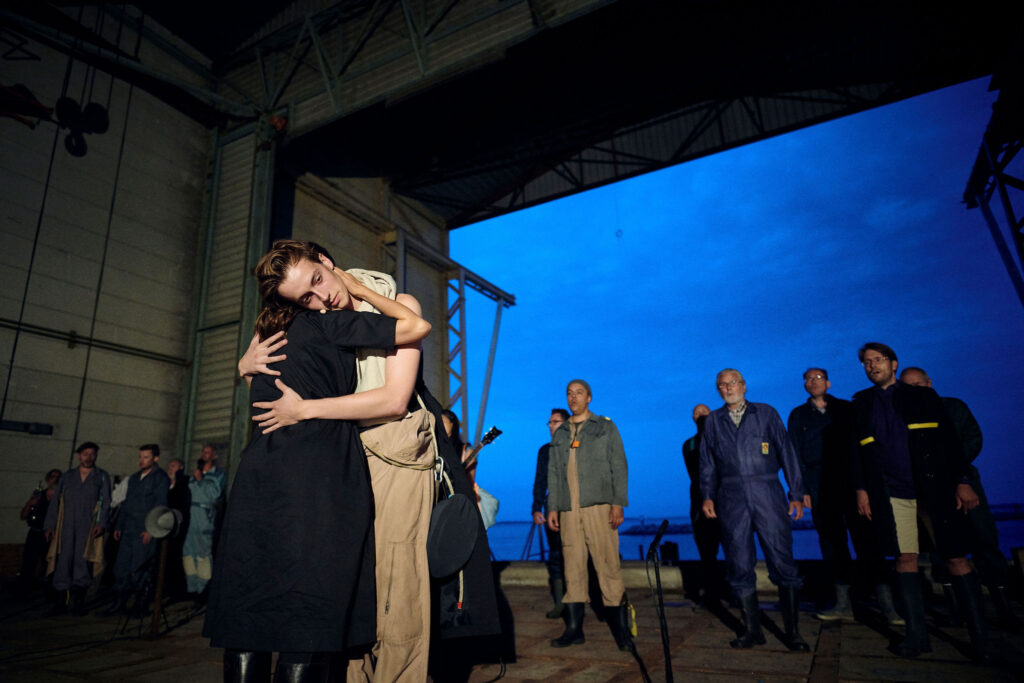 ABOUT THE ARTISTS
WALPURGIS is a generous and adventurous Belgian company rooted in opera. They create unforgettable music theatre in the company of actors, singers and musicians from widely different backgrounds.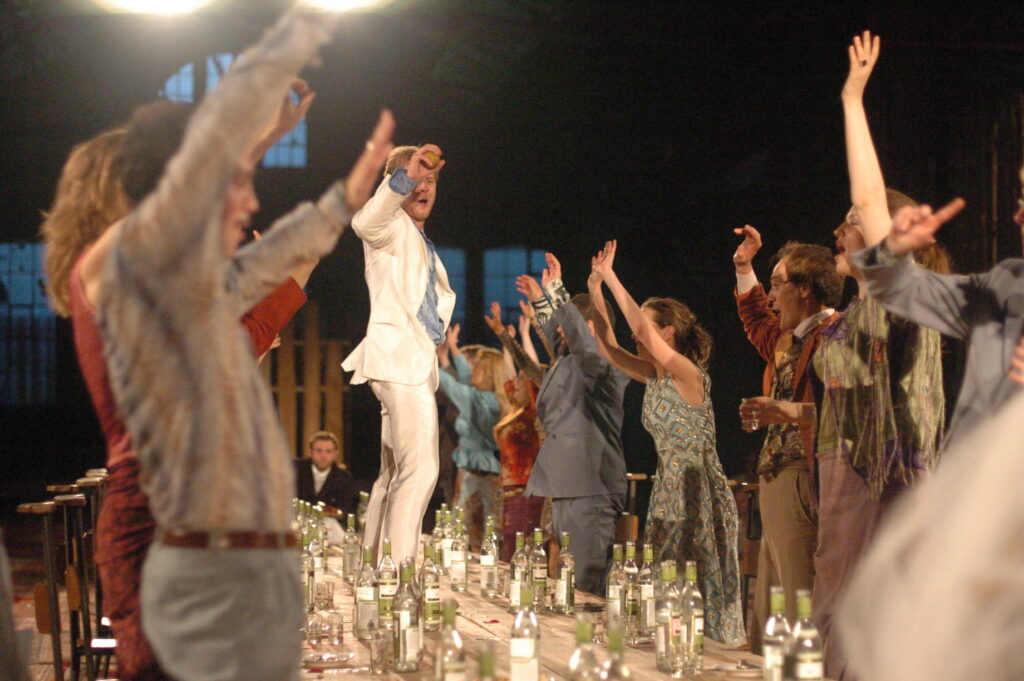 WALPURGIS was founded in 1987 by the soprano Judith Vindevogel, and the company has become one of the European pioneers within present-day, contemporary-oriented music theatre of the highest quality. They explore the theatre's musical potential and the theatrical potential of music and often work site-specific.
WALPURGIS has created over 50 performances, including several international hits. For example, the performance "de noces" – a magnificent, site-specific performance inspired by both Tjekhov and Stravinsky, which toured internationally 2005-13 with four pianists, six percussionists, 16 singers, a chef and a herd of actors.
BOT uses resounding machinery and the Dutch language to create idiosyncratic sound art: raw, poetic, analogue and physical – with compassion and a nice dose of humour.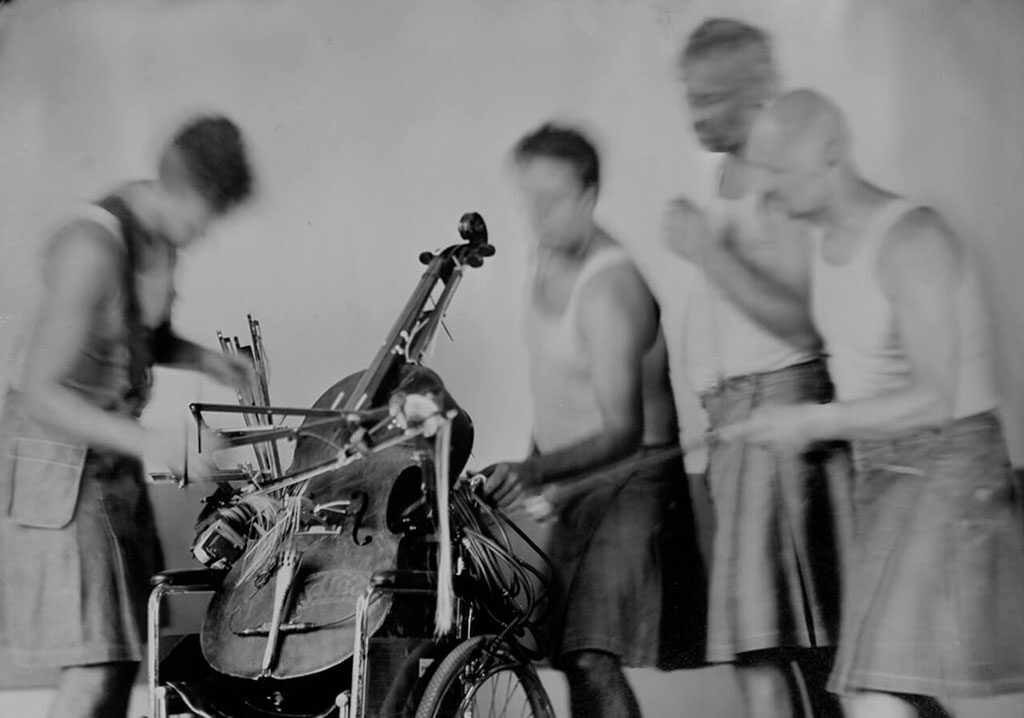 Since 2009, Dutch BOT has developed their very own language that unites music, object theatre and mechanical sound art to live, music-borne, original performances. They invent and build instruments and sound machines that fit their raw visual poetry and fragile, heart-warming music. They are often invited by major theatre festivals in Europe and are acknowledged by critics and audiences alike for having created a completely unique approach to music theatre.
KLOPPEND HERT is a young Belgian company that makes visual, moving, music theatre that draws profoundly human stories from today's world, in which a contemporary social, economic and political reality always lurks. Interculturality is an essential part of this.
CREDITS
Created by WALPURGIS in collaboration with BOT and Kloppend Hert (BE / NL) and presented in Denmark by Metropolis – Københavns Internationale Teater in collaboration with BaggårdTeatret, HCC Bådeværft and Marstal Søfartsmuseum with the support of the Danish Arts Foundation, Knud Højgaards Fond & Wilhelm Hansen Fonden.
Production: WALPURGIS
Co-production: BOT, Kloppend Hert & Het Laatste Bedrijf
Supported by Tax Shelter measure of the Belgian Federal Government, The Flemisch Government, Fonds Podiumkunsten & deAuteurs
Concept & artistic direction: Judith Vindevogel
Crew: Haider Al Timimi, Sam Bogaerts, Stef Depover, Pieter de Praetere, Pieter-Jan De Wyngaert, Doan Hendriks, Geert Jonkers, Ana Naqe, Tomas Postema, Peter Spaepen, Matthias Van de Brul, Job Van Gorkum & Sarah Yu Zeebroek
Scenography: Stef Depover & Doan Hendriks
Choreography: Haider Al Timimi
Choir leader: Peter Spaepen
Music: BOT & Peter Spaepen
Costumes: Johanna Trudzinski i samarbejde med Chaja Dams
Dramaturgy: Kleo Van Ostade & Orlando Verde
Music machines: Doan Hendriks & Geert Jonkers
Sound and technical support: Geert De Wit & Stef van Alsenoy
Translation: Birthe Lundsgaard & Tom Hannes
Communication Walpurgis: Iris Adriaenssens
Manager: Wim Viaene
Photo: Ard Jongsma
A huge thanks to Carsten Jensen, Karsten Hermansen, Erik Kromann, Monica Fabricius, Ærø Hotel and the Ærø Ferries
Language: The performance uses various languages, primarily English. The different languages are part of the artistic experience and will therefore not be subtitled.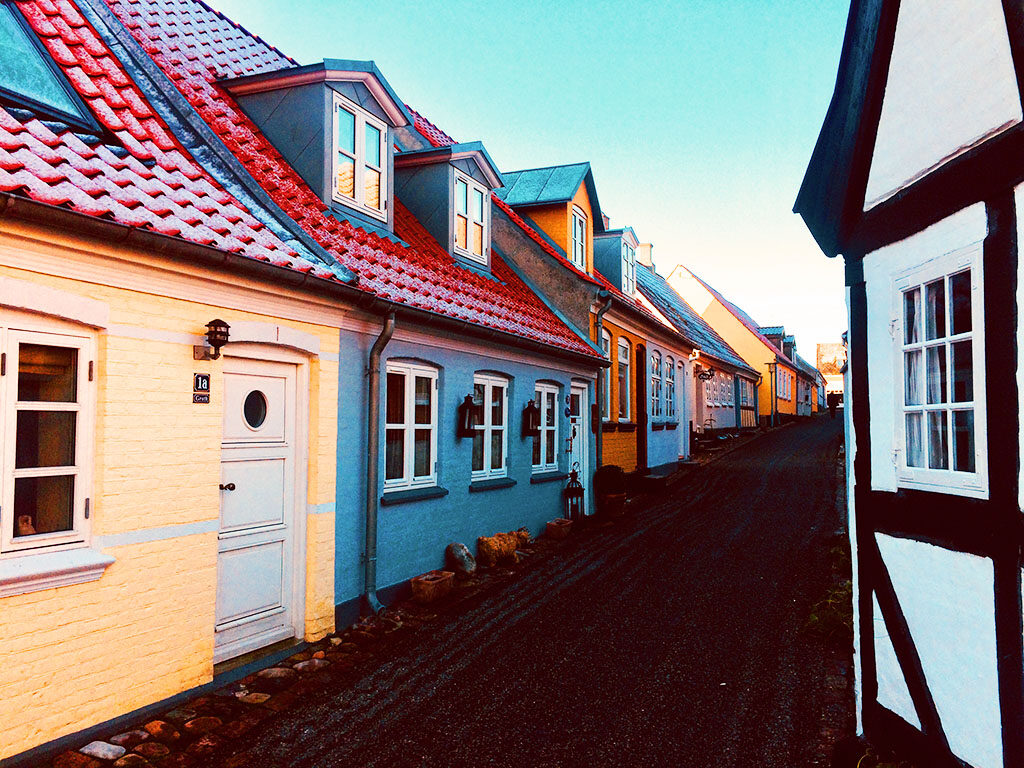 HOW TO GET TO ÆRØ
Transport
The Ærø Ferries sail on the routes Svendborg-Ærøskøbing, Faaborg-Søby and Fynshav-Søby. All ferries take cars. Check schedule on www.aeroe-ferry.dk.
NB! 6, 7, 8 Aug. there will be an extra ferry Ærøskøbing-Svendborg after the performance. departure from Ærøskøbing at 22.45h.
You can ride the public busses on Ærø for free. The Ærø Ferries website show an updated bus schedule as well as info about taxies.
NB! 6, 7, 8 Aug. there will be an extra bus Marstal-Ærøskøbing after the performance in time to catch the extra ferry.
Performance ticket incl. ferry
You can buy a performance ticket incl. ferry Svendborg-Ærøskøbing t/r on 6, 7 and 8 Aug.
* The ferry ticket t/r costs DKK 84 (normal price 224). The offer is only valid for passengers on foot, and the travel t/r must take place on the date of your performance ticket (hence departure from Ærøskøbing 22.45h). You do not need to reserve a seat on the ferry. Your performance ticket, stating incl. ferry (inkl. færge), is valid as your ticket for the ferry.
Accommodation
Ærø Hotel offers a package deal with two nights, half-board, ferry ticket, city walk "In the footsteps of We, the Drowned", entrance to Marstal Søfartsmuseum and performance ticket.
Read more about Ærø on www.visitaeroe.dk