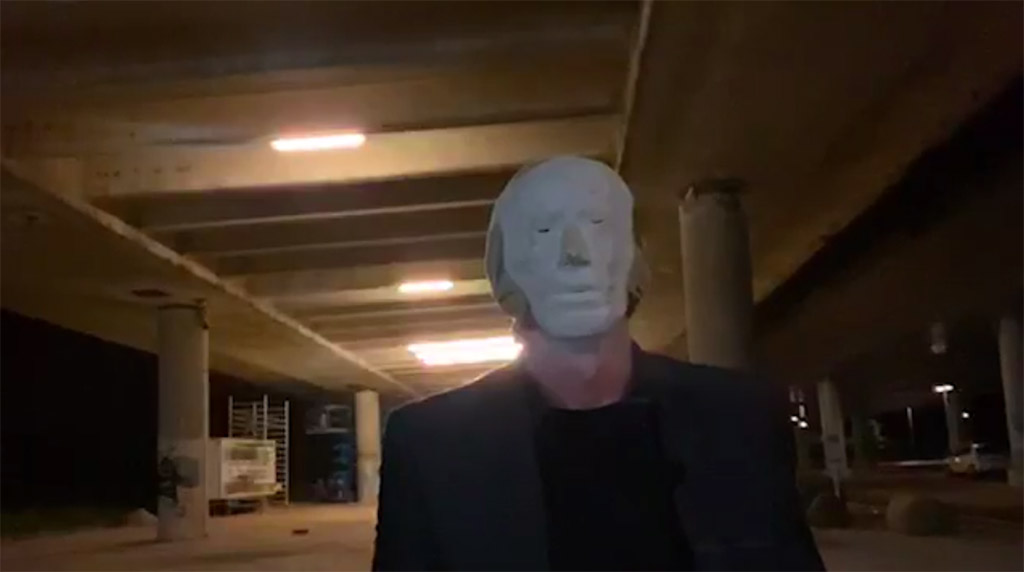 14. juli: Svend E. Kristensen
TID: 14. juli kl. 21.00-9.00
STARTSTED: Ballerup
KATEGORI: Performancekunstner / dukke- og maskemager
Live-stream hver hele time på www.facebook.com/walkingcopenhagen
A walk from 21:00 to 9:00 from west to east along the line of Greater Copenhagen/Storkøbenhavn from Ballerup to Vedbæk. I will try to pass as many signs as possible saying 'Storkøbenhavn' on the way. I will look at Greater Copenhagen as a zone that you should not enter during a pandemic. Outside is a safe space.
I will wear different masks during the walk, not as protection masks against covid-19, but as theatrical statements, a carnival of the stylized mask walking into and out of the night. It seems that there is a fear of the other seen in the masking, seen as a covert person.
We have a mask ban in Denmark, and we don't easily adopt to the use of masks as seen during the covid-19 outbreak, whereas e.g. southeast Asians handle this with a sincere professionalism. The mask is also a trace of religious practise banned by Christianity. And masks signify protection, like the well-known and almost grotesque plague masks. I will communicate through written signs almost like in a silent movie, a silent statement without speech.
As I walk, I will go through areas that have significantly different scopes of estates and prices for a house or a flat. Copenhagen is seen as an unfriendly city, where prices have gone up extremely. Therefore, the city in itself is infectious and exercising an economical censorship against citizens.
DOCUMENTATION JULY 14
FILM
21.00 h
22.00 h
23.00 h
24.00 h
01.00 h
02.00 h
03.00 h
04.00 h
05.00 h
06.00 h
07.00 h
08.00 h
09.00 h
ABOUT THE ARTIST
Svend E. Kristensen started out on the experimental music scene in Denmark in the early 80's. He attended dance and performance training in the late 80's and worked with performance theatre Von Heiduck, touring most of Europe with a series of peepshows and award winning show Salomé.
After puppetry studies in Japan, he established neo-puppetry, ritual and performance theatre "Mediet og Masken". As an artist developing life-size hyper-naturalistic puppets, he played solos in Tokyo, Thailand, Malaysia and throughout Europe.
Svend has been collaborating with many performance troups and directors in Denmark. As sounddesigner, he also created the acclaimed sounddesign for the performance BLAM by Kristjan Ingimarsson Company. In 2013, he formed the stageart-theatre Sew Flunk Fury Wit searching for a reneweal of the adult puppetry combined with international music drama in hybrid forms.