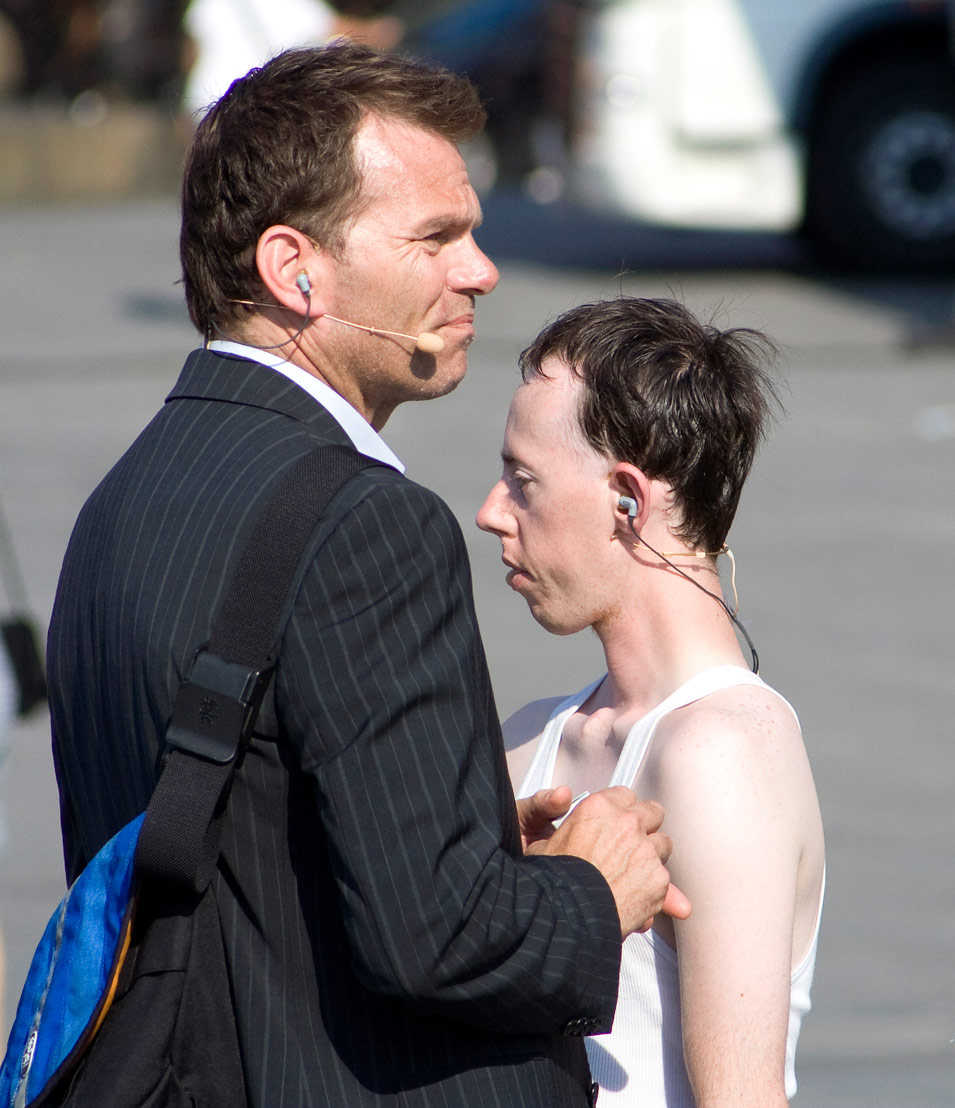 SMALL METAL OBJECTS – Back to Back Theatre
Rådhuspladsen i København // 08.-11.08.2007 // varighed: 50 min.
En perle i byens mylder. Det hele handler om noget der skal hentes i en bagageboks. Men hvem er hvem, og hvorfor vil de to smarte reklamefolk ikke sige, hvad der skal hentes?
Oplev en meditativ thriller over storbyens skjulte liv, en hyper-realistisk iscenesættelse med hundredvis af statister. På en publikumstribune som vi kender fra teatersalen, bliver publikum udstyret med hovedtelefoner, der bl.a. gengiver dialogen mellem de fire medvirkende. Bag mixerpulten sidder instruktøren og dirigerer sine spillere mellem alle de mennesker, som flyder gennem storbyens åbne scener. Midt i dette mylder skaber det australske kompagni Back to Back Theatre en underholdende, intelligent og visuelt fornyende leg med virkelighedens voyeuristiske tendenser midt i storbyen. En livsnerve i krydsfeltet mellem dokumentarfilm, Paul Auster og den flygtige skulptur.
"The story alone would be enough to make small metal objects one of the most riveting works of theatre of recent times, but it's the astoundingly successful physical situation of the piece that makes this essential viewing." Beat Magazine, Australien
Publikum bloggede i Melbourne:
"One of the most memorable theatre experiences I have ever been immersed in"
"Innovative, confronting and amusing and all about what theatre is, or should be"
"Absolutely brilliant, simple, beautiful and moving"
Devisors Bruce Gladwin, Simon Laherty, Sonia Teuben, Genevieve Morris, Jim Russell
Director Bruce Gladwin
Performers Simon Laherty, Genevieve Picot, Jim Russell, Sonia Teuben
Sound Composition & Design Hugh Covill
Costume Shio Otani
Script Consultant Melissa Reeves
Production Manager Andrew Livingston, Bluebottle3
Stage Manager Bernadette Sweeney
Sound Operator Phillip Pietruschka
Travel Coordinator (Australia) Gabby Walters, Bluebottle3
Stills Photography Jeff Busby
Tour Coordinators (Europe) Olivia Morin, Quaternaire
Executive Producer Alice Nash
Associate Producer Sarah Ford, Quaternaire
small metal objects was initiated through the Victoria Commissions, supported by the Victorian Government, through the Community Support Fund and has been presented by the Australian Government through the Australia Council
The work was developed and premiered with support from the Melbourne International Arts Festival; City of Melbourne; The Myer Foundation; RE Ross Trust; The Percy Baxter Charitable Trust, managed by Perpetual Trustees; Connex and V/Line