15. juli: Signe Errboe /Walking Landscapes Silkeborg
TID: 15. juli kl. 09.00-21.00
RUTE: Lysbrohøjen – Funderholme – Funder Ådal – Harbovad – Christianshede
KATEGORI: Performance
DELTAG: Vandringen kan opleves online
TIMESCALES
Silkeborg used to be known for its fish farm industry. They produced trout eggs to be sold around Europe. By the end of the 90's, this industry got heavily regulated, in part, because of their intensive pollution of streams and rivers. By the beginning of the 2000's almost all of the fish farms around that area had closed.
Some of the land was sold to the real estate industry, with the suburbs expanding out to the forest. Other fisheries became put and take lakes, and other places were left to be. My grandfather's farm was declared a natural reserve. Nature took the place back, but some buildings of that time remain, although in ruins. One of them was a hatchery, where I worked as a teenager separating dead from alive eggs.
Decay and abandonment have given way to nature, which is slowly claiming back its place. At the same time, the forces of the market are pushing their way in. Two futures live together here: a post-humanity future, where nature reigns unfettered and the modern dream future of the suburbs. In this place, time runs at the pace of all these rapid changes and is also stuck.
I will walk direction southwest of Silkeborg's centre, along the flow of the streams that used to wash the waste of the fisheries.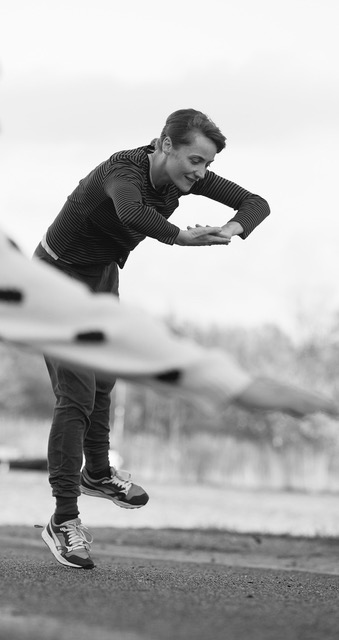 ABOUT THE ARTIST:
Signe is a Danish/Bolivian performer and dance facilitator. She studied dance and performance in Freiburg at Bewegungs Art, Centre of New Dance and Improvisation, and has a master degree in Dance and participation from the Danish National School of Performing Arts.
She is interested in dance improvisation and collective creative processes. She has worked in various dance projects with children and youth through Stands&Dans, Dansehallerne, Åben Dans, Ishøj Kultur Center, Foreningen for Integreret Moderne Dans and others.
She is currently the artistic director of the youth dance company Dansebryggeriet and is a dance teacher at Paul Petersens Idræts Institut.
DOKUMENTATION
VIDEOS
15. juli kl. 9
15. juli kl. 10
15. juli kl. 11
15. juli kl. 12
15. juli kl. 13
15. juli kl. 14
15. juli kl. 15
15. juli kl. 16
15. juli kl. 17
15. juli kl. 18
15. juli kl. 19
15. juli kl. 20
15. juli kl. 21
CREDITS: 
Top photo: Signe Errboe
Bottom photo: Martin Dam Kristensen