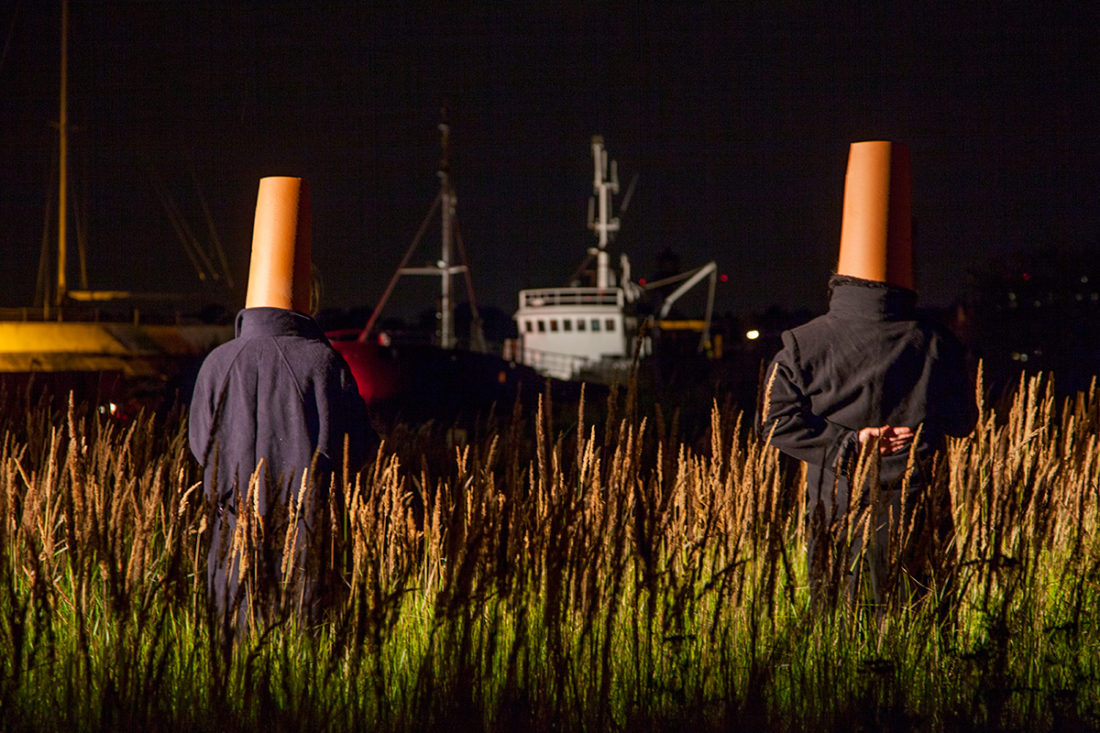 Metropolis Residencies 2022 – open call upon invitation
The performance of landscape and the landscape of performance
September-October 2022, Copenhagen, Denmark
CALL for 4 group residencies for artists working with performing arts for a site-specific residency programme in Copenhagen

Metropolis Residency is a unique international residency programme in Copenhagen rooted in the performance field but with an interdisciplinary approach. The programme supports and facilitates researching, creating and producing in public space.
After 4 years with 60 residencies in Copenhagen, we have been selected by the Danish Arts Council to host a new series of residencies in 2022-24. This call will be the first of a series which will explore the notion of "landscape".
We will be focusing on the theme of landscape in connection with our national project Metropolis Landspace.
We are offering four 10-day group residencies to explore the relationship between performance and landscape.There will be 6-12 artists in each residency: diverse and motivated artists who see this as an opportunity to expand their work "in the field" and be part of a collective process of research and exchange and ultimately sketch out ideas for a renewed performative practice in this time of re-orientation. We hope to build relationship with artists we can work with, and we hope to create meeting points for common interests.
The residencies will be exploring the notion of the landscape as a layered, fluid and conflictual space which offers and demands new relational perspectives and a new aesthetic/artistic practice. How can the re-defining of our relationship with the environment impact on artistic and performative practices? How can artistic practices open up sites for re-interpretation and understanding? And how can one build work which in itself is also transformative?
The residencies will look at how to create work which can involve and engage the public. It will be for both solo practice, group/collective practices and participatory practices.
Metropolis is an international platform for performative art in public space. Under the umbrella of Copenhagen International Theatre, we have worked site-specific since 1981 with site-specific creations, community-based work and urban interventions.
Our activities are rooted in the performative, but with interdisciplinary links to architecture, urbanism, visual arts, sound-based work and digital media. Work is researched, created and presented in the public domain, and we develop new performative formats, aesthetics and languages.
In Metropolis Landscape, we engage with 11 different landscapes in Denmark to explore artistic practices: Walking Landscapes in 2021 explored the act of walking as mapping and interpreting the landscape; Talking Landscapes in 2022 creates dialogue in and about the landscape and Performing Landscapes in 2023 will focus on the act of creation in, about and with the landscape in the age of the anthropocene.
Partners in the Landscapes trilogy are Bornholm, Guldborgsund, Møn, Randers, Roskilde, Silkeborg, Skagen, Aabenraa, Aalborg, Aarhus and Copenhagen. Links to/relationship with these places will be referenced and targeted.
RESIDENCY PARTICIPANTS
The residencies will offer artists to explore the theme of landscape – natural, humanmade and hybrid. We are looking to have groups of local-based and visiting/international artists.
Specific references will be used to our experiences with Wa(l)king Copenhagen 2020, Walking Landscapes 2021 and Talking Landscapes 2022. We have worked with almost 250 artists in these programmes and these artists are invited to consider this residency program as a next step in their work. Internationally, we will connect with the In Situ network and with artists we have been working with.
We will introduce to artistic researchers and practitioners working to redefine our relationship with nature at this critical tipping point.
The residency will open up for methods of dialogue, reconnect individual and collective experience, and challenge the notion of performance. This will include references to land art, site specific, immersive, dialogical, inhabitation, walking, eco-activism, rituals and embracing formats with sound based, visual, structural/architectural and performative work.
Residencies are not classical, reflective, individual residencies. You will have the opportunity to follow your own path, but will also link up with others, and we will expect exchange of experience.
We invite artists with immersive, explorative and dialogical practice who are looking to translate their research and process-based work into public performances.
We are open for applications as an individual artist, or you can apply together with other artists as a group (max. 3 pers.).
The residencies are both for residential and non-residential participants if you are based in Copenhagen.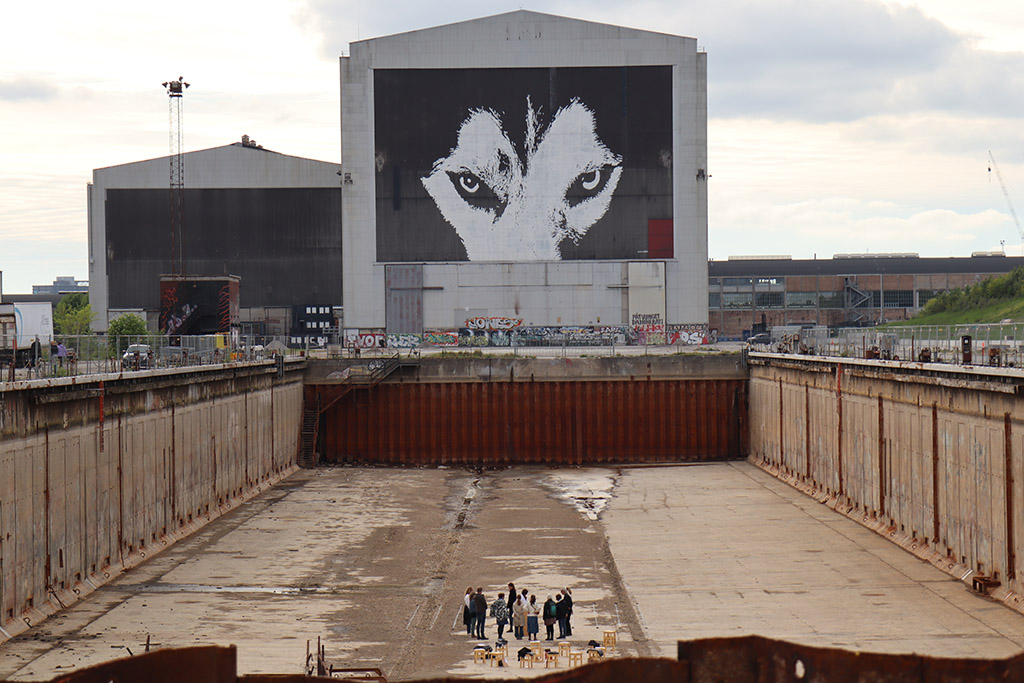 RESIDENCY SITE
The residency base will be on Refshaleøen, the former shipyard area just 10 min. on bike from the Copenhagen city centre.
Refshaleøen's post-industrial landscape is now a vibrant place for creative companies, architects, artist workshops, climbing and skate facilities as well as craft workshops, boat repairs and ecologically based initiatives. The place is naturally rewilding, surrounded by water and awaits regeneration programmes with growing concern. You can test on a 1:1 scale with some very different sites.
We will also link the residency to a number of partners outside of Copenhagen offering very different landscapes.
RESIDENCY TIMETABLE 
The residency will have a basic structure with space for individual mentoring and reflection, dynamic group sessions as well as interaction with real situations and local artists.
The residency will have 4 modules.
4 days: programmed workshops, conversations and explorations with invited guests – artists, activists, landscape architects, biologists, anthropologists, climate researchers, etc.
1 day: sharing individual practices with participants.
4 days: development of particular themes/sites chosen by participants (individually or group).
1 day: presentation of concepts with feedback and reflection.
We are offering 4 set residencies of 10 days:
1/ Monday 19 Sept. – Wednesday 28 Sept.
2/ Friday 30 Sept. – Sunday 9 Oct.
3/ Tuesday 11 Oct. – Thursday 20 Oct.
4/ Friday 21 Oct. – Sunday 30 Oct.
IMPORTANT TO KNOW BEFORE APPLYING
It is important that you can work independently, but that you are at the same time open to collaborate and share with the other participants.
The residencies are aimed primarily at artists already working in public space and the theme of landscape is paramount (natural/cultural).
Your work must have a performative aspect and be aimed at a live audience.
A residency does not automatically lead to a presentation of a possible future creation in the framework of Metropolis Copenhagen or Metropolis Landscape.
CONDITIONS
The residency programme is free of charge.
We provide a shared studio space for the group and necessary materials/equipment.
If you do not live in Copenhagen, we provide travel, accommodation, food-allowance and a bike.
We provide you a fee of €1000.
We will support any applications by you to secure additional funding.
APPLICATION AND SELECTION PROCESS
Please fill out the application form available online here at the latest on Friday 26 August.
APPLICATION FORM
The selection will be made on the basis of the application/documentation, references if relevant, and finally a short online interview. The final selection will be made by the artistic direction of Metropolis.
All applicants will receive an answer at the latest on Monday 5 September.
Photos 1+2: Thomas Seest