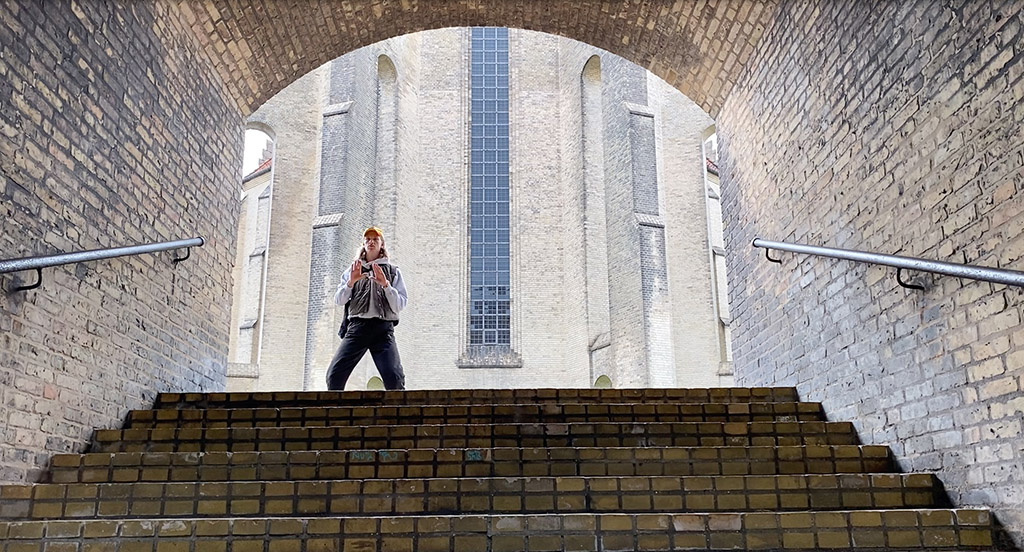 14 June: Snorre Hansen
TIME: 14 June 05.00-17.00h
START: Langelandsvej, Frederiksberg
CATEGORY: Dancer
JOIN: Audience is welcome at 9.00, 11.00 and 16.00h. See venues below.
Live-stream every hour on the hour on www.facebook.com/walkingcopenhagen

It comes suddenly.
It flames up,
dies down,
And is forgotten about.
A short-lived event, with no lasting influence*
As tour manager, dancer and choreographer, I go on a one-day tour with the mini-show Oops I did it with glamour on foot to 12 different places in Copenhagen.
Oops I did it with glamour is a minutes-long work consisting of fragments of iconic dances from Britney Spears' music videos in a universe informed by Yvonne Rainer's equally iconic work Trio A from 1978. The work also includes the newly written song Separating written on the basis of the I Ching hexagram no. 30*.
Each show is a ritual and ecosystem service dedicated to the sites and their myriad of inherent and passing lifestyles. The show is a tribute to all the dances learned at home over the internet during this lockdown, and it is a tribute to Britney and the 8-year-old version of me who listened to her music in the '00s.
The repetition and its transformation as well as responses from the Chinese divination form I Ching will guide me through this tour and help me connect to the urban habitat.
Audience is welcome here:
09:00h The dance arena, Fælledparken – 55°42'17.3″N 12°33'53.4"E
11:00h Bispebjerg Hospital parking house (7th floor) – 55°42'52.2″N 12°32'11.5"E
16:00h Ternevej 10 – 55°41'41.3″N 12°31'32.8"E
DOCUMENTATION JUNE 14
FILM
05.00 h
06.00 h
07.00 h
08.00 h
09.00 h
10.00 h
11.00 h
12.00 h
13.00 h
14.00 h
15.00 h
16.00 h
17.00 h
ABOUT THE ARTIST
Snorre is a dancer and choreographer based in Copenhagen. Since leaving the Danish Performing Arts School in 2015, he has been part of the dance collective Danseatelier, which consists of 11 dance artists and a dance studio at Nørrebro. In Danseatelier, he works with collective organizational forms and has helped to curate and organize a variety of performance events.
From a queer eco-feminist point of view, he works with dance and choreography as a transformative practice. For several years he has been part of the international research group dance for plants and has spent time with dance as a practice that goes beyond human interaction. He has also presented his own choreographic work at Det Frie Felts Festival, Den Frie Udstilling, thecarrierbag festival and gallery XC.HuA in Berlin. He has worked for choreographers such as Martin Forsberg, Tina Tarpgaard, Edhem Jesenkovic, Naïma Mazic and Nønne Svalholm.
In 2017 he received a danceWEB scholarship as part of ImPulsTanz in Vienna and was most recently selected for '40 Winks' with the solo performance 'Mermaid of the Hypersea' for Aerowaves 2020.