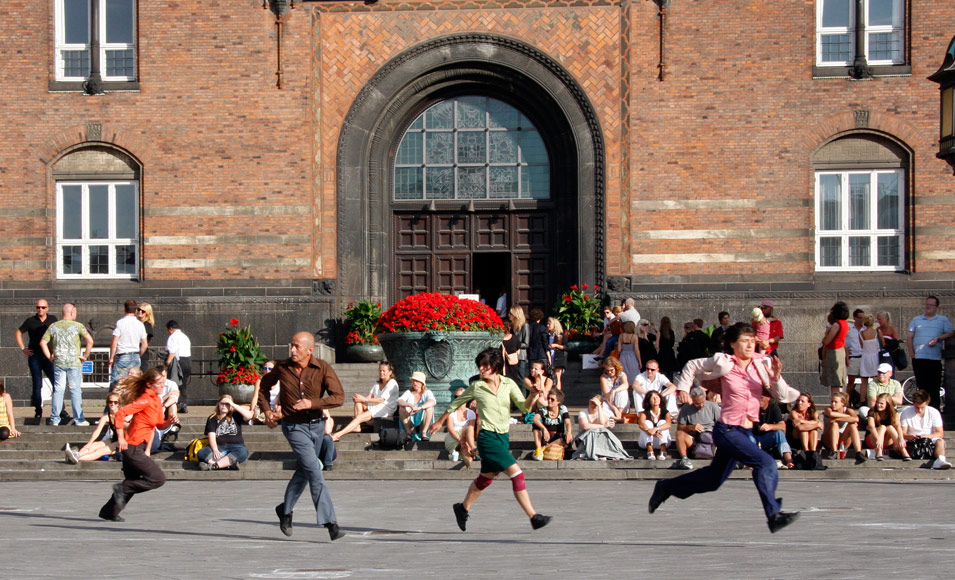 TRAJETS DE VIE, TRAJETS DE VILLE – Ex Nihilo
5. aug: Enghave Plads / 6. aug: Axeltorv / 7. aug: Rådhuspladsen // 05.-07.08.2009
Sanserne kommer i spil, når det franske dansekompagni Ex Nihilo planter sig midt i din hverdag – i din by
I døgnets rolige timer indtager fire dansere et bykvarter med en usædvanlig udnyttelse af de offentlige bænke – TRAJETS DE VIE – dansetrin med tydelig afsæt i hverdagens skridt og bevægelser.
Sidst på dagen, når aktivitetsniveauet stiger i kvarteret, vender Ex Nihilo tilbage og udvikler sammen en trance-lignende dans, en cirkel, en strømhvirvel – TRAJETS DE VILLE. Dansekroppene smelter sammen og bevæger sig som en enhed rundt på pladsen. Du står helt tæt på kraftfuld dans i højt tempo.
Ex Nihilo ser byens offentlige rum som deres arbejdsplads og bruger byens rum som scene for deres danseperformances.
The public will discover unplanned, informal paths encountered by chance as they wander through the city. Walking here and there. Seeing a bench come to life. Then comes the time of activity, the end of the day. A group of dancers, still walking up and down, move and interact with growing intensity. The group gossips among itself in a constant hubbub, working up into a trance-like dance, a circle, a whirlpool.
Artistic direction
Anne Le Batard and Jean-Antoine Bigot
Trajets de vie
Dancers: Anne Le Batard, Jean-Antoine Bigot, Hughes Pomiès, Corinne Pontana
Music: Yves Miara
Trajets de ville
Dancers: Jean-Antoine Bigot, Jean-Marc Fillet, Anne-Claude Goustiaux, Anne Le Batard, Sasker Polman, Hugues Pomiès, Corinne Pontana, Satya Roosens, Lies Cuyvers, Lisa da Boit et Adolfo Vargas
Music: Pascal Ferrari
Costumes: Julia Didier
Co-producers: In Situ/European network for artistic creation in public areas, financed with the help of the European Commission (programme Culture 2000), 3 Centres nationaux des Arts de la rue: L'Atelier 231/Sotteville-lès-Rouen, L'Abattoir/Chalon-sur-Saône et Pronomade(s)/Encausse-les-Thermes, Théâtre Huis a/d Werf/Utrecht (Netherlands), CCN de Rillieux-la-Pape/Cie Maguy Marin/studio-residence 2006, CCN de Caen/Cie Fattoumi-Lamoureux/studio-residence 2006, Association la Fonderie/Blangy-sur-Bresle
Supported by: L'Usine and Tournefeuille, Festival Mes de Dansa/La Espiral/Seville (Spain), Cie Kelemenis/Marseilles. And the Ministry of culture/Drac Paca, Provence-Alpes-Côte d'Azur Region, Bouches-du-Rhône Department, Town of Marseilles, CULTURESFRANCE, ADAMI and SACD.
MED STØTTE FRA: Culturesfrance