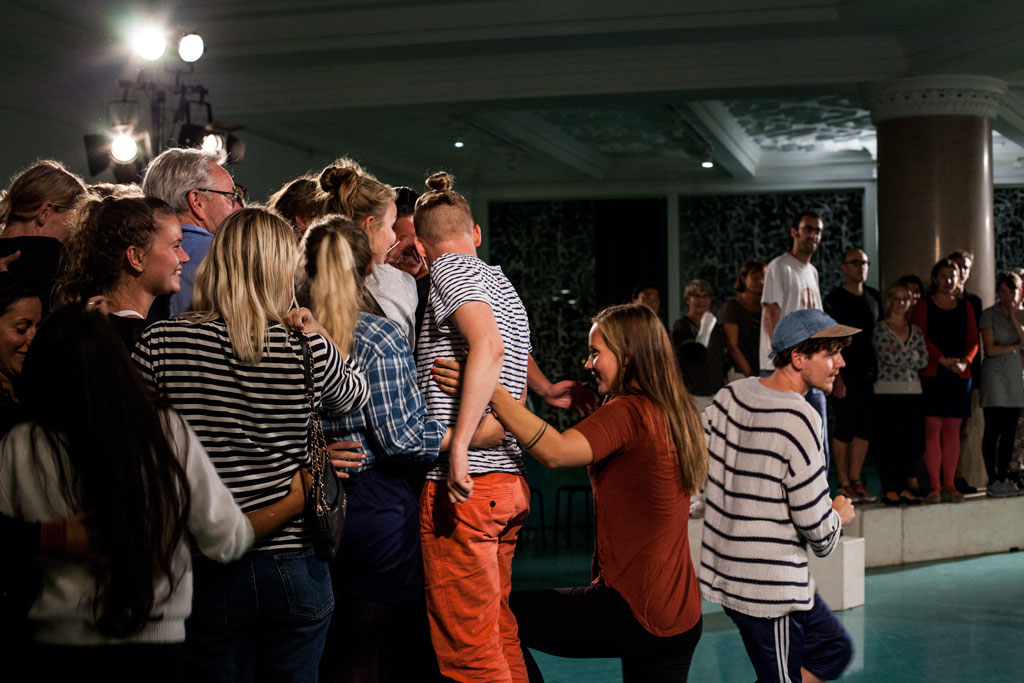 RULE™ – Emke Idema
WHAT Interactive performance game
WHEN 24, 25 & 26 Aug. 20 hrs
WHERE Kulturstyrelsens Foyer, H.C. Andersens Boul. 2, Kbh V – see map
TICKET 95 / 55 kr
Put your compassion to the test and win the game
Rule™ is a game played by the audience. A political and philosophical game, where current issues become tangible and relevant. A mini society where the majority lays down the norm, and the minority is disqualified. And where you can't get away with not having a standpoint. Emke Idema sets the rules, but leaves the outcome in the hands of the audience.
Do you let a stranger walk through your door? A strange man? A strange woman? A stranger of other ethnic origin? The leader of the game asks us questions, and we answer yes or no. The questions are about migration and illegality, and they become increasingly ambiguous. And ever so prying. Seriousness disguised as a game.
The radical artist Emke Idema uses the game format to bestow an active political role on the audience. She creates dilemmas with no rights and no wrongs. She puts our tolerances, ethics and humanity to the test. She shifts our personal boundaries. You decide, as long as you are part of the majority. So, how do you vote? Ideologically? Pragmatically? To win the game – and the power?
For the past year, this award winning performance has been a hit at festivals across Europe as a topical and important catalyst for putting this very relevant debate into perspective.
NB! In English
DURATION 75 min.
AGE from 14 years
PHOTO Maja Nydal Eriksen
CREDITS
Concept, directed by & host Emke Idema
Dramaturgy Nienke Scholts
Scenography Joris van Oosterwijk
Artistic coaching Dirk Verstockt
Production manager José Schuringa
Production Stichting Stranger
Co-production Frascati Productions, Grand Theatre Groningen
Support DasArts, Stichting Dioraphte, Amsterdam Fonds for the Arts, Performing Arts Fund NL, SNS REAAL Fonds, Stichting DOEN, VSB-Fonds