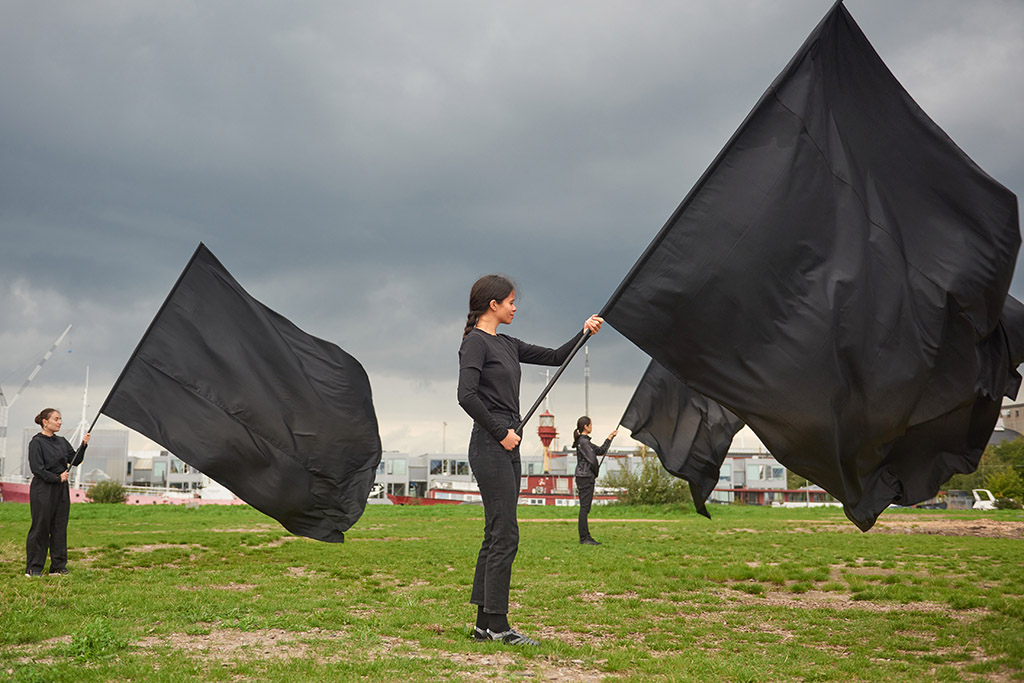 Relay (extended) – Ula Sickle
TOOK PLACE 24, 25, 26 August at 17.00-20.00
PLACE Harbour bus stop Refshaleøen – see location
The performers will be on the big grass field in front of the harbour bus stop
WHAT Performance installation
FREE – you can come and go as you like
Black flags in perpetual movement
Black flags float in the air in constant motion. The movement and sound of the fluttering flags become both meditative choreography and soundscape.
A flag is usually a symbol of national community and autonomy, but for choreographer Ula Sickle, the black flags tell a different story – about protest, resistance and the community's opportunities to act. Relay is inspired by the many protests that take place around the Earth. The flag does not point to one fight, but to all of our fights.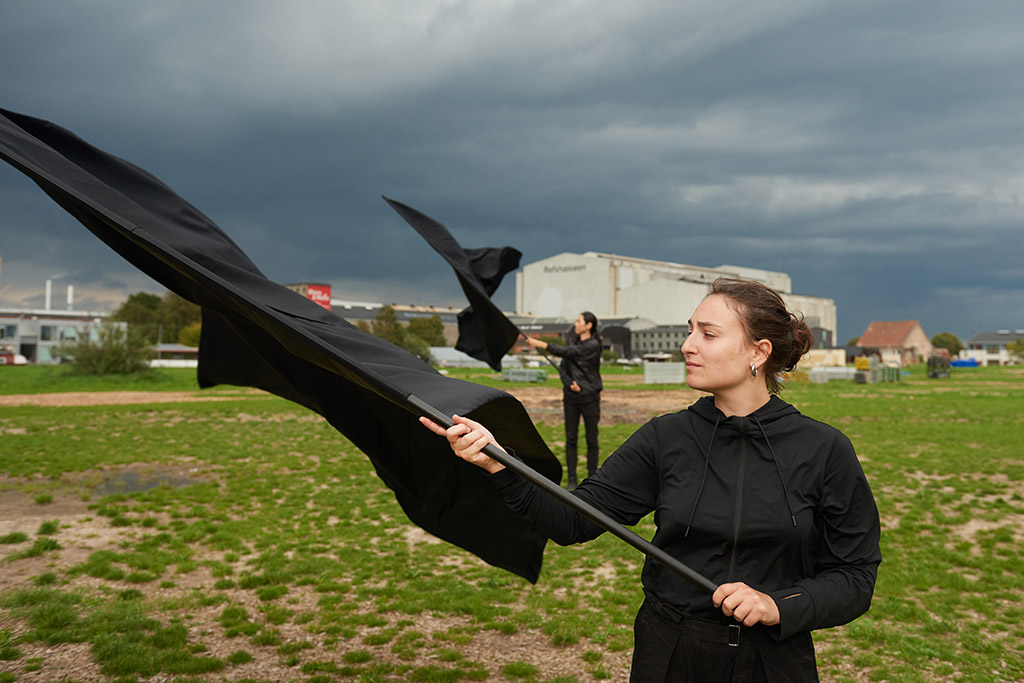 Ula Sickle and the performers take turns in a fascinating test of endurance, each of them working to keep the flags floating. It requires constant movement and hyper-attentive interaction with the wind and the surroundings. At times powerful, flapping and aggressive, at other times gentle, meditative and hopeful.
How do we create resistance today in a society where the opposition has become part of the system? What opportunities do we have to resist, both alone and together?
NB! RELAY (extended) is best experienced if you take your time. For Metropolis, the artist has created a special version with three flags moving at the same time. Explore Refshaleøen's landscapes to find the flags.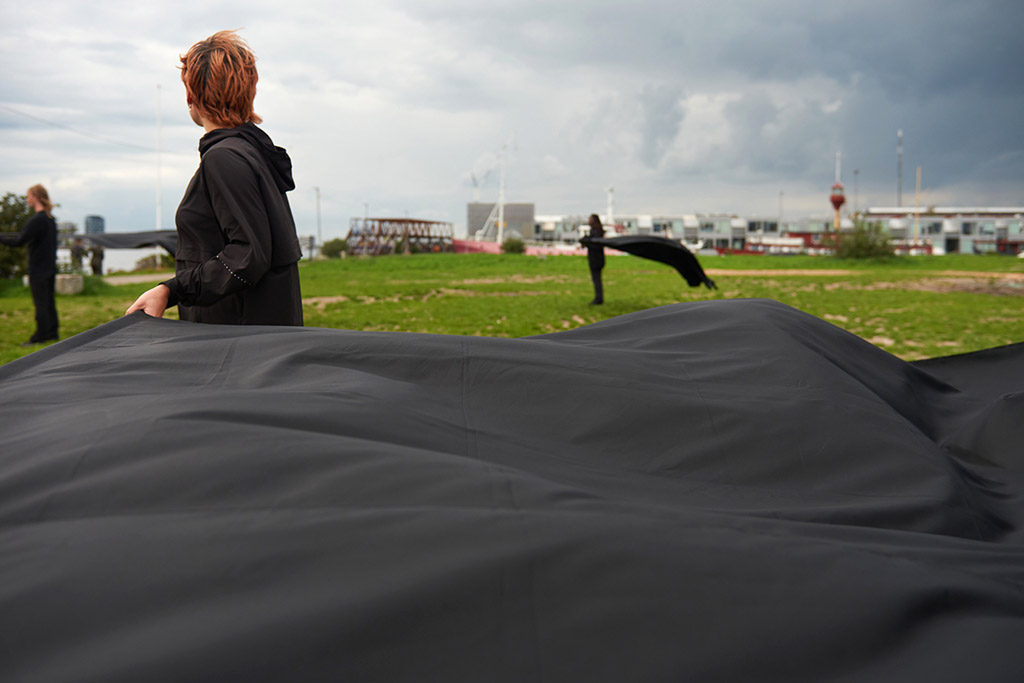 ABOUT THE ARTIST
Ula Sickle is a Canadian-Polish choreographer and performer based in Brussels. Her background is in dance, i.a. with an education from the recognized P.A.R.T.S. in Brussels, but she works across disciplines with e.g. visual arts and music. Her works have been presented on many of the biggest international stages and festivals. Ula Sickle is currently also working on an artistic PhD at Leuven University and LUCA School of Arts.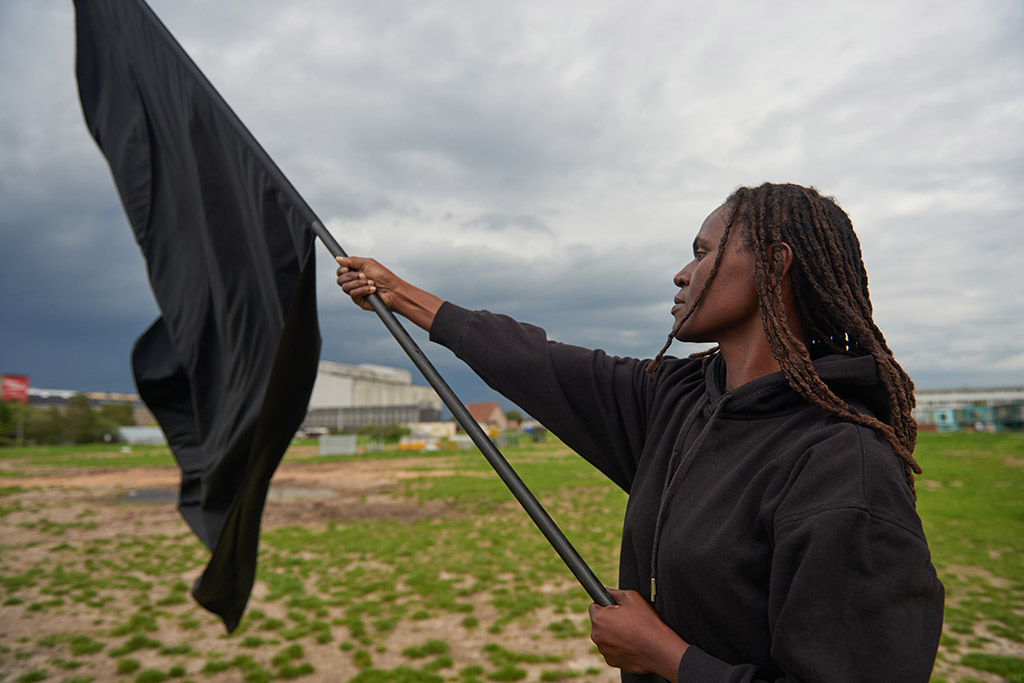 CREDITS
Concept and choreography: Ula Sickle
Creation and performance: Amanda Barrio Charmelo, Mohamed Toukabri, Liza Baliasnaja
Performance: Amanda Barrio Charmelo, Mohamed Toukabri, Liza Baliasnaja, Ula Sickle + local performers Julienne Doko, Snorre Elvin, Mikka Mallow, Yeong Ran Suh, Katinka Wissing
Production: Joelle Laederach for Outline
With the support of Nuit Blanche 2018, Kunstenwerkplaats Pianofabriek, Wiener Festwochen
Photos: Marine Gastineau
Relay is part of the Art Collection of the Flemish Community (Collectie Vlaamse Gemeenschap).