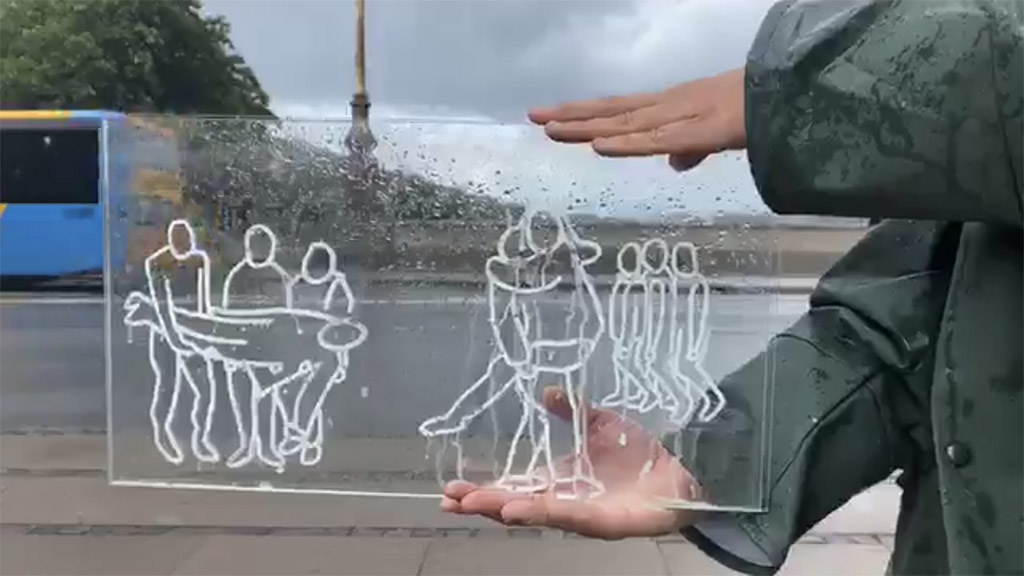 6 July: Mo Maja Moesgaard
TIME: 6 July 11.00-23.00h
START: Tranevej, Copenhagen NV
CATEGORY: Visual artist
Live-stream every hour on the hour on www.facebook.com/walkingcopenhagen
IMAGES OF MEMORY
In the summer of 2013, I met with three others I barely knew at Assistens Cemetery to decide who we should invite as the fifth member of the queer feminist base group that we wanted to start.
This summer we celebrate 7th anniversary.
On March 5, 2009, the first cups of home-brewed coffee were served in Q, the exhibition space at the Academy of Fine Arts, and the microphone was opened. It was the culmination of two workshops called Asyl Dialog Tanken organized by Tone Olaf Nielsen, Morten Goll and Joachim Hamou at the Asylum Center Kongelunden and Center Sandholm.
We called the 10 days in Q the Testsite Trampoline House.
On my walk, I will revisit some of the places and events that have shaped me throughout my life in Copenhagen. A walk through one of the city's many commemorative layers. Some images will be remembered by many, some by a few.
Each live-stream will be a drawn collage consisting of my personal commemorative images, collective images and with the city as a living background.
I will be assisted by Anne Louise Fink and Misja Thirslund Krenchel.
DOCUMENTATION JULY 6
FILM
"The length of the videos in the original posts was conditioned by the time it took to draw a glass plate.
Thanks for the help, Misja Thirslund Krenchel and Anne Louise Fink."
11.00 h
12.00 h
13.00 h
14.00 h
15.00 h
16.00 h
17.00 h
18.00 h
19.00 h
20.00 h
21.00 h
22.00 h
23.00 h
ABOUT THE ARTIST
In my work, I am interested in the places where the political meets the everyday and the body. Where the seemingly private turns out to be shared experiences. I start from the personal experience and look for the collective stories.
Text and language are almost always present in my work, which covers drawing, animation, paper, textile and embroidery.
Collective work and organization have always been important to me, and I am and have been part of several collectives and groups, including Queer Ecologies (2015-), It Can Be Political (2015-), The Sound Collective (2019-) and BarHvaViHar (2012-2016).