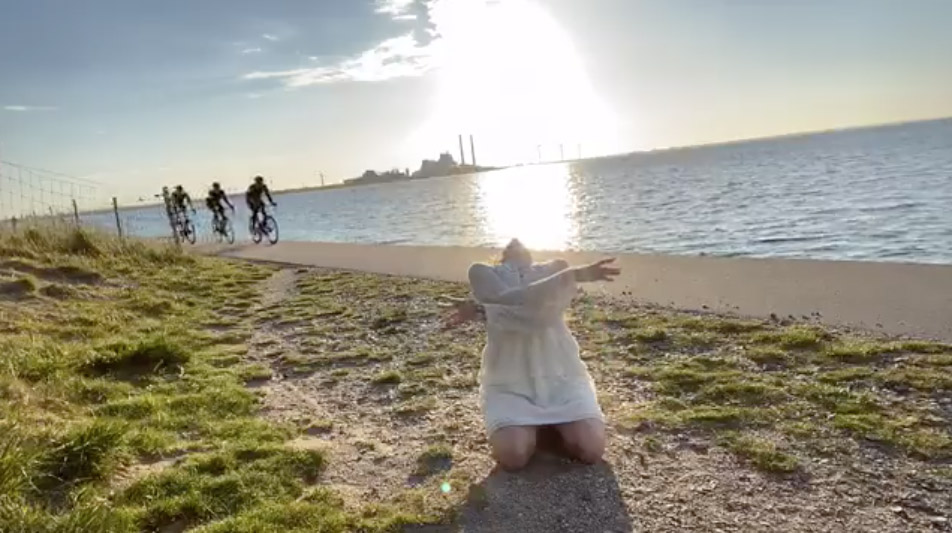 25 May: Elise Bjerkelund Reine
PILGRIMAGE
I will go through a 12-hour emotional journey – a self-invented pilgrimage.
I have asked around and have philosophized about the different states that I myself and others have gone through during this very special time. I will share reflections, and I will use my physical expression to go through the spectrum of 12 feelings.
1.    Confusion 
2.    Acceptance
3.    Anxiousness
4.    Consciousness
5.    Frustration
6.    Claustrophobia
7.    Nostalgia
8.    Horny 
9.    Restlessness
10.  Melancholia
11.  Denial
12.  Peace
As you can see, I somehow hope to end the journey 'at peace'. Just exactly what that means, I hope to find out during this 12-hour walk through the emotional spectrum of covid-19.
I will walk alone. I start on Refshaleøen, go out to Amager, through Amager Strandpark, the airport, Dragør, Søvang, and I will follow the coastline as far as I make it to somewhere on southwestern Amager.
DOCUMENTATION MAY 25
FILM
10.00 h
11.00 h
12.00 h
13.00 h
14.00 h
15.00 h
16.00 h
17.00 h
18.00 h
19.00 h
20.00 h
21.00 h
22.00 h
ABOUT THE ARTIST
I am a contemporary circus artist – specialized in contortion and trapeze. I am educated at AFUK in Copenhagen and the Centre National des Arts du Cirque in Chalons-en-Champagne. After graduating in 2013, I worked for various companies across Europe, including Burnt Out Punks (SE), Cie Psydonymo (FR), Side Kunst Circ (IT) and David Bobee (FR). I myself have started the companies Tanter (DK), Norwegian Ninjas (NO) and Phobetor (FR).
In all of these projects I have been involved in both developing performance material and touring. Now the international traveling lifestyle is paused, so I plan this local hike.