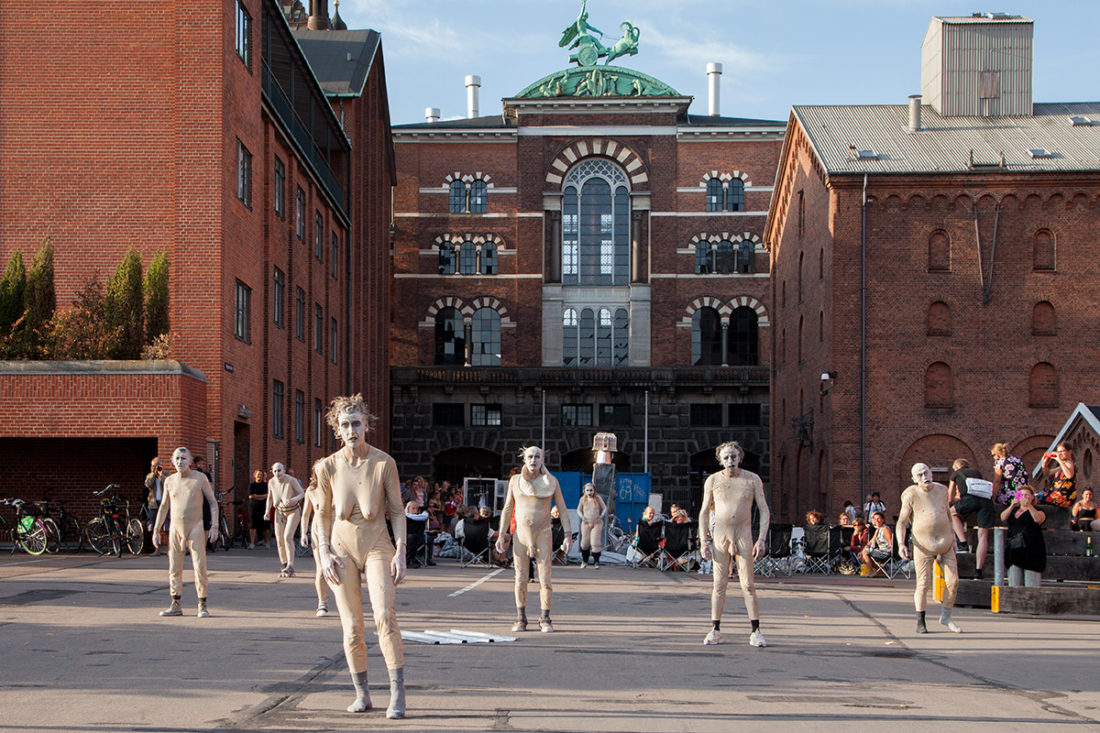 DEAFENING SILENCE – Kumulus
WHAT Outdoor performance
WHEN 3 & 4 Aug. 17.30 hrs, 5 Aug. 19 hrs
WHERE Bryggernes Plads, Carlsberg – see map
TICKET 95 kr.
A CHOREOGRAPHY OF LONELINESS IN A SYMPHONY OF GARBAGE
There's a container on the site. It contains the surplus from the modern city. The rubbish. But among the piles of rubbish there's a group of people. The redundant. Dusty clown-like figures, looking like they've just exited from a Beckett drama.
Like a flock of living dead they are superfluous in today's use-and-throw-away society.  But armed with an iron will they seek to create beauty and purpose amid the loneliness.  In a wordless ritual they drag the remains of their life round the site. A window, a globe, a cage, a spoon, a sock.. all whilst the rubbish composes its own symphony like a sound track for this tragicomic allegory of the consumer society.
The performance company Kumulus is characterized by their social commitment, expressed with strong realism and a fragile sensitivity.  When they performed at Metropolis 2007 they captivated the audience with "Endless Route", a story about illegal immigrants. They are now back with a thought- provoking dystopia, which may not be so distant after all.
DURATION 90 min
AGE from 10 years
COOPERATION Carlsberg Byen
PHOTO COPENHAGEN Thomas Seest
SUPPORT Région Rhône-Alpes (FIACRE)
CREDITS
Artistic direction: Barthélemy Bompard with the assistance of Nicolas Quilliard
Created & performed by: Dominique Bettenfeld, Barthélemy Bompard, Jean‐Pierre Charron, Stéphane Civet, Céline Damiron, Marie‐Pascale Grenier, Dominique Moysan, Nicolas Quilliard & Judith Thiébaut.
Body work: Judith Thiébaut
Sound: Jean‐Pierre Charron
Costume designer: Marie‐Cécile Winling & Catherine Sardi
Set designer: Dominique Moysan
Make‐up: Sophie Ghizzo
Technical production: Sébastien Coulomb & Djamel Djerboua
Photo: Jean‐Pierre Estournet
Co-production: L'Atelier 231-Centre national des arts de la rue à Sotteville‐lès‐Rouen, La D.G.C.A., Le Moulin Fondu-Centre national des arts de la rue à Noisy‐le‐Sec, La Paperie-Centre national des arts de la rue à St Barthélemy d'Anjou, Le Parapluie-Centre international des arts de la rue à Aurillac, Pronomade(s) en Haute‐Garonne, Centre national des arts de la rue, Quelques p'Arts… le SOAR-Scène Rhône‐Alpes à Boulieu‐lès‐Annonay, La SACD/Auteurs d'espace public, Les Usines Boinot‐Centre national des arts de la rue à Niort.