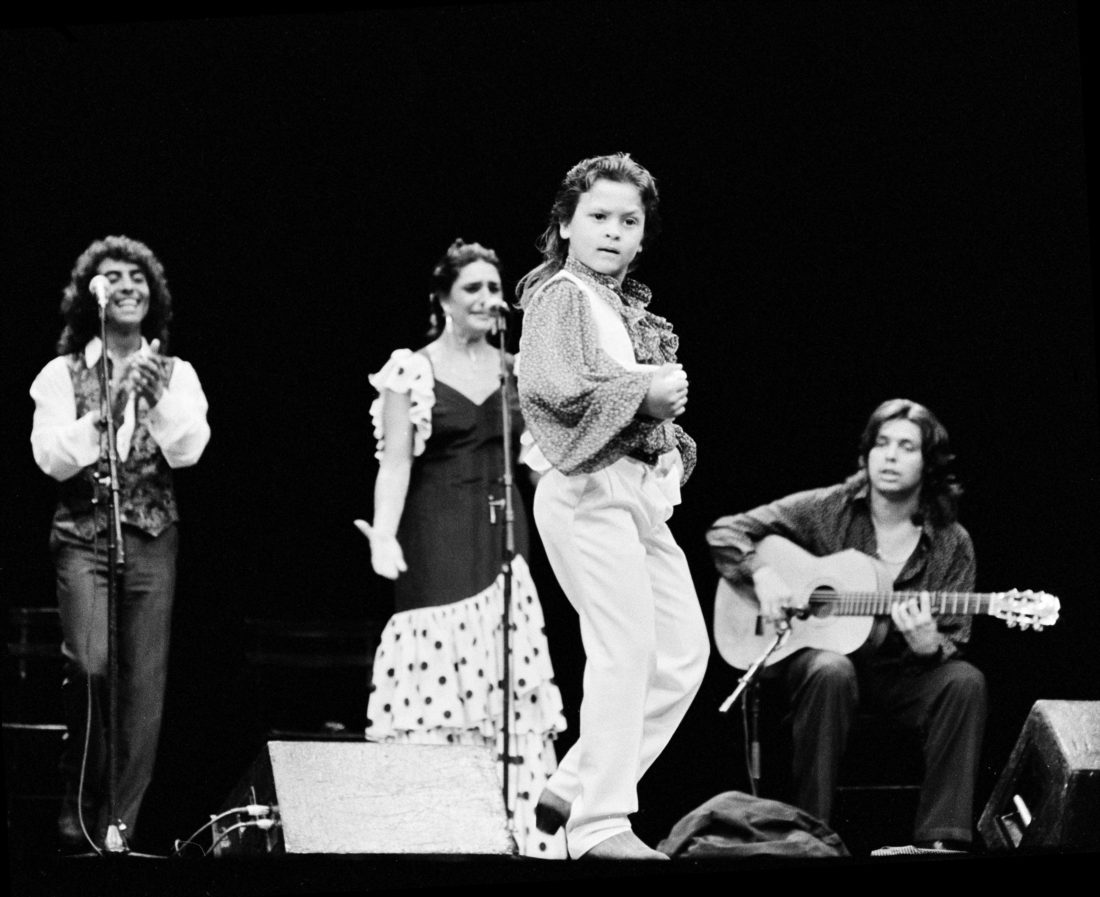 DANCIN' CITY 1996
Den fjerde festival blev en kunstnerisk kulmination. Med Kulturby 96 fik KIT økonomisk mulighed for at invitere en række af vor tids største koreografer, sideløbende med en række yngre, veletablerede kompagnier og et par helt unge talenter på vej op.
Publikum kastede sig glade ud i festivalens åbningsbal Le Bal Moderne i Pakhus 11, anført af fire proffe franske koreografer. Samtidig satte Philippe Decouflé Det Kgl. Teater på den anden ende med et fabulerende bravour-show.
Helt centralt i festivalen stod det livgivende gensyn med den postmoderne dans' faderfigur, Merce Cunningham, ikke mindst hans nye værk Rondo, og Anne Teresa de Keersmaeker, der bekræftede sin position som Europas førende, yngre koreograf, dels med den gamle Rosas Danst Rosas, og dels den legende, poetiske Mozart/Concert Arias, der satte et forrygende punktum for festivalen. Den fremmeste eksponent for japanernes kølige æstetik, Saburo Teshigawara, viste udsøgt skulpturel dans. Endelig viste Bill T. Jones med en charmerende hyldest til livet, at USA's modern dance både kan og skal forny sig
To nordiske indslag, Ingun Bjørnsgaard og Tero Saarinen, viste spændvidden på vores egne breddegrader, mens den overrumplende Quasar og José Navas gav to forskellige bud på dansens udvikling i Sydamerika. Festivalens store overraskelse blev Jérôme Bels eftertænksomme antidans. Det danske værkstedsforum Bysteps indeholdt ikke de store overraskelser, det gjorde tilgengæld Anders Christiansens solo og Tim Feldmans overbevisende Twin Project i Turbinehallerne.
Der var også glædelige gensyn med Rui Horta/ S.O.A.P., som dansede sig ind under huden med en krads kommentar til tiden, med Sasha Waltz, som igen tog stikket hjem med sin tragikomiske halvfemserthriller i tre afsnit og Les Ballets C. de la B. overgik sig selv med et hudløst ærligt indblik i en flok tabte eksistenser.
______________________________________________________________________________
"Dancin' City lever livet stærkt, men farligt. I modsætning til mere bredbagede artsfæller i Europa har den ikke bare fået vokseværk, men har turdet satse på kvalitet og en stadig klarere moderne linje. Samtidig har den taget chancer, der skal til, for at holde nysgerrigheden i live – netop det altafgørende råstof, som trues af den almene stopfodring."
Monna Dithmer, Politiken
"Dancin' City '96 er blevet en kulmination. Festivalen er blevet et ildsprudlende punktum for KITs vanvittige og gudsbenådede ambition om at plante den nutidige dans på dens berettigede plads blandt de øvrige kunstarter – i Danmark."
Anne Flindt Christensen, Information
______________________________________________________________________________
DANCIN' CITY 4
1.-18. AUGUST 1996
ÅBNING LE BAL MODERNE
FRANKRIG
5 koreografer skabte danse for og med publikum: Jean-Michel Agius, Frederique Chauveaux, Loic Touze, Eric Delph, Gaelle Courtet
Pakhus 11, 1.-4. august
FORESTILLINGER
MERCE CUNNINGHAM DANCE COMPANY
USA
Program I: Beach Birds (1991), Ground Level Overlay (1995), Crwdspcr (1993)
Program II: Change of Address (1992), Windows (1995), Rondo (1996)
Program III: Beach Birds, Rondo, Ground Level Overlay
KOR. Merce Cunningham
SCEN. Leonardo Drew (Ground Level)
MUSIK John Cage (Beach Birds), Stuart Dampster (Ground Level), John King
(Crwdspcr) LYS Marsha Skinner (Beach
Birds), Mark Lancaster (Crwdspcr), Aron Copp (Ground Level)
Det Kongelige Teater, 9. 10. & 11. august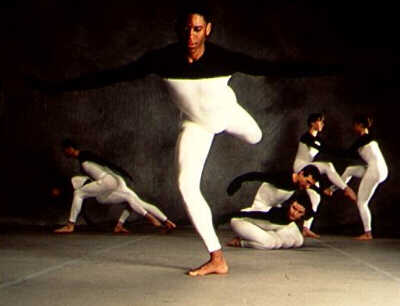 LES BALLETS C. DE LA B.
BELGIEN
La Tristeza Complice
KOR. Alain Platel
SCEN. William Philips
MUSIK Henry Purcell, Dick Van der Harst
CO-PRODUKTION deSingel, De Vooruit, Théâtre de la Ville, Det Europæiske Teater
Torpedohallen, 2. & 3. august
JÉRÔME BEL
FRANKRIG
Nom donné par l'auteur
KOR. Jérôme Bel
Dansescenen, 15. & 17. august
BYSTEPS
DANMARK
Jens Bjerregaard Tweed
Kamilla Brekling HO-ME
Lene Boel Co'pist
Anne Katrine Kalmoes Portræt af et mord
Lene Østergaard Øen (video)
Mikala Lage Mine dage med Klaus – take one (video)
Dansescenen, 11. august
ANDERS CHRISTIANSEN
DANMARK
Stilleben
KOR. Anders Christiansen
SCEN. Christian Q. Clausen
Dansescenen, 5. & 7. august
PHILIPPE DECOUFLÉ/DCA
FRANKRIG
Decodex
KOR. Philippe Decouflé
SCEN. Jean Rabasse
MUSIK De Courson, Libolt, Coursin, Lengo
Det Kongelige Teater, 1. 2. & 3. august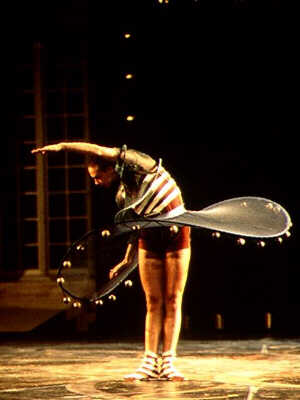 LA FAMILIA FARRUCO (see frontpage photo)
SPANIEN
KOR. Antonio Montoya Flores
DANSERE El Farruco, Juanito El Farruquito m.fl.
MusikTeatret Albertslund, 7. 8. & 9. august
TIM FELDMAN
DANMARK
Twin Project
KOR. Tim Feldman
SCEN./PROJEKTIONER Tal Yarden, Lise Klitten
MUSIK Guy Yarden
LYS Thomas Bek
Turbinehallerne, 15.-18. & 21.-24. august
EL GRAN BAILE
ARGENTINA
BALL MASTER Victor Hugo Diaz
DANSERE Hector Falcón & Susana Rojo (BR) m.fl.
Færgen Kronborg, 10. august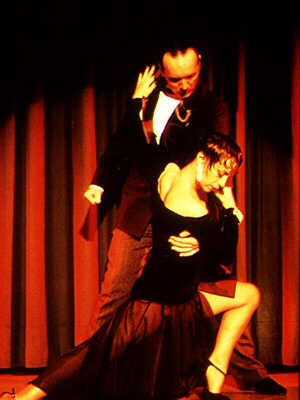 S.O.A.P DANCE THEATRE
TYSKLAND
Object Constant
KOR. Rui Horta
SCEN. Rui Horta
MUSIK Koen Brandt
LYS Nobert Mohr, Rui Horta
Kanonhallen, 3. & 5. august
ROSAS
BELGIEN
Rosas danst Rosas
KOR. Anne Teresa De Keersmaeker
SCEN. Anne Teresa De Keersmaeker
MUSIK Thierry De Mey, Peter Vermeersch
LYS Remon Fromont
Kanonhallen, 14. & 15. august
Mozart/Concert Arias, un moto di gioa
KOR. Anne Teresa De Keersmaeker
SCEN. Herman Sorgeloos
MUSIK Claire Chevaler
MUSIKERE Anima Eterna: Jos Van Immerseel (dirigent), Ursula Hesse, Sandrine Piau, Isolde Siebert
LYS Jean-Luc Decourt
Torpedohallen, 17. & 18. august
BILL T. JONES/ARNIE ZANE DANCE COMPANY
USA
Sur la place; Ursonate; D-Man in the Waters
KOR. Bill T. Jones
ASS. Darla Villani (Ursonate)
MUSIK Jacques Brel (Sur la place), Kurt Schwitters (Ursonate), Felix Mendelssohn (D-Man)
LYS Robert Wierzel
Det Kongelige Teater, 6. & 7. august

INGUN BJØRNSGAARD PROSJEKT
NORGE
The Flux Position of an Insulted Eye
KOR. Ingun Bjørnsgaard
MUSIK Bach, John Cage/Rolf Wallin
Dansescenen, 4. & 6. august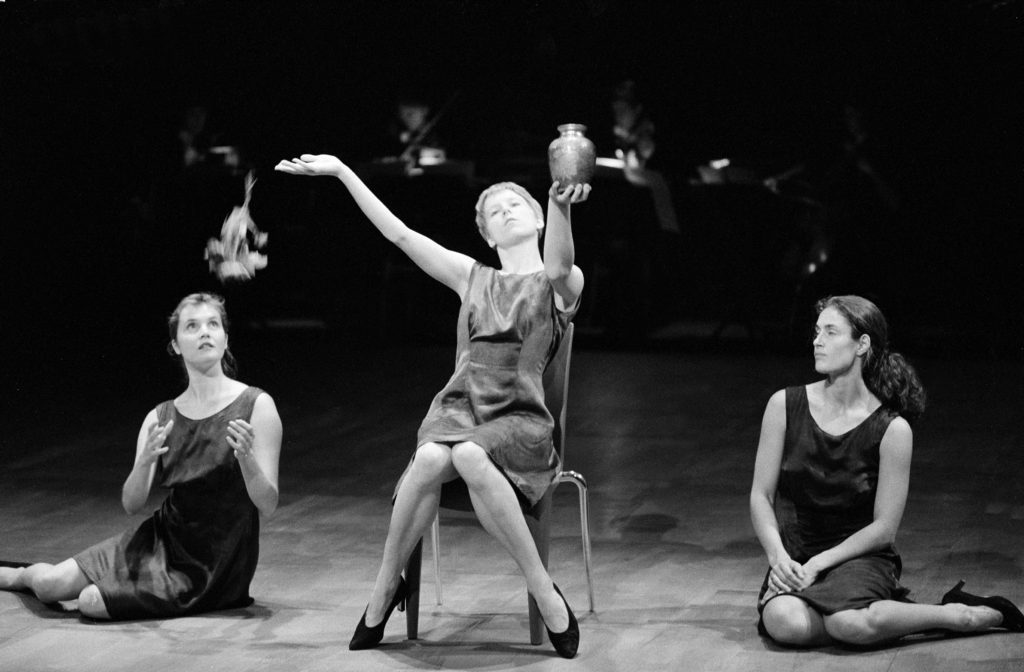 RANDOM DANCE COMPANY
ENGLAND
8 Legs of the Devil; Cyborg; Jacob's Membrane
KOR. Wayne McGregor
MUSIK Graham Fitkin (8 legs; Jacob's), Kurt Dahlke, Beaumont Hannant, Seefeel (Cyborg)
LYS Lucy Carter
Dansescenen, 16. & 18. august
JOSÉ NAVAS
VENEZUELA
While Waiting (1995); Postdata (1994); Celestiales (1992)
KOR. José Navas
MEDV. José Navas (solodans)
MUSIK Mary Kelly, Richard Strauss, Laurent Maslé
Dansescenen, 13. & 14. august
PARADOX DANCE COMPANY
USA
KOR. Richardo Morrison, Lori Bloustein
Internationalt kontaktimprovisations-projekt for dansere med & uden handicap
Arken, 3.-7. august & 11.-15. august
QUASAR COMPANHIA DE DANÇA
BRASILIEN
Versus
KOR. Henrique Rodovalho
SCEN. Shell Jr.
MUSIK Arnaldo Antunes, Drummers of Burundi, David Byrne
Torpedohallen, 13. & 14. august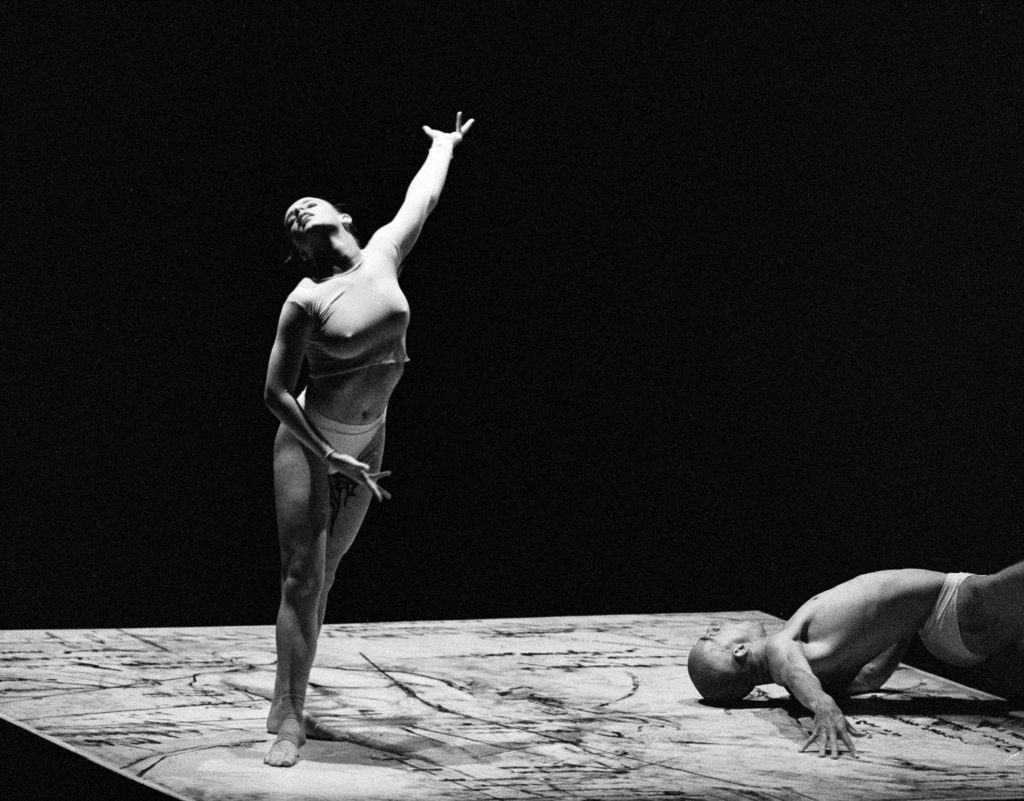 TESS DE QUINCEY/STUART LYNCH
DK/UK/AU
Epilogue to Compression
KOR. Tess De Quincey, Stuart Lynch
Pladsen foran Dansescenen, 5. & 7. august
TERO SAARINEN
FINLAND
Westward Ho!
KOR. Tero Saarinen
MUSIK Gavin Bryars m.fl
Dansescenen, 4. & 6. august

SABURO TESHIGAWARA/KARAS
JAPAN
I was real – Documents
KOR. & SCEN. Saburo Teshigawara
MUSIK Hindesmith m.fl
LYD Karas kompagniet
Kanonhallen, 17. & 18. august
SASHA WALTZ & GUESTS
TYSKLAND
Travelogue Trilogy
Del I: Twenty to eight
Del II: Tears break fast
Del III: All ways six steps
KOR. Sasha Waltz
SCEN. Barbara Steppe (Del l), Thomas Schenk (Del ll & lll)
MUSIK Tristan Honwinger, Jean-Marc Zelwer
Kanonhallen, 8. 9. 11. & 12. august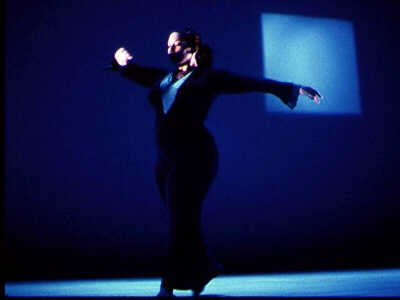 TRANSFORM 2 "A TRAVEL IN PHYSIQUE AND MIND"
4 udvalgte steder i byen, 4 koreografer, 4 komponister og 30 dansere undersøger rum, lyd og bevægelse.
PRODUKTIONSLEDER Ole Bjerre
KOREOGRAFER Kitt Johnson (DK), Kevin Fennan/Motionhouse (UK), Bo Madvig (DK),
Mehmet Sander (TYRKIET/USA)
KOMPONISTER Sture Ericson, Per Buhl Acs, Anne Eltard, Peter Kyed
4.-17. august: Workshop
17. & 18. august: Forestillinger på speedbane, Københavns Politigård, Vandtårneti Bellahøj, Trekroner Fortet
FILMPROGRAM
Springdance – et udvalg af de 10 bedste europæiske dansekortfilm
Anne Teresa De Keersmaeker Achterland
Stanley Donen & Gene Kelly Singin' in the Rain
Stanley Donen Seven Brides for Seven Brothers
Carlos Saura Carmen
Dave Hinton/DV8 Dead Dreams of Monochrome Men; Strange Fish
Clara van Gool/DV8 Enter Achilles
Vincente Minelli The Pirate (Gene Kelly & Judy Garland)
Arken, 9. 10. & 11. august
Nationalmuseets Biograf, 13., 14., 15. august.
Kortfilm af Kieslowski, Peter Greenaway, Mikala Lage, Lene Østergaard, Jan Troell samt alle DV8's film

MEET THE CHOREOGRAPHER
Rui Horta, Anders Christiansen, Ingun Bjørnsgaard, Tim Feldman, Tero Saarinen, Tess de Quincey, Stuart Lynch, Bill T. Jones (see photo below), Sasha Waltz, José Navas, Quasar Companhia de Dança, Jérôme Bel, Anne Teresa de Keersmaeker, Saburo Teshigawara
Kanonhallens Foyer & Chalottenborgs Café