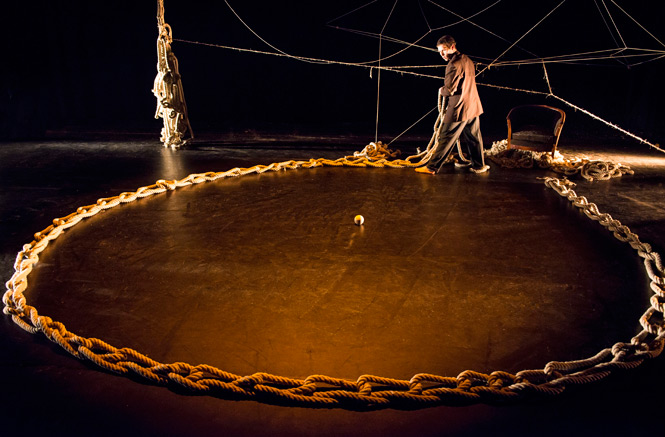 CORDES – Alexis Rouvre
Spiderman in own web
WHEN

17, 18 & 19 Aug. 20 hrs.
WHERE Københavns Musikteater | show map
TICKET 135 kr / youth 75 kr

It's like Alexis Rouvre is infatuated with rope, wire and string. Navigated by this intoxicating infatuation, he enthusiastically juggles and manipulates his ropes so they all of a sudden turn into a ball, a snake, a girlfriend or a complex web with himself in the centre. But is he the spider or the fly?

His enigmatic and lonely universe balances between enchanting daydream and smoldering nightmare. He dazzles us with his vast ingenuity and short poetic narratives, where ropes are letters and knots are words. Like a mad scientist trapped in the laboratory he goes on and on in his quest for new opportunities and associations, right until the web entraps him and he realises that perhaps, or perhaps not, there's more to life than tying knots.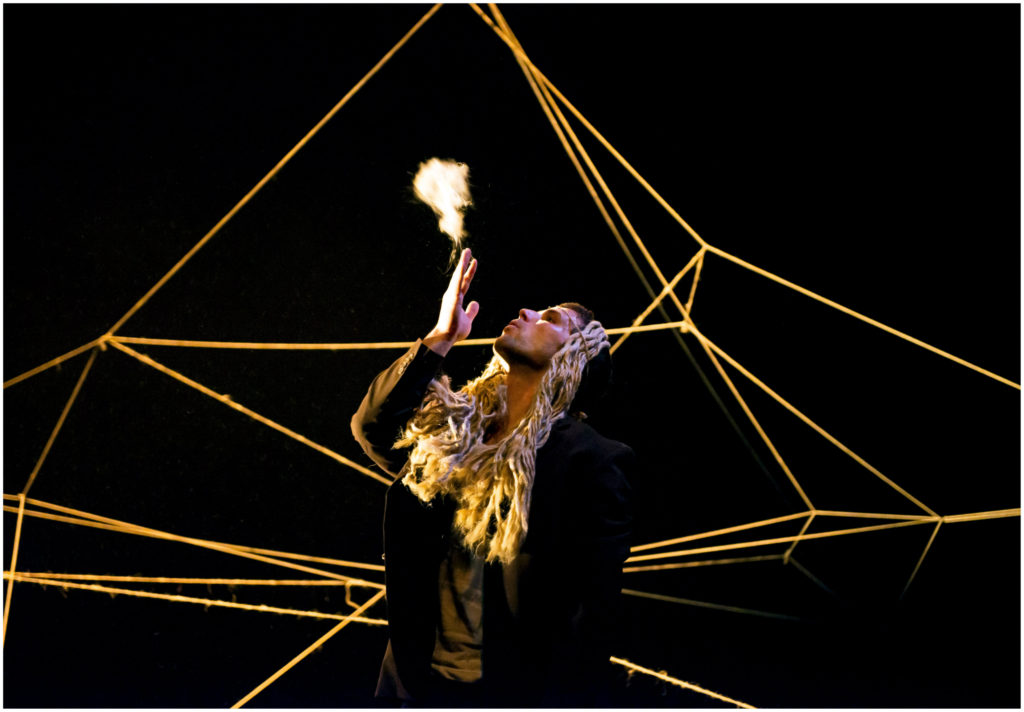 DURATION 60 min.
AGE 10 years
CREDITS
By & with: Alexis Rouvre
Co-direction: Paola Rizza & Nicanor De Elia
Music: Loïc Bescond
Sound and technique: Charlotte Plissart
Co-production: Espace Catastrophe, Centre International de Création des Arts du Cirque (BE); Halles de Schaerbeek, Accélérateur culturel européen (BE); La Cascade, Maison des Arts du Clown & du Cirque (FR)
Residencies: Espace Catastrophe (BE); Halles de Schaerbeek (BE); Théâtre des Doms (FR); Espace Périphérique (Mairie de Paris – Parc de la Villette) (FR); La Cascade (FR); Garage29 (BE); Centre Culturel du Brabant-Wallon (BE); Espace Columban (BE)
Support: Fédération Wallonie-Bruxelles, Service du Cirque, des Arts forains & de la Rue (BE); Bourse Artishok – BIJ (BE)

PHOTO Daniel Michelon
www.alexisrouvre.com

SUPPORT Presented in cooperation with Københavns Musikteater and supported by Wallonie-Bruxelles International and EU Culture/Circus Work Ahead