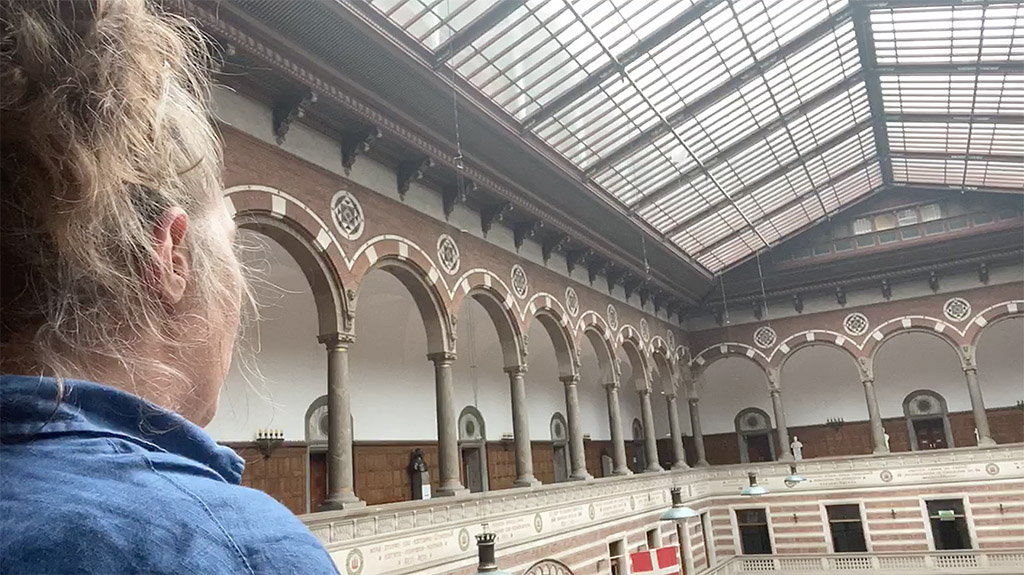 21 June: Birgitte Lyregaard
TIME: 21 June 10.00-22.00
START: Bragesgade, Copenhagen N
CATEGORY: Vocalist / composer
Live-stream every hour on the hour on www.facebook.com/walkingcopenhagen
A PLACE FOR THE VOICE
"A place for the voice" is a walk for hope. With the dreams intertwined, the memory super-spotted and the ears unfolded, I go on a pilgrimage to find shelter in the sound. Is there a place for the voice – a public site, maybe outdoors, where the acoustic voice is at home? Where the sound is thrown back and the balance of moisture, resonance, density and emptiness can draw the outline of my body that I long to hear?
A sublime acoustic is what I'm looking for. But based on intuition. I'm looking for a kind of emptiness that longs to be filled with sound. And for sound that can be mixed with voice.
I leave a trace: A cross with chalk shows passersby where the invisible sonic treasure lies hidden. "Sing here," I write on the spot. And continue my walk. My route is partially planned but it is unofficial and accommodates detours. My hourly signs of life can be improvised mini-concerts, with voice and objects – on the acoustic hot spots or in places where I want to "play" on the town. I might share somewhere a tale from my acoustic past – picked up and illuminated by the moment.
An audio poem can serve as an initial call to the acoustics of the site and become the objective litmus paper, the primitive man's orientation platform that kicks the improvisation between me and the place in motion.
I make an acoustic map of the city. Draw in the good places. Photograph my chalk crosses along the way. I explore sound and acoustics – what do they do, what do they do to us?
It's a beginning. An initiative. An invitation to continue. Or to change … Right now that everyday drums are starting to sound again, there is reason to remember our momentum for sensation. To bring it in. Maybe the places and their sounds can be the catalyst for a surprising way forward. Maybe they can throw us back. To ourselves. Like an echo.
DOCUMENTATION JUNE 21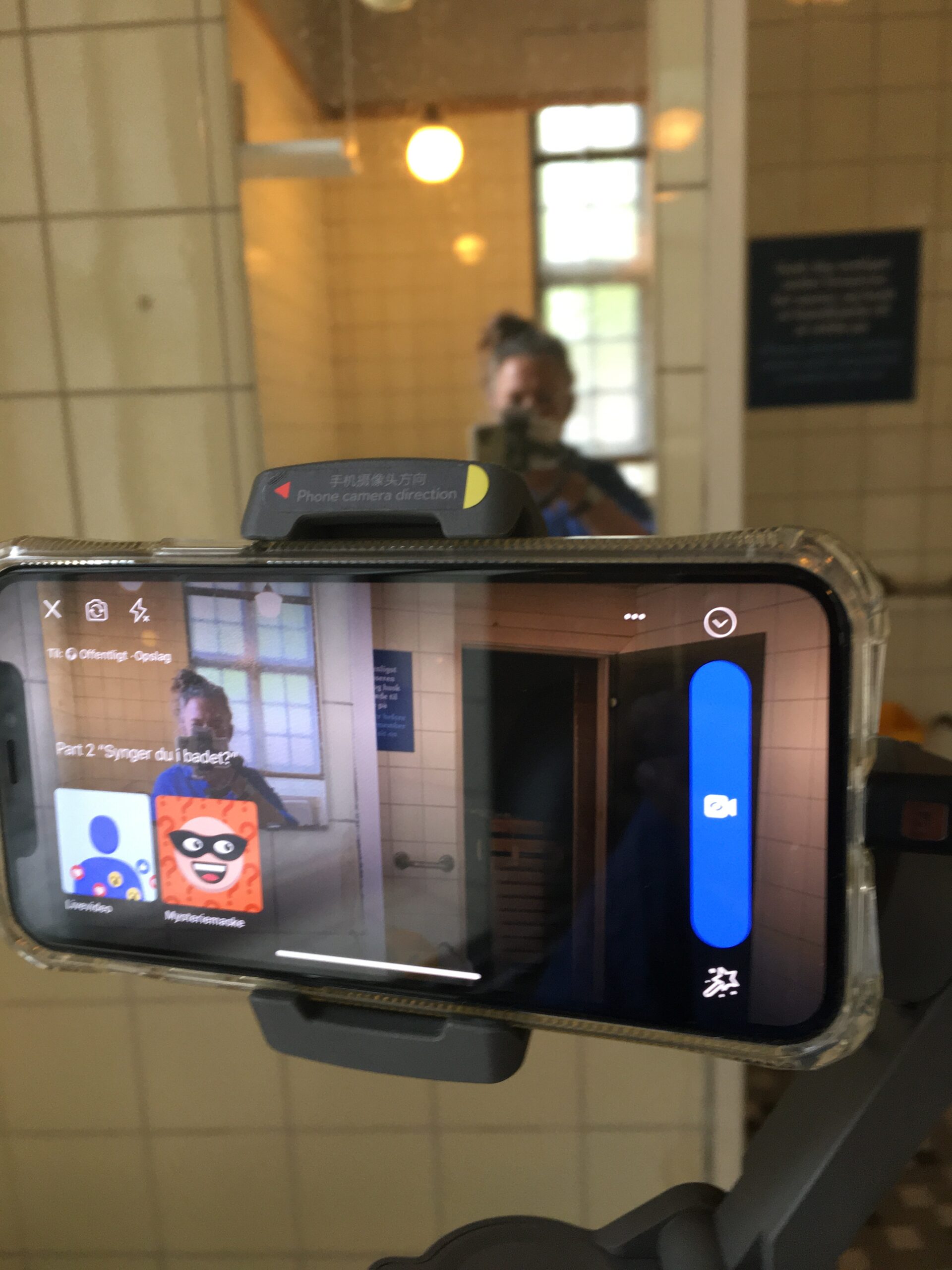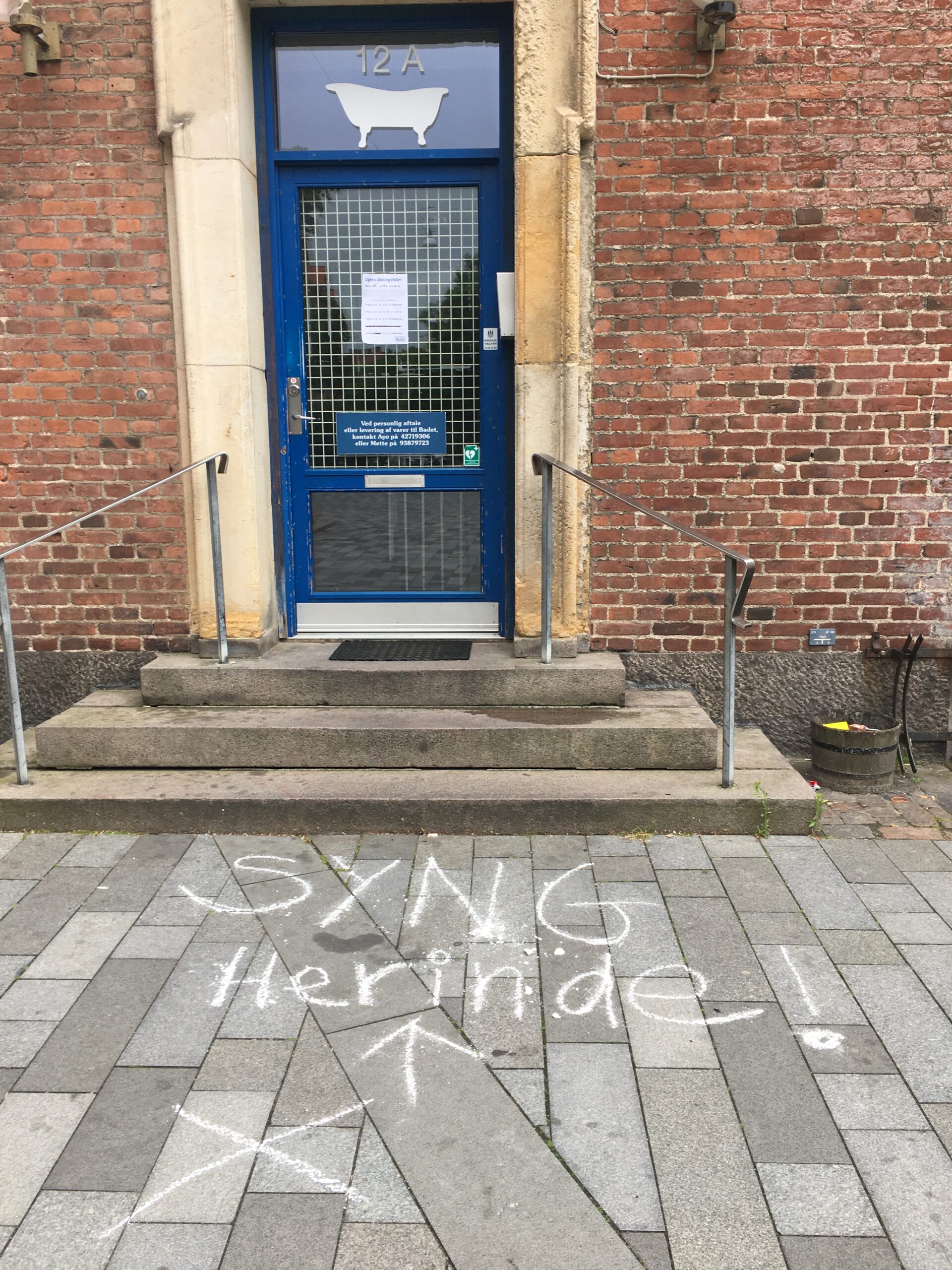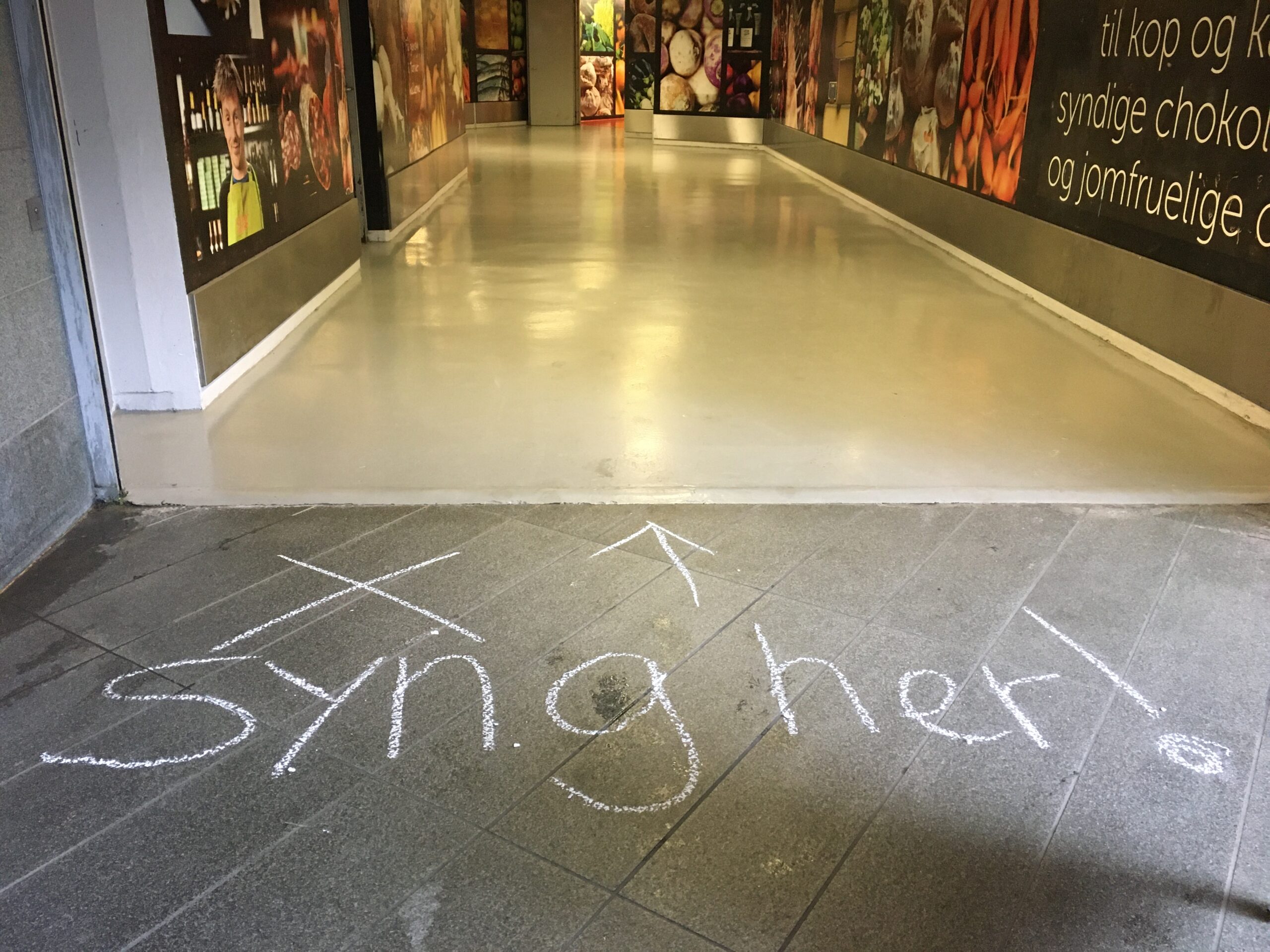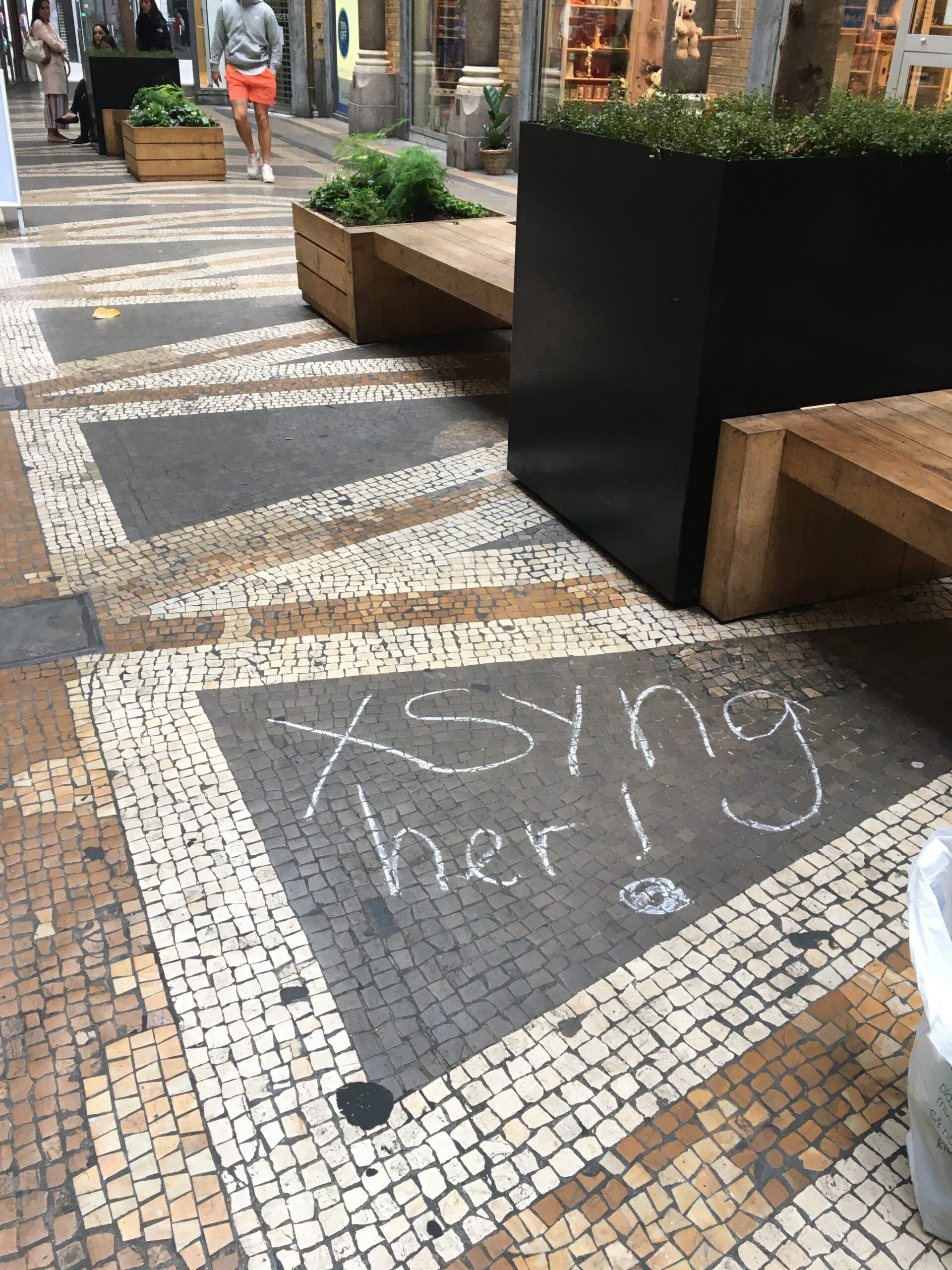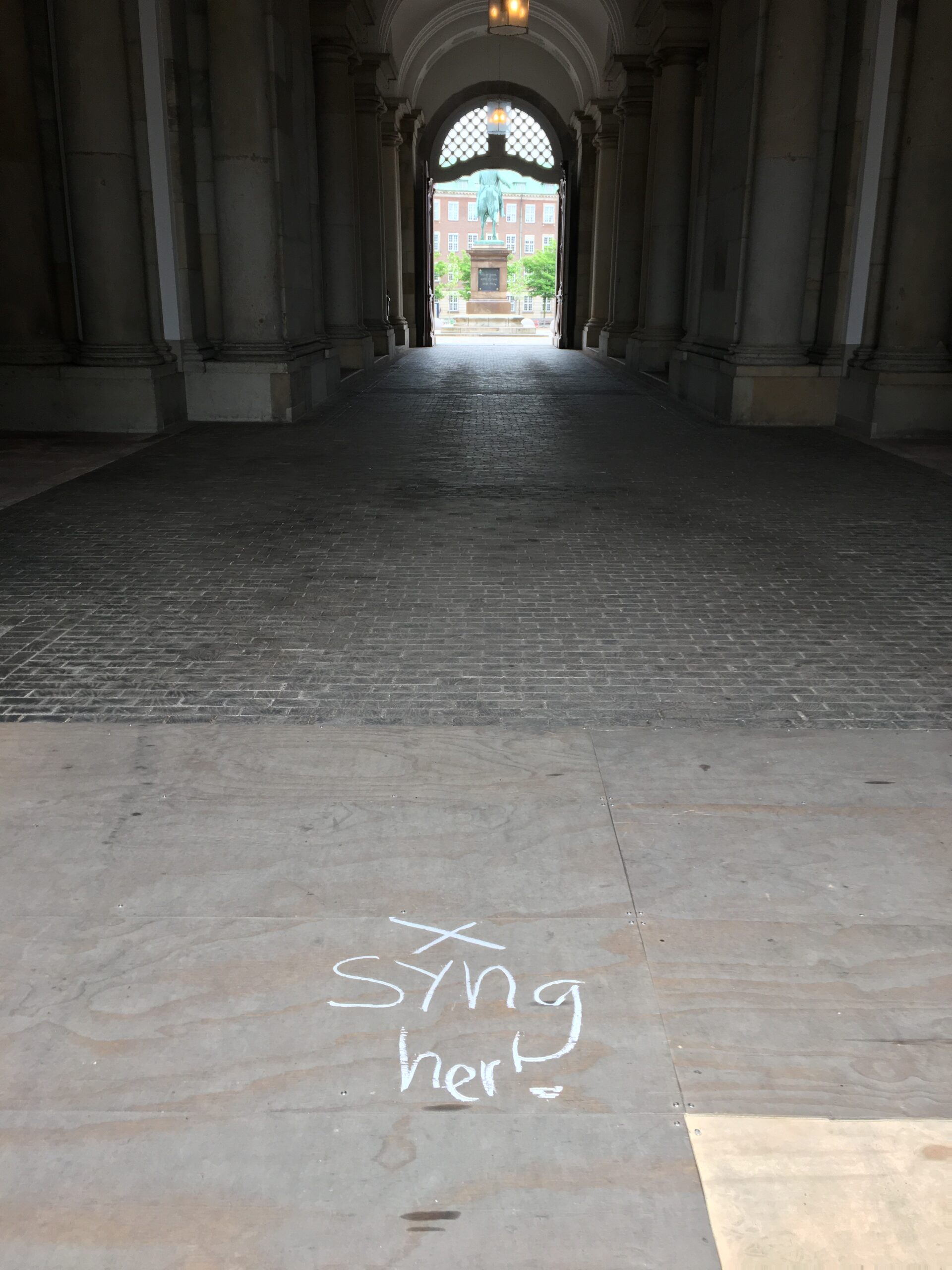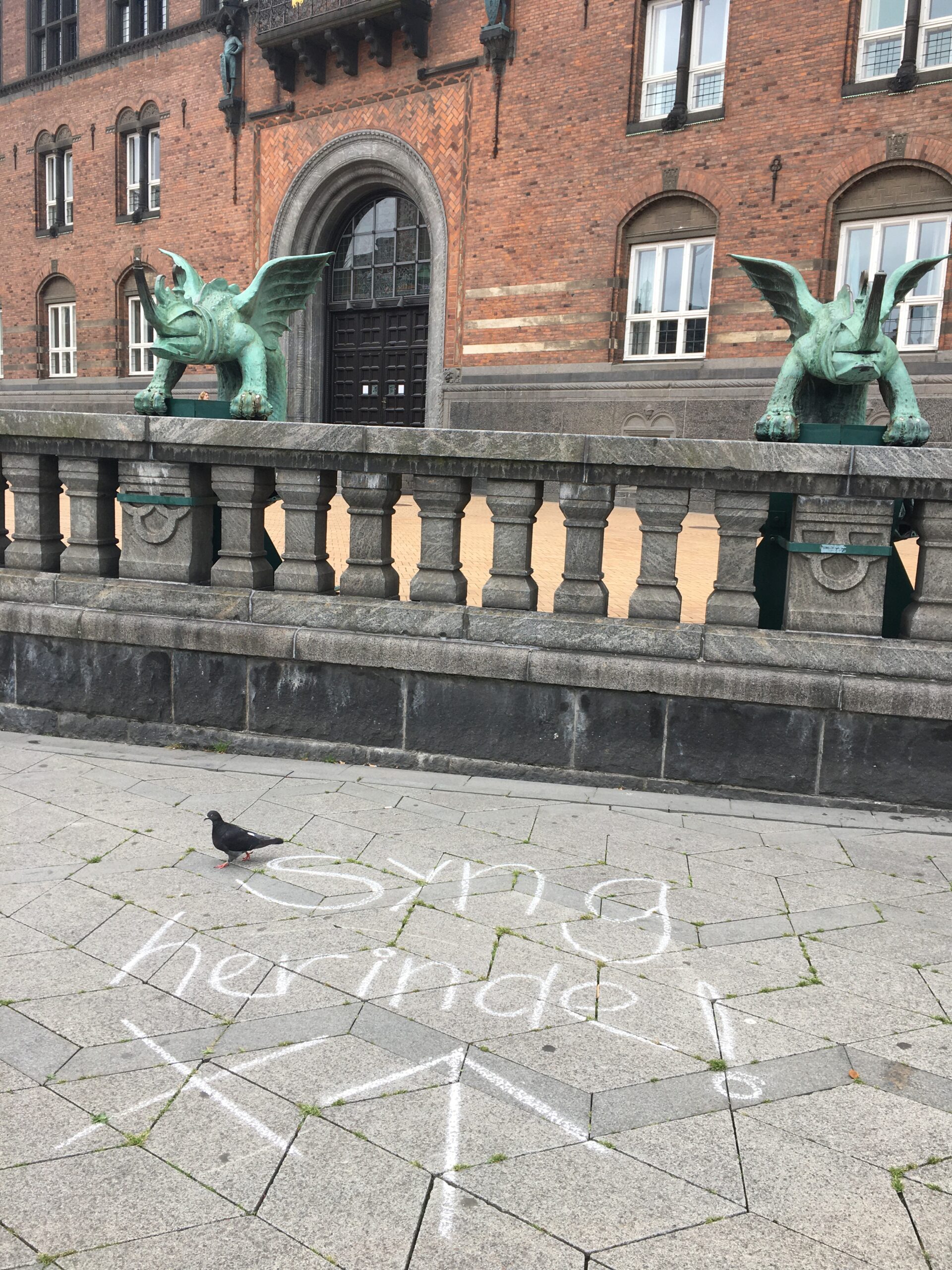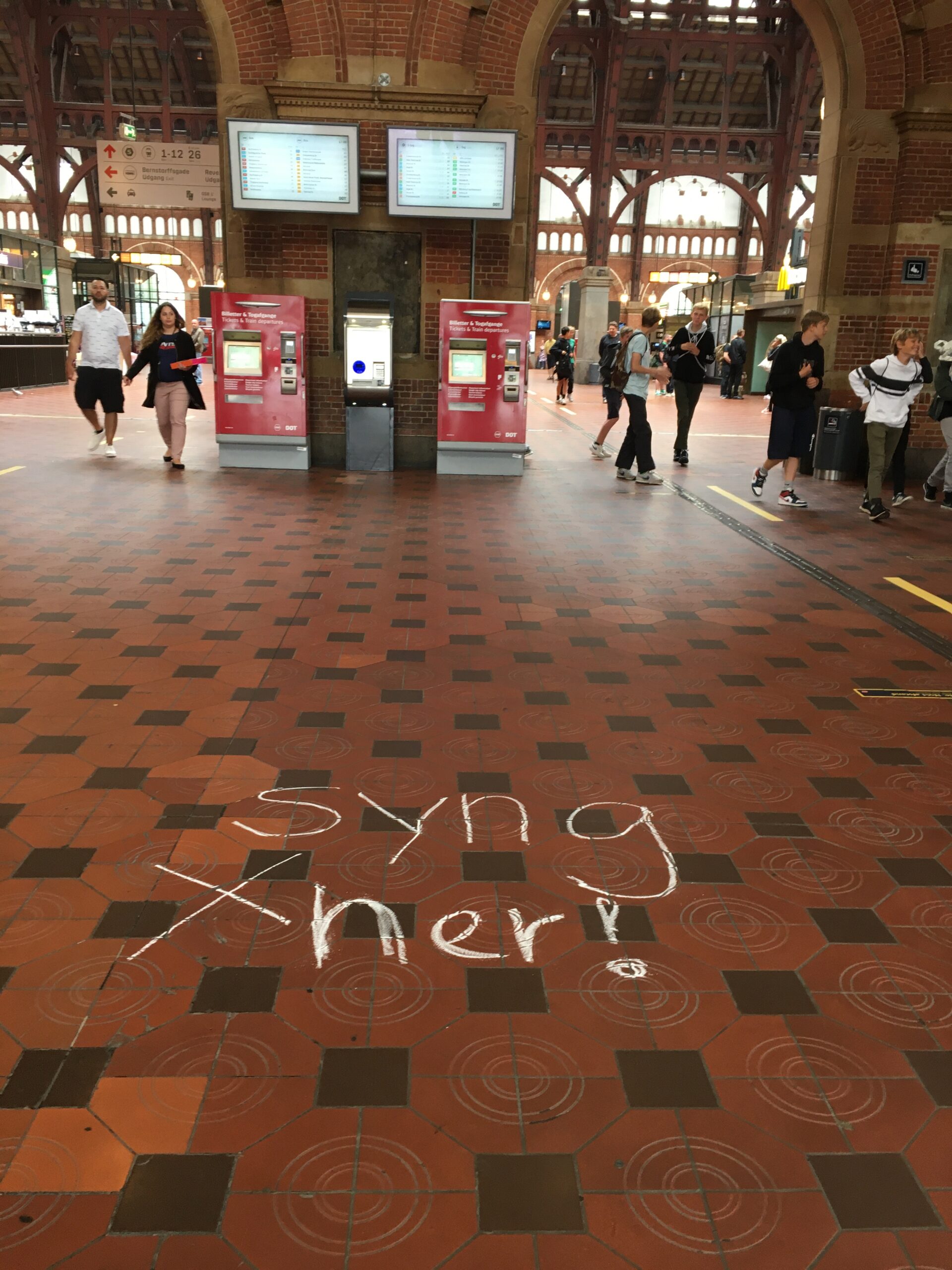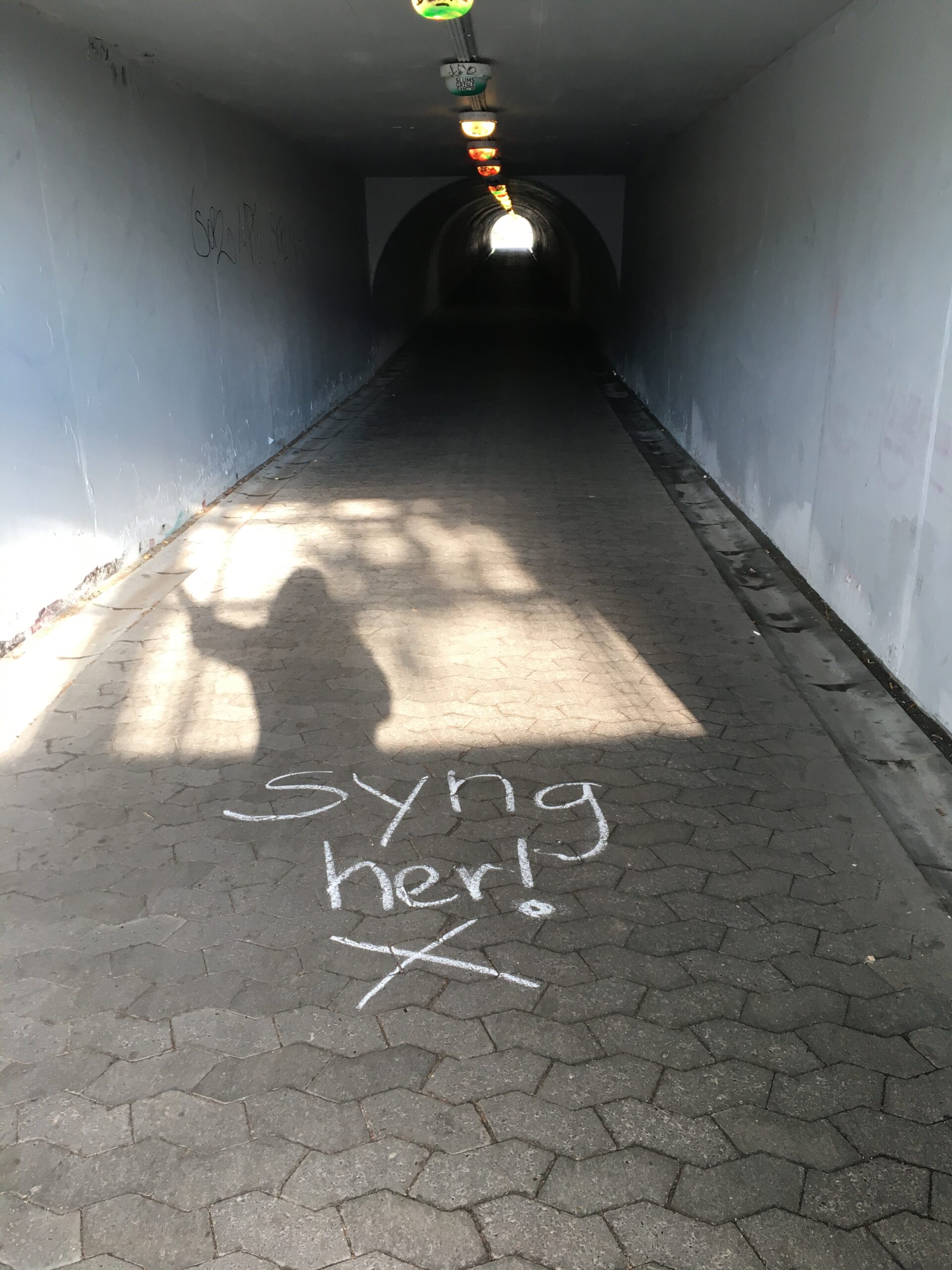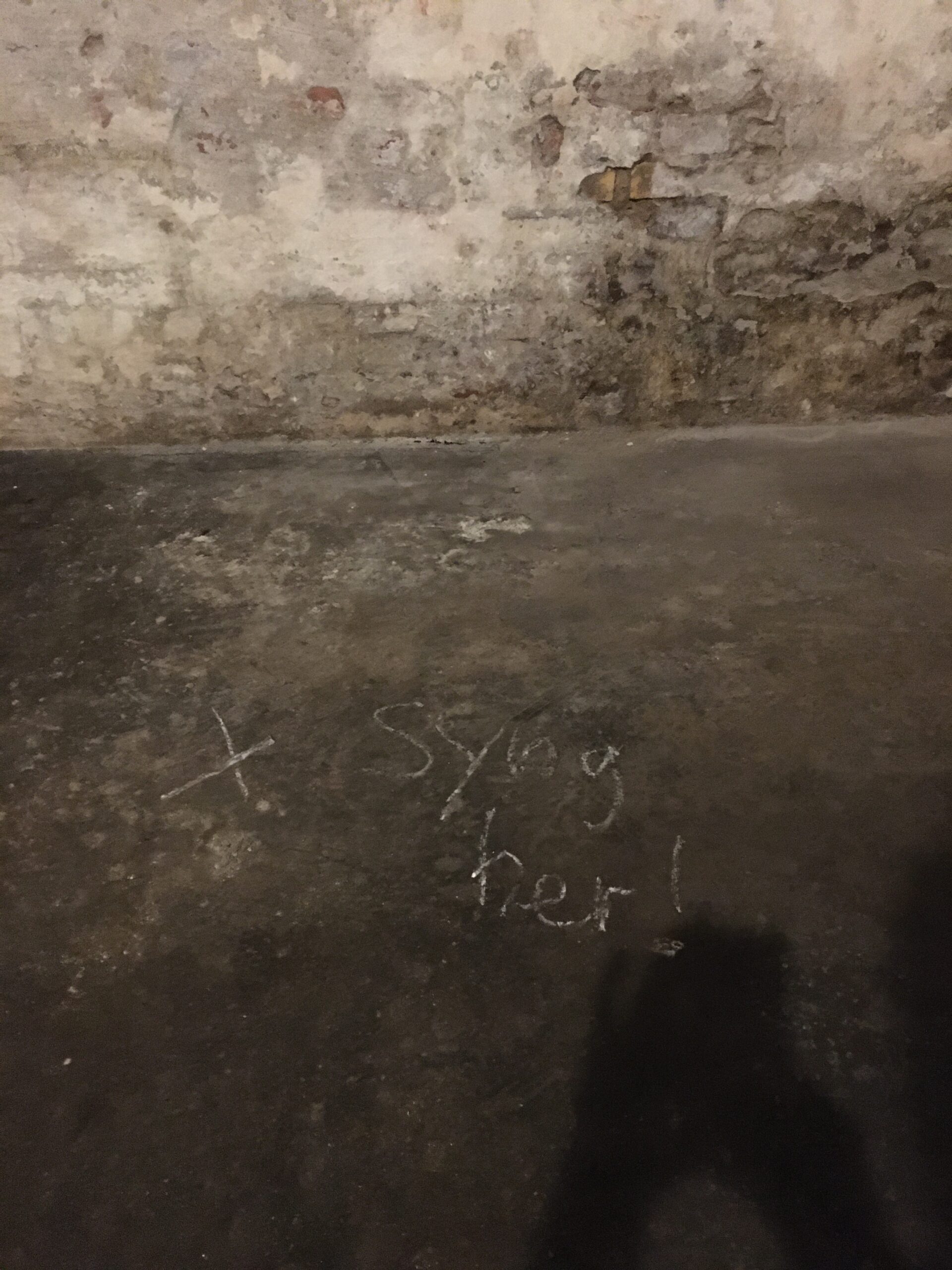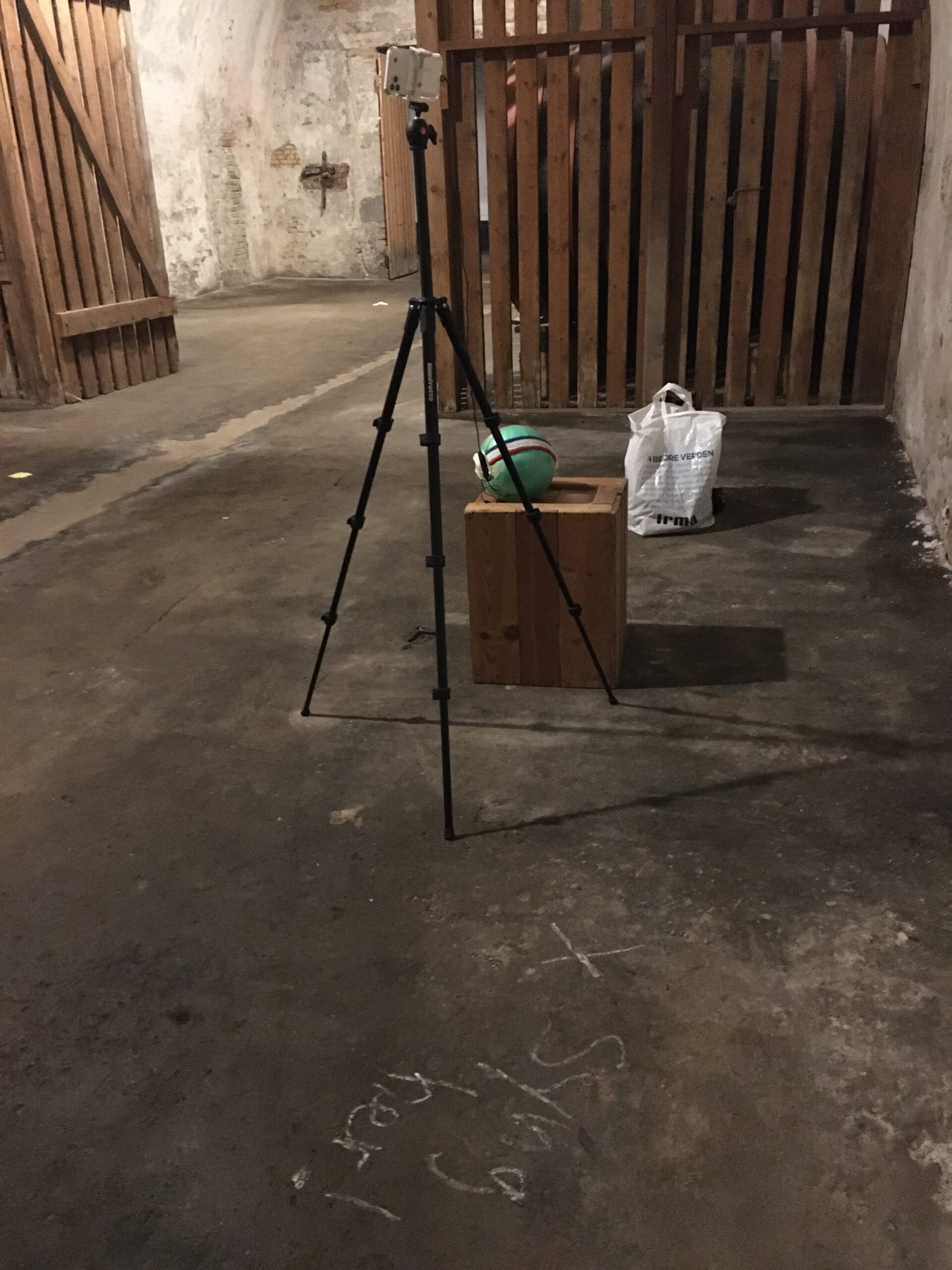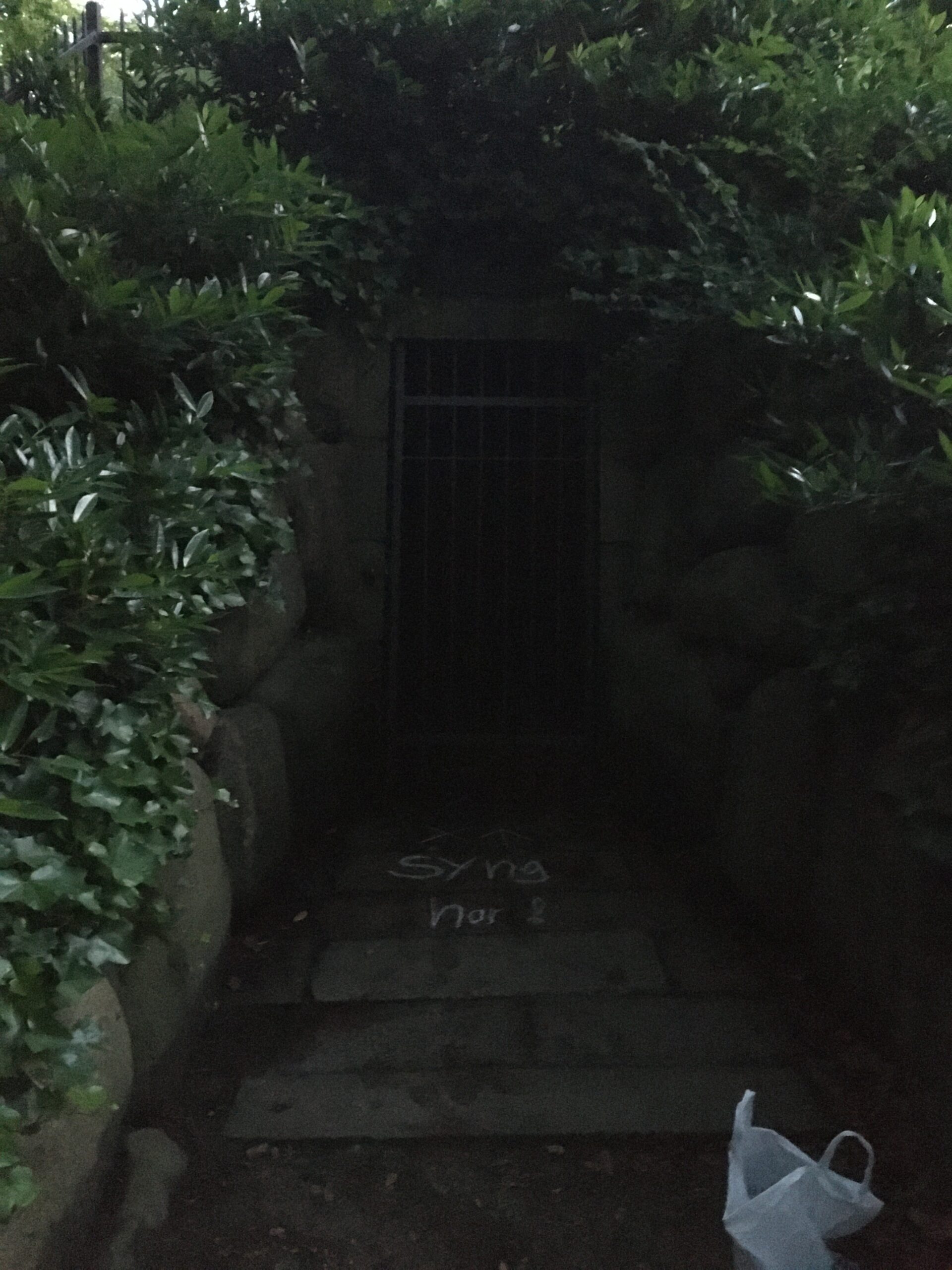 FILM
10.00 h

11.00 h
12.00 h
13.00 h
14.00 h
15.00 h
16.00 h
17.00 h
18.00 h
19.00 h
20.00 h
21.00 h
22.00 h
ABOUT THE ARTIST
Birgitte Lyregaard (b. 1973) is an improvisational, experimental vocalist and has worked with the voice and perception of sound since forever. In her expression, she blends elements such as poetry, imitation, tone colors and any sound and noise that the voice can produce. She has in recent years also begun to use various objects and materials such as percussion, bells, stones, wood and metal as sound producers. She brings all of this with her into her many different musical collaborations and sieves it on stage through a filter of presence and responsiveness.
She has recently released the album "Cinemateria" with the trio Thou Sonic Friend and a new album recorded live with Dörner / Lea / Lyregaard is in production. Birgitte has been active on the European and Danish experimental scene for over 17 years. She has written, composed and toured with concert stories and has often worked cross-disciplinary with dance and theatre-related improvisation concepts. Initially, she trained as a jazz singer from the conservatories in The Hague and Rotterdam and in addition, in 2017 she became a certified sound educator from the Lichtenberg Institute in Germany.
Top photo: Den Rytmiske Højskole, foto@ hjh.dk