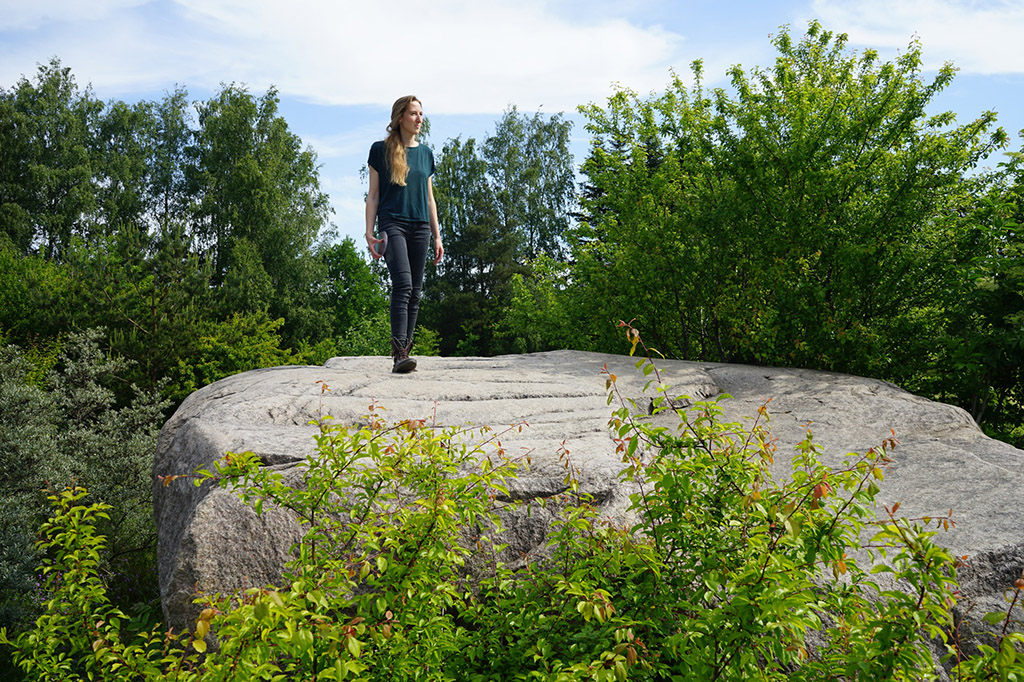 25 July: Anna Weber Henriksen
TIME: 25 July 08.00-20.00h
START: Drosselstien, Herlev
CATEGORY: Photographer / visual artist
Live-stream every hour on the hour on www.facebook.com/walkingcopenhagen
I am looking for the landscape that is beneath the cultural figuration and design. It's very hard to find. The landscape is most often considered from the classical perspective with front-, middle- and background. This perspective does not include the underground, which is the foundation of the landscape. Therefore, I am digging gently and looking for the moment when signs from the well-known Danish cultural landscape disappear and the earth as raw material emerges and becomes co-creator of the work. The work evokes an example of the raw data and DNA of the place that new ideas about the landscape can grow into.
On this walk, I will extract markings from the surroundings by physically pulling a copper plate after me on the entire route. Mutual striations are created on the journey over contemporary piles, Nordic rocks, highway bridges, forest floor and paving. I will seek close contacts with the copper as a unique registrant with special inherent properties to guide and absorb. The copper will be my companion on the entire route.
During the walk we will get closer and closer to the many organized organic materials in the local area, and the copper plate will thus gather instructions and signs from the entire route and thus become a crucial part of the sensation. Perhaps it will subsequently be printed as a classic copper print, just like the first mappings of Denmark from the 16th century to the end of the 19th century, all made in copper.
The walk starts in Herlev and I will walk towards Vestskoven to find the source of Harrestrup Å. There are many streams on Vestegnen, and precisely these streams will be guide posts for my route during the next 12 hours.
DOCUMENTATION JULY 25
FILM
08.00 h
09.00 h
10.00 h
11.00 h
12.00 h
13.00 h
14.00 h
15.00 h
16.00 h
17.00 h
18.00 h
19.00 h
20.00 h
ABOUT THE ARTIST
Anna Weber Henriksen is a trained visual artist from the Funen Academy of Fine Arts in 2018. For the past 10 years, she has worked with the Danish landscape in connection with her visual arts practice. There are clear strands to environmental art and psycho-geography since her works are created in direct relation to the surrounding environment. This relationship has resulted in a solid series of exhibitions as well as several workshops and artist talks on, among other things, soil, the meeting between geo-data and site-specific art, etc.