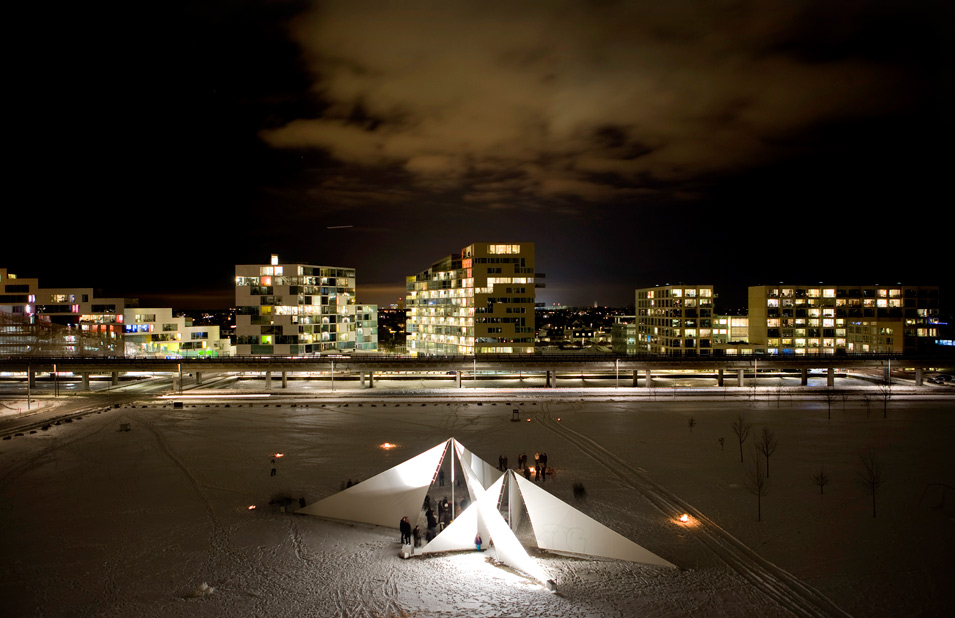 WIND SAILS – Jes Vangby & Charlie Morrow
Lysende vindskulptur i Ørestad
STED Byparken, Ørestad
DATO 10. – 28. feb. 2010
The Danish architect Jes Vagnby presented a sail sculpture, created in collaboration with a group of young light designers and the American sound artist Charlie Morrow. A tribute to the power and movement of the wind, that created a dynamic and interactive light and sound installation.
Jes Vagnby har ofte iscenesat den pulserende, midlertidige storbyinstallation Roskilde Festival. I den moderne bypark skabte han en anden slags scene; en stor mobil sejlskulptur som en hyldest til vindens kraft.
Her kunne du lade dig omslutte af sejlene og opleve de store konstruktioner reagere på vindens bevægelse med et dynamisk lys- og lydbillede. Skulpturen fortolkede vindens kraft i samspil med publikums bevægelser og skabte et sanseligt storbyrum med en intensitet, der steg i takt med vindstyrken.
Wind Sails blev realiseret i samarbejde med unge lysdesignere og den amerikanske lyddesigner Charlie Morrow.

KONCEPT Jes Vagnby & Charlie Morrow
LYS Silla Herbst, Cecilia Thomsen og Lisa Trapp
FOTO Peter Sørensen
I samarbejde med By & Havn