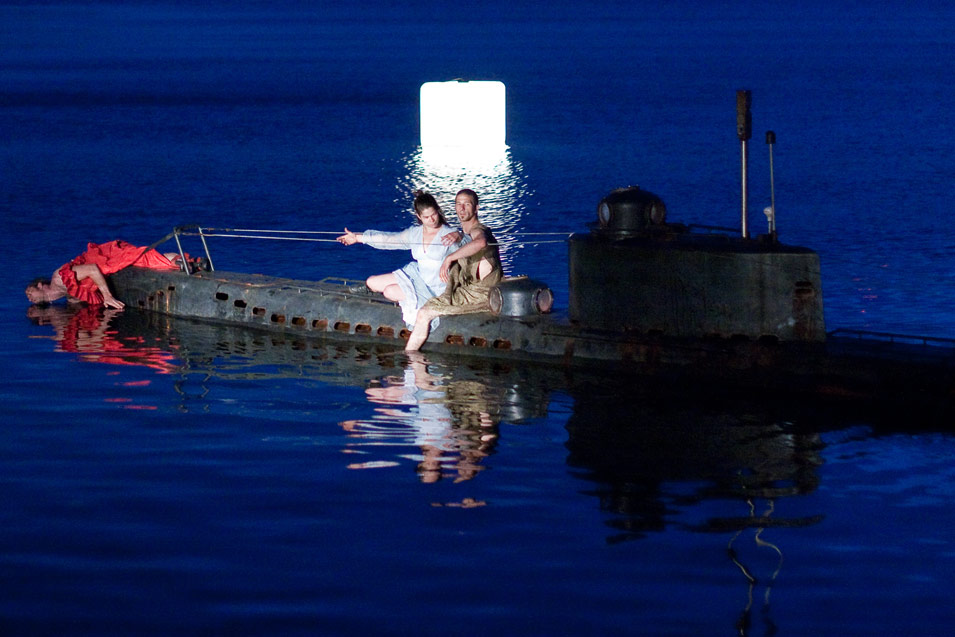 UBÅDSBALLET – Live Art Installations
Bryggebroen til Amaliehaven // 07.-08.08.2009 kl. 22-23. Retur kl. 23-24
Er det en drøm, når nattens parade af drømmeagtige og surrealistiske universer sejler gennem byens havn under byens broer? Når et symfoniorkester svæver i sagte slowmotion gennem sommernatten? Eller når lysende plateauer med dans, ild, lys og vilde dansere spejles i det mørke vand?
Ubådsballet er drømmenes armada af sejlende fantasifuldt billedteater. Den lysende flåde bevæger sig i natten fra Sydhavn under Bryggebroen til Islands Brygge, Langebro, Sorte Diamant, Knippelsbro og forbi Skuespilhuset. Ved Amaliehaven vender kortegen og sejler ruten retur for anden akt. Find et godt udsigtspunkt, når nattedrømmenes optog flyder forbi.
SUBMARINE BALLET of dreamlike and surreal visions in the night with dance performance mariners, light and fire installations, and a floating symphony orchestra.
Medvirkende:
Dancers & Performers : Maia Hauser, Kerstin Lofvander, Malou Lindholm, Diana Knudsen, Dorthe Bjerre, Allison Lorenzen, Rebecca Patek, Karl Gillick, Ulrike Bodammer, Frank Willens, Daniel Davis, Sacha Kimberly Rudd, Pierre Enaux, Juli Gabor, Sofia Karlsson , Judit Keri, Trine Trash, Margit Lund, Helle Fuglsang, Lisa Ødegaard, Sergio Mendez, Dascha Lavrennikov, Linda Priha, Ela Spalding, Annelien Goetschalckx, Lai Yde, Daniel Brooks, Kristen Greco, Niklas Levin, Stefan Fischer, Xiri, og Laurent Lavole.
Officers : Tobi Twang og Erik Skibsted.
Orchestra : Hélianne Blais: violin, Niklas Antonson: trombone, Peter Morrison: cello, Ursula Paludan Monberg: horn, Lavinia Whitaker: horn, Andreas Bennetzen: double bass
Submarine+boat crew :  Peter Madsen, Lars Hansen, Claus Nørregaard, Brian Josefsen, Christoffer Meyer, Christian Wang m.fl.
Choreography +concept : Pipaluk Supernova in collaboration w. the artists
Light and fire installations : Thomas Jørgensen, Christian Liljedahl,
Composer : Andreas Bennetzen
Submarines : Peter Madsen, Jens Falkenberg + crew
Tow boats : Lars Hansen + crew
Costumes : Malou Lindholm, Pipaluk Supernova
Additonal design: Frederikke Lange, Siri Carlslund
Production assistance : Allison Lorenzen, Jesper Ipsen, Vanessa Carpenter, Hanne Jørgensen, Margit Lund og Natasha Verco.
Sound technique: Bo Boye
Film crew: Jaro Colajacomo, Matej Svenda, Robert Fox
Photo : Mathias Vejerslev
Produced for Live Art Installations by Copenhagen Dream House
Produceret af Live Art Installations for Metropolis med støtte fra Kunstrådets Scenekunstudvalg, Statens Kunstfond, Københavns Musikudvalg samt By & Havn