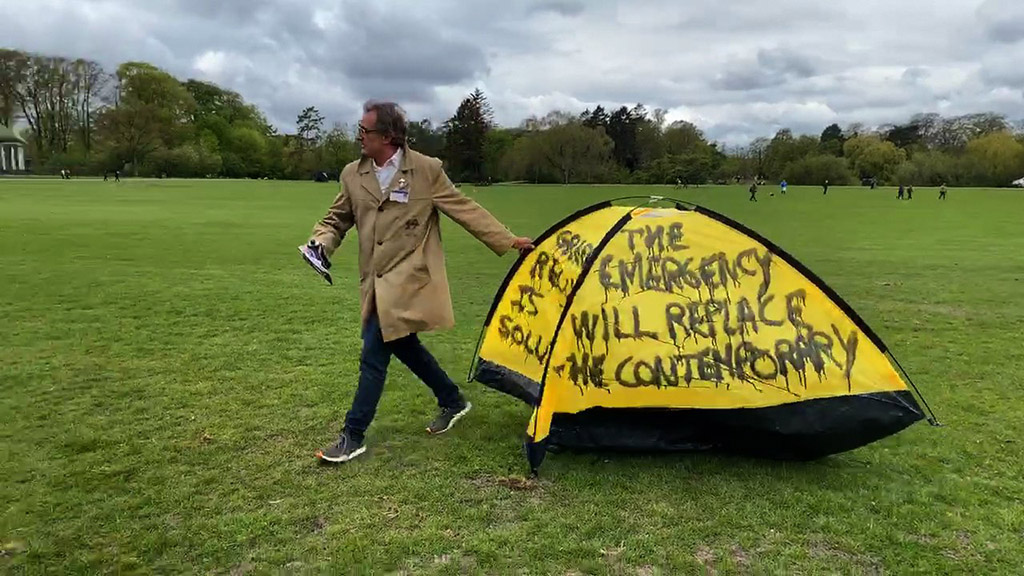 1 May: Thierry Geoffroy / Colonel
TIME: 1 May
CATEGORY: Action / visual artist
DOCUMENTATION: See below
How can we express together and express in the city being isolated?
I choose to walk and express the 1 May, as I would like to explore the city without the traditional events of this day. To see what is instead. To reflect on the current structure of democracy with over-surveillance and limited capacity of meeting.
I will start from home at 10 and will of course go to Fælledparken, Østerbro, for the first live-stream at 12.00. Otherwise I want to be guided by my instincts as the basis of my art is to work with the now and the unpredictable.
I will probably make some station online with installing tents questioning the context I am in, and also some drawing on cartons, commenting and reflecting on what I see.
DOCUMENTATION 1 MAY
Photo: Thierry Geoffroy
VIDEOS
ABOUT THE ARTIST

Thierry Geoffroy/Colonel (FR/DK) works since 1988 in the Now, and through his art works, he reflects upon current emergencies. He creates what he calls "Emergency Art Formats".
For example, Emergency Room is a special space activated in museums and art institutions where artist can express every day about what they consider to be the most important emergencies. It has been activated in 10 countries, the longest period at the MoMA / PS1 with an everyday changing exhibition.
Sometimes, like now, Thierry Geoffroy does expression on tents in public space or in dialogue with museum collections.
His famous art work from documenta Kassel 2012, "THE EMERGENCY WILL REPLACE THE CONTEMPORARY", is now part of the collection of the German museum Kunsthalle Mannheim and has been installed with Edouad Manet's famous painting "The execution of emperor Maximilien".
Thierry Geoffroy has exhibited at MoMA / PS1, New York /ZKM Museum, Karlsruhe / Moderna Museet, Stockholm / Palazzo Delle Arti, Napoli / Kunsthalle Mannheim / Sprengel Museum, Hannover, and Vejle Kunst Museum.
He has also participated in biennales such as Venice Biennale (the Maldives Pavilion), Liverpool Biennale, Manifesta Biennale in Murcia, Cairo Biennale, and Casablanca Biennale.
Thierry Geoffroy is Chevalier de l'Ordre des Arts et des Lettres. His art works are part of museums such as the HEART Museum of Contemporary Art, the Sprengel Museum, the National Museum of Photography ,the Museum of Contemporary Art Roskilde, and Mannheim Kunsthalle.