TAPE RIOT – Asphalt Piloten
Dancers leaving a trail of tape
DATE & MEETING PLACE
9 routes in Vesterbro:
Fri. 7 July 19.00 in Copenhagen Central Station, under the clock
Sat. 8 July 15.00 on Litauens Plads in front of uKirke
Sun. 9 July 15.00 in front of Glyptoteket
Mon. 10 July 17.00 in Kødbyen / Meat Packing District – start at Slagterboderne 24
Tues. 11 July 16.00 in front of DGI-byen, Tietgensgade 61-63
Thurs. 13 July 19.00 on the corner of Matthæusgade and Enghavevej
Fri. 14 July 16.00 at the entrance to Store VEGA, Enghavevej 40
Sat. 15 July 14.00 in Westmarket, entrance from Matthæusgade
Sun. 16 July 18.00 at Havnebadet / Harbour Bath Fisketorvet, Kalvebod Brygge 55
FREE
Asphalt Piloten infiltrate the city with gaffer tape, improvised movement and electronic pulse. The tape artist, the dancers and the DJ pop up out of the blue and leave a trail of their fleeting art across the neighbourhood of Vesterbro. The city is their canvas and working material. They create urban collages accompanied by music mixed live with the sounds of the city, all while the dancers choreograph and disrupt the everyday rhythm.
The district is mapped out with graphical tape and volatile bodies in urban guerilla actions along 9 routes through 9 areas of Vesterbro over the course of 9 days. Unpredictable and always in motion, but leaving behind a trail of tape.
Architects and city planners have choreographed our usual routes through the city, but with Asphalt Piloten as leading guide, new routes and new options are discovered. They change your direction, your attention and your perception of the city. Subtly but inevitably.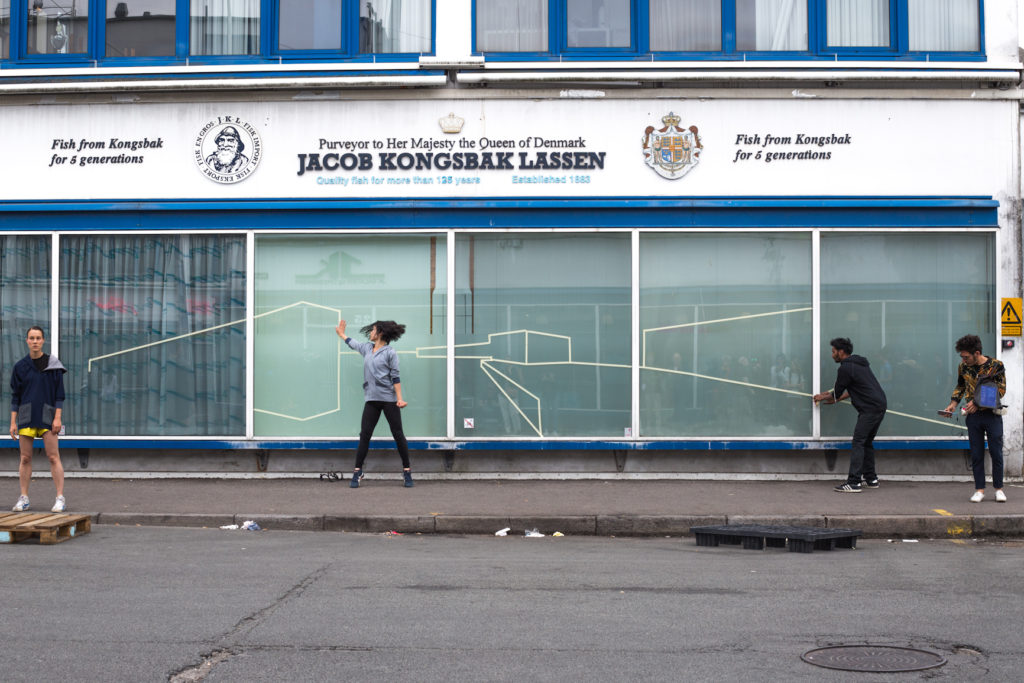 About Asphalt Piloten
Created in 2010 in Europe's anarchic art environment, Asphalt Piloten are the closest you get to rambling action art. The Swiss dancer Anna Anderegg has gathered a multidisciplinary group of artists in a community which has the city as its playground and laboratory.
Through dance, visual art and sound design, they experiment with creating new utopias for life in the big city. The city is a meeting place, and the art creates the meetings which may be able to transform our cities.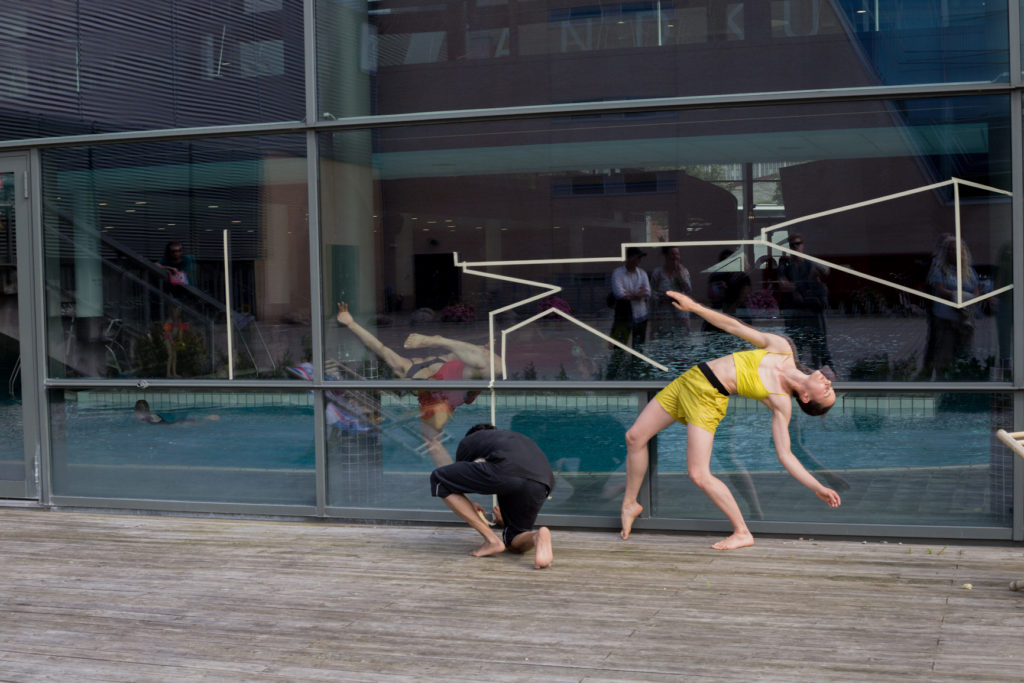 Duration 50 min. (120 min. on 10 July)
Credits
Concept, choreography: Anna Anderegg
Tape art: Hervé Thiot
Urban compositions: Marco Barotti
Dance: Laura Kell, Ichi Go
Dramaturgy: Moni Wespi
Costume design: Antoniya Ivanova
Outside eye: Jennifer Wesse
Production: Géraldine Tronca
Coordination: Nadine Becker
Photo: Stefanie Schmid Rincon
Photo documentation – photo: Stefanie Schmid Rincon
Tape Riot is supported by the IN SITU network, in the frame of the Platform and ACT projects co-funded by the Creative Europe programme of the European Union.