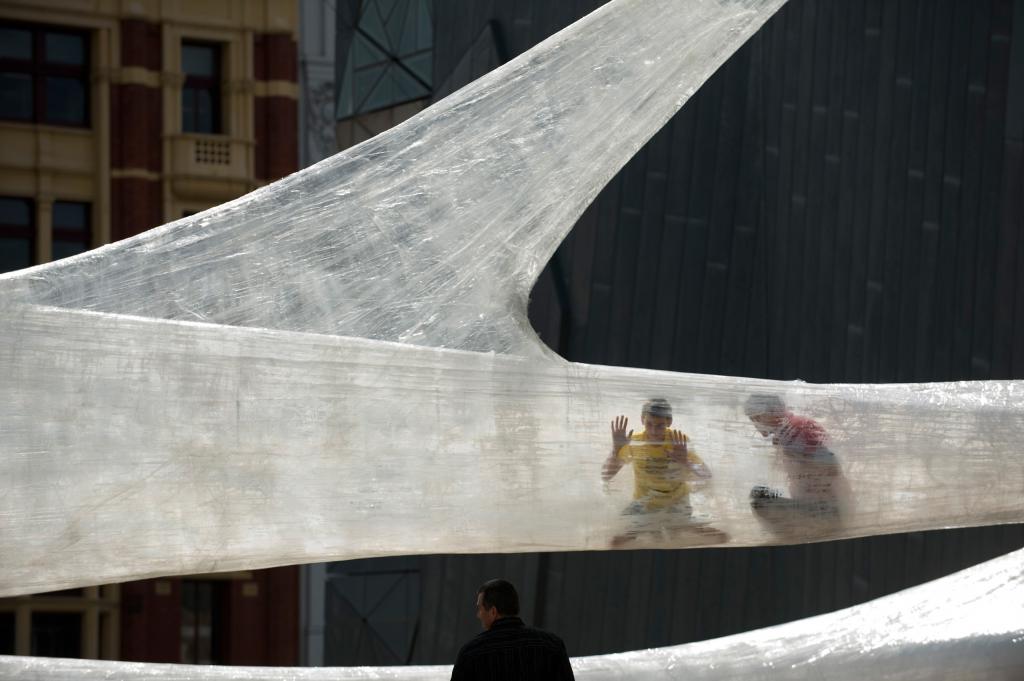 TAPE COPENHAGEN – Numen/For Use
WHAT Installation
WHEN 15 – 23 Aug. 10-22 hrs
WHERE Nikolaj Kunsthal, Nikolaj Plads 10, Kbh K – see map
TICKET 50 kr at the entrance
Crawl inside a giant cobweb of tape
Numen/For Use takes over the large colonnade in Nikolaj Kunsthal with their tape installation, which has already created astonishment and admiration in a.o. Paris and Melbourne. They stretch thick layers of transparent tape and stick it together, 40 km in total, in order to build this giant cocoon, which floats high up between the pillars. Just as unbelievable and geometrically precise as a cobweb.
The artists behind the installation are a collective of designers and set designers who challenge the actual shapes of architecture and let us physically feel the material. The result is spectacular installations, hybrid constructions and organic mazes in scaled up proportions anchored between the existing elements of the building.
You can go and just have a look at this fragile transparent construction, or you can crawl through its cavity and let yourself immerse in a physical and floating experience. Like a fly caught in a spider's web.
SUPPORT In collaboration with and supported by Nikolaj Kunsthal 
PHOTO Maja Nydal Eriksen