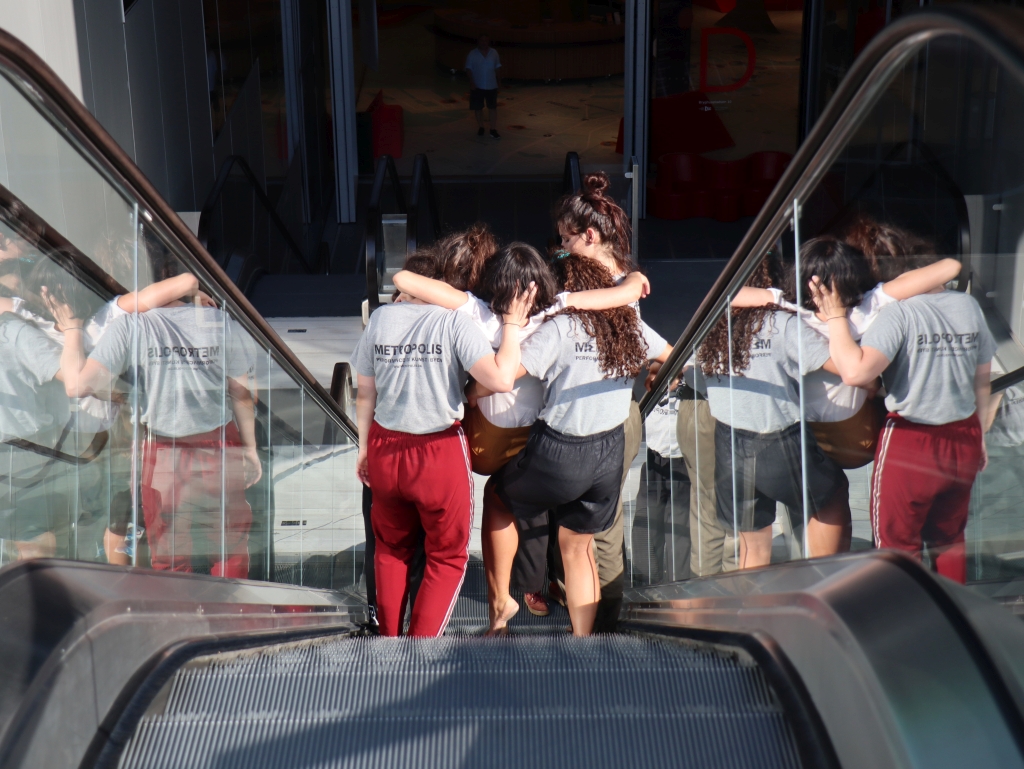 Sensing the City – interviews with artists in residence
In July 2019, six international artists lived and worked in Copenhagen as part of the month-long Metropolis Residency – Sensing the City.
Here you can meet the six artists and hear their thoughts about working within a site-specific context in Copenhagen as well as watch some footage from their work-in-progress presentations:
Sarah Bostoen, Belgium
Sarah is a freelance dancer, choreographer and driving force behind compagnie Monica, a dance theatre company based in Ghent, Belgium. She graduated from Fontys Dance Academy Tilburg in 2007 and is currently studying Arts' History and Theatre Sciences at University of Ghent in Belgium.
Sarah focused on mapping and presenting the inner world and thoughts of people by using so-called "écriture automatique" (automatic writing or psychography) and then walking with her participants to create a distinction between "walk-thoughts" and "standing still-thoughts". In the end she collected the output of her participants and fashioned these thoughts and feelings into a visual artefact.
Anne Glassner, Austria
Anne is a sleep performer and visual artist based in Vienna, who mostly works with interventions in public space, performance, installation, video, and drawing. She has a master's degree in Fine Arts from University of Applied Arts Vienna as well as a master's degree in Arts and Communication/ Teaching Studies from the Academy of Fine Arts Vienna.
During her residency, Anne continued her research and artistic work about sleep, awareness, and silence. Through her performance, she asked questions such as how our bodies react to different architecture, who sleeps in public places, what a sleeping being becomes against the backdrop of a world that is lit 24/7, and where the borders between fiction and reality lie.
Mette Sanggard Dideriksen, Denmark
Mette is a designer based in Copenhagen. She studied at The Royal Danish Academy of Fine Arts Schools of Design, Glasgow School of Art, and Fatamorgana. She is also a member of the art collective FUKK.
Mette has an interest in how repetition and stimulation leaves footprints in our memory. With her performance she questioned the regular and daily paths we all take and how we move through architectural landscapes. Her performance invited passers-by to get involved and created awareness of public space and the architectural choices that affect the body's actions.
www.mettesanggaard.dk
www.fukk.dk

Flóra Eszter Sarlós, Hungary
Flóra is a choreographer, dancer and co-founder of Ziggurat Project, an art collective which focuses on site-sensitive and site-specific performances. She has trained and worked in the field of contemporary dance in various schools and workshops in Hungary and France. She has completed a master's degree in Performing Arts at Paris VIII University, where her research focused on the relationship of contemporary dance to digital arts with a particular interest in choreographic installations.
Flóra has an interest in the sensual perception of dance and created a performance centered around the physical and mental impressions of the participants. For her performance, Flóra created a sensual landscape to explore how imagination can play a role in the perception of dance, and if we are capable of imagine the movements without seeing the dancer.
Caterina Moroni, Italy
Caterina is a performing artist and a cultural and social activist. She focuses on art in public and unconventional space and on participatory processes. She graduated in Litterature and Art and with a master's degree in Communication and Business Management. She attended the European Professional School for artists directed by Socìetas Raffaello Sanzio.
During her residency, Caterina focused her research on the emergency of climate change, the sea, and the younger generations. She invited the audience to participate in a ritual to desperately search for a sense of the future. The participants were involved in a dramaturgy of public and private spaces, real and imaginary settings, in which physical and mental spaces merged into a personal story.
Jinyeob Lee, South Korea
Jinyeob Lee is a performance director from South Korea with a background in Theatre Design BA at Nottingham Trent University and MA Theatre Arts in 2006 in UK. She has worked as a set designer, a director and a producer and in 2009 she started a company called "Elephants Laugh" which specialize in creating site-specific performances which covers social issues and social minorities and challenge to develop independent and free thinking.
During her residency Jinyeob investigated the new ways in which to uncover and understand the relationship between the sociological context and the sensuous experience of a specific place. Focusing on the visible and invisible layers of space, her performance was an exploration of how different people experience reality in wildly different ways.
www.producergroupdot.kr/portfolio/elephants-laugh
www.vimeo.com/elephantslaugh
Watch pictures taken from the various work-in-progress presentations below: