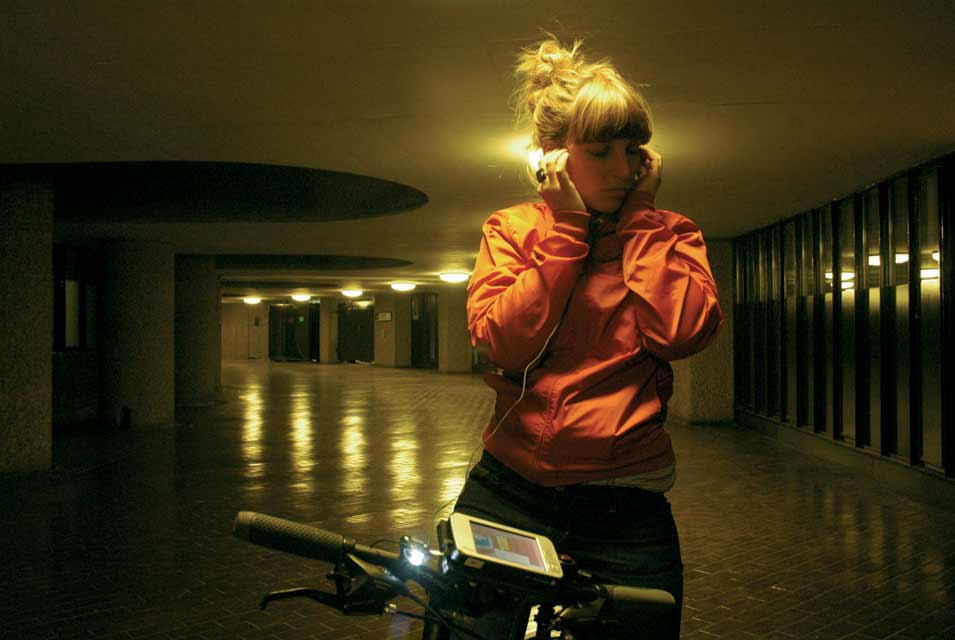 RIDER SPOKE – Blast Theory
Cutting edge leg for nysgerrige og legesyge mennesker. Et bud på fremtidens interaktive kommunikation i byrummet
STED Søndermarkskvarteret, Frederiksberg (mødested: Borgmester Fischers vej 1)
DATO 12. – 16. aug. 2009
Rider Spoke is a revolutionary performance work for cyclists. Combining theatre with game play and state of the art technology the project continues Blast Theory's enquiry into performance in the age of personal communication.
I en kombinaton af gemmeleg, teater og interaktive medier, sendte kunstnergruppen Blast Theory deltageren ud i byrummet på cykel, for at udforske byens hemmelige, uopdagede steder og historier.
Med en computer på cykelstyret, et meditativt lydunivers og den rolige stemme i høretelefonerne skabte Rider Spoke på Frederiksberg et intimt cyber/cykel-fællesskab, der ophævede det offentlige rum med intime bekendelser: Rent fysisk cyklede deltagerne rundt i et til tider hektisk byrum – mens de mentalt blev en del af et fortroligt univers, hvor de mest private tanker blev udvekslet.
KONCEPT Blast Theory
FOTO Blast Theory
I samarbejde med Frederiksberg Kommune og Områdefornyelsen i Søndermarkskvarteret med støtte fra Frederiksberg Fonden