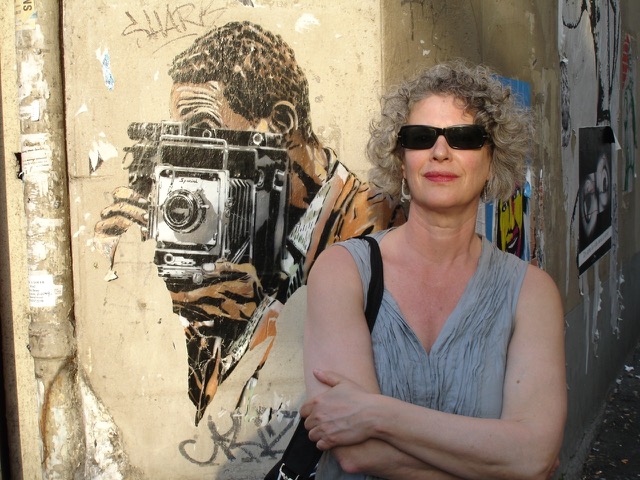 5 June: Rhea Leman
DE MO CRA ZY
In the 48 years that I have made theatre as a playwright, director and choreographer, I have always spent energy blending the aesthetic form with politically dramatic turning points in history that have pushed humanity into new areas. Right now, we're living in a historic moment where a pandemic is chasing political structures into new dimensions. In times of crisis, democracy has always been threatened.
That is why on 5 June, I have chosen Denmark's Constitution Day as the day I walk. Although the Constitution was signed 121 years ago, it is perhaps the most important piece of paper in our lives at this moment. For me personally, it is a very important day, because this Constitution Day is the first one I will celebrate as a Dane since I got my Danish passport just a few months ago.
And that is exactly what I want to do – to celebrate it every full hour when I meet a number of guests at a new place in town to discuss their views on democracy in relation to their own lives and the world we live in. I have invited a selection of interesting people to places that matter to them. Places that symbolize their journey, their story and their insight into the democratic theme.
The fact that I can freely walk through the city of Copenhagen shows the freedom we all take for granted. And this freedom of freedoms will be the engine behind my footsteps as I reflect on how easily it can be taken from me.
DOCUMENTATION JUNE 5
FILM
08.00 h
09.00 h
10.00 h
11.00 h
12.00 h
13.00 h
14.00 h
15.00 h
16.00 h
17.00 h
18.00 h
19.00 h
20.00 h
ABOUT THE ARTIST
Rhea Leman, playwright and director, was born and raised in New York City, where she studied dance and theatre before moving to Denmark in 1981. Here she formed and was head of Teater Tango until 1998. Since then she has worked as an independent playwright, screenwriter as well as theatre, radio and television director. Today, her pieces are played on both sides of the Atlantic.
She has won awards for her opera The Rosenbergs in 2015, her directing of Thomas Lagermand Lundme's The Story of the Wall, 2014, and in 2013 she received the Allen Award from Danish Playwrights for "outstanding dramatic work." The Reumert Committee nominated Leman as best playwright in 2019 for 'Leve Livet' – a life-affirming performance about death and in 2013 for her piece 'Gorilla' about the global financial crisis.
Leman has formed the Drama Front, a platform for the development and presentation of new dramatic pieces, and since then she has worked as an artistic director with a view to promoting and producing new Danish plays in new ways and places. Most recently, on behalf of the Drama Front, she received the Lauritzen Foundation's Vision Award 2018 for the work she has done for the Drama Front for the past 10 years.
Photo below: from the performance "Sommer" (Neel Rønholt & Paw Henriksen)