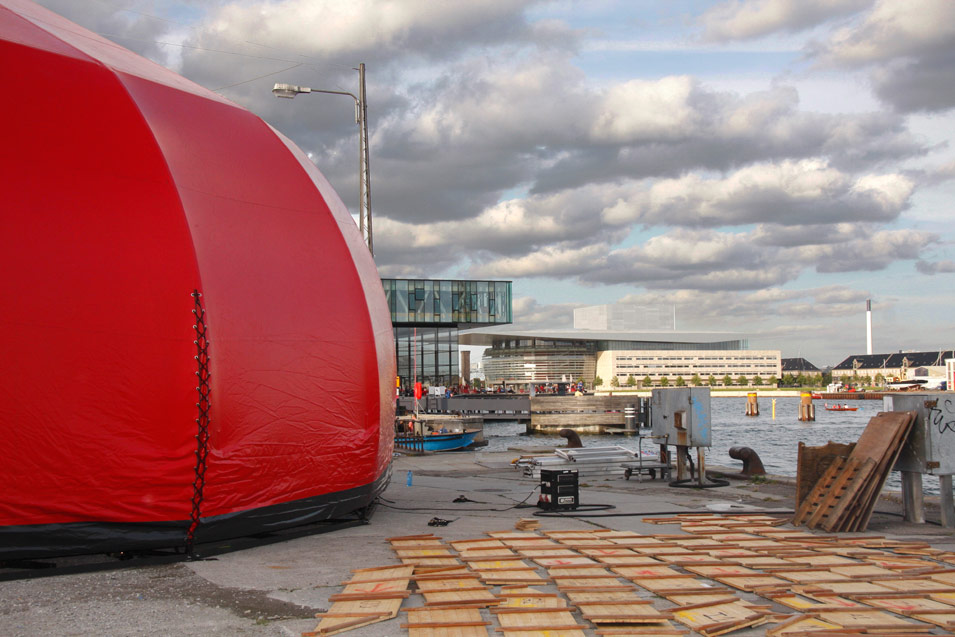 MOSCOW – Berlin
Havnegade 50 – på hjørnet af Havnegade og Nyhavn // 18.-20.08.2009 // varighed: 60 min.
Fragmenteret filmportræt af metropolen Moskva på seks bevægelige skærme i løgkuppel-telt med strygerorkester. Kunstnerkollektivet BERLIN iscenesætter Europas største by Moskva, der disse år eksploderer i vækst og Las Vegas-lignende tilstande.
I et forladt cirkustelt er kun orkestret tilbage. Artisterne er erstattet af bevægelige skærme, hvorpå der udfolder sig et unikt portræt af den hastigt voksende metropol Moskva. Det nye Las Vegas. Glitter og neon skinner om kap med milliardærernes laksko, og vodka bestilles ikke pr. glas, men pr. gram. I et samspil af fortælling, billeder, musik og scenografi hensættes publikum til Moskvas dekadence, hvor alt skal være større, bedre og nyere.
Berlin begyndte i 2003 at portrættere nogle af verdens mest interessante byfænomener. De lagde ud med Jerusalem, der er samlingspunkt for tre verdensreligioner, fulgte op med et portræt af Colorados mindste by – den øde mineby Bonanza med 7 indbyggere. Derpå rettede de kameraet mod Inuit-hovedstaden Iqaluit. MOSCOW er det fjerde videoportræt.
As dusk approaches, the audience enters a circus tent. Inside, on several moving screens, a unique portrait of Moscow – the new Las Vegas of Europe – unfolds. There is not a soul from the circus in sight. Only the orchestra remains to provide a live soundtrack for the multi-screen film.
"The subtle selection of images and the editing make Moscow a real gem." De Morgen, May 2009
MED STØTTE FRA: De Vlaamse Gemeenschap
Concept: Berlin [Bart Baele Yves Degryse, Caroline Rochlitz]
Soundtrack: Benjamin Boutreur
Violin: Wim Lauwaert & Sterre de Raedt
Viola: Natalie Glas
Cello: Katelijn Vankerckhoven
Piano: Joachim Saerens
Production: BERLIN
Co-production: STUK / 30CC [Leuven, BE]; Kunstenfestivaldesarts [Brussels, BE]; Theater op de Markt / Zebracinema [provincie Limburg, BE]; Pact Zollverein [Essen, DE]; Festival TEMPS D'IMAGES 2009 / La Ferme du Buisson [Scène Nationale de Marne-la-Vallée, FR]; Festival a/d Werf [Utrecht, NL]; Göteborgs Dans & Teater Festival [Göteborg, SE]; steirischer herbst festival [Graz, AT]; Alkantara [Lisbon, PT]; TNBA [Bordeaux, FR]
Supported by: VAF; The Flemish Government; The Culture Programme of the European Union [NXTSTP]; City of Antwerp