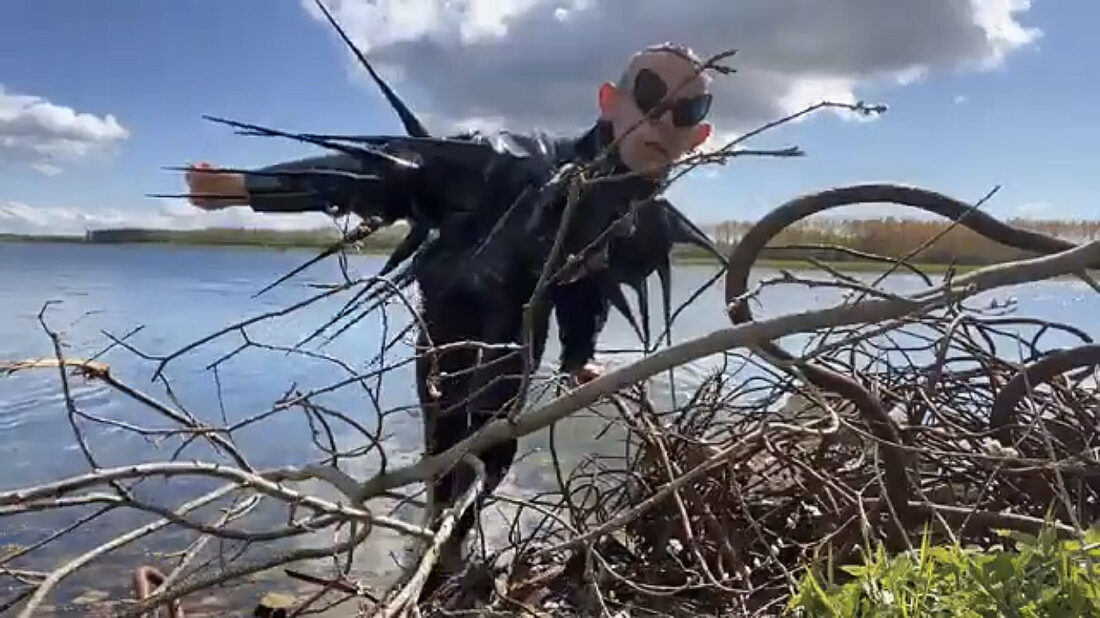 5 May: Michiel Tange Van Leeuwen
TIME: 5 May 10.00-22.00h
CATEGORY: Circus and visual artist
DOCUMENTATION: See below
Social distancing
I have made a jacket that expresses 'social distancing'. After noticing people's reluctance to keep their distance in the supermarket, I considered sewing measuring tape on my jacket. Instead, I started sewing an abstract version of this concept. And now I want to take this jacket out on the street to test its effect.
At first glance, the jacket resembles something in-between an oversized insect and an alien with streamlined extensions that draw a sharp silhouette.
The design literally ensures a physical distance to the surroundings, if not it just deters with its appearance. It is a picture of how the design of our outerwear can adapt to a state of extreme contagion. As a survival mechanism.
I want to explore and report on what it's like to move through nature and architecture with this jacket on. What movement patterns become natural in this state? Are you hampered in your movements, or can it give you a sense of security? What is it like to meet other people on the street when you look like a mutated hedgehog?
ABOUT THE ARTIST
I was born and raised in the Netherlands. I moved to Copenhagen to train as a contemporary circus artist and have lived here ever since. My work manifests itself primarily through movement, but I have always had a need to express myself visually as well. An important part of my artistic practice is the design and manufacture of costumes. In recent years, I have also immersed myself in the Ballroom culture (voguing) – an activist underground movement that fights for the rights and visibility of LGBT people.