24 June: Louka Anargyros
My recent exhibition "Power Bottom" at Copenhagen Contemporary, was a floor installation consisting of 550 replicas of my own raised fist. It was a piece that the public was invited to walk into and touch. For a minimum of 300 kroner, visitors could take one of the hands home. All profits from the show went to improving the living conditions of the refugee families at the deportation centre Sjælsmark.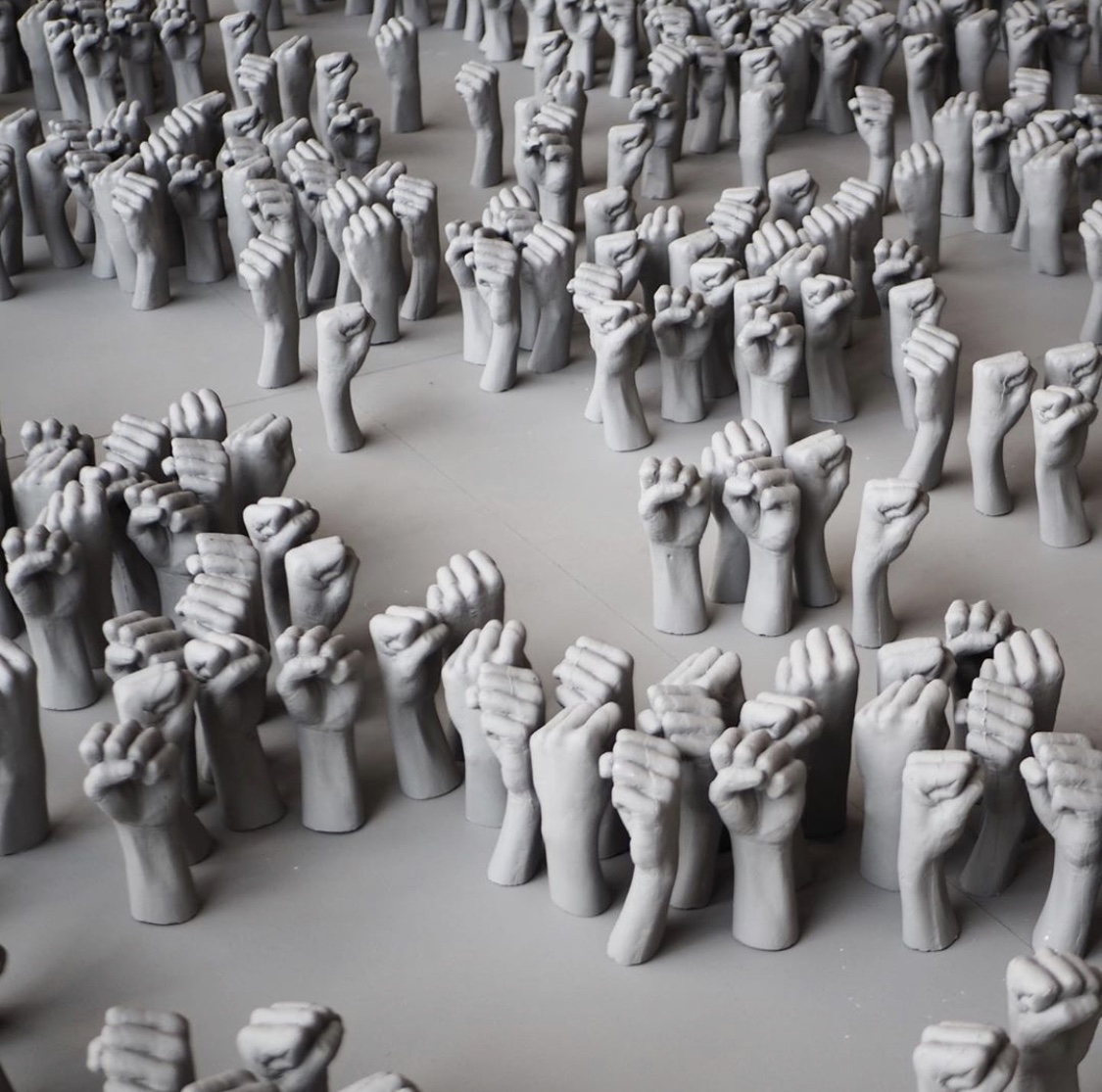 Visually, the installation conveys an idea of protest and resistance, and I have drawn a lot of satisfaction from the fact that the art piece was more than just commenting on the situation and raising awareness. It was activated and was having direct positive consequences.
For Wa(l)king Copenhagen, I have decided to continue to explore blurring the lines between an activist practice and an art practice. My work will consist of a 12-hour performative walk during which I will be raising donations for Together We Push, an organization working to improve life at Sjælsmark.
Since the closing of «Power Bottom» in October, the sculptures have been up for sale in Copenhagen Contemporary's shop. Since the beginning of the worldwide health crisis, the donation sales have stopped, and the museum is still closed. 
I will depart from Nørrebro at noon with a backpack filled with as many sculptures as I possibly can carry, and my route will create a web in-between the home addresses of the people who will order a sculpture, eager to make a donation.
As the day progresses, the weight on my shoulders will get lighter, enabling me to walk further away from the centre of the city. Depending on the amount of orders, there will be a time when my walk will head towards the airport through the coast after I am done with deliveries. I will install different installations in nature with the remaining fists. Both the coast and the airport are meaningful as borders. The beach as a physical border, the airport as the ultimate constructed border.
Following me online that day, you will learn more about the project, hopefully getting to meet some of the people making a donation who would be willing to share their thoughts, and you will see video documentation of temporary installations in the public space.
I encourage anyone who would like to donate and get a sculpture delivered to their door (or someplace else) to reach out to me preferably in advance, already from now, or spontaneously on the day of the walk. I can be reached through instagram (@louka_anargyros) or via email (loukaanargyros@gmail.com).
The sculpture will be delivered to you on the day of the walk with absolutely no obligation to appear on camera or to even meet.
Let's do this together.
DOCUMENTATION JUNE 24
FILM
12.00 h
13.00 h
14.00 h
15.00 h
16.00 h
17.00 h
18.00 h
19.00 h
20.00 h
21.00 h
22.00 h
23.00 h
24.00 h
ABOUT THE ARTIST
Louka Anargyros (born in 1992 in Paris) is a French artist working and living in Copenhagen, Denmark. He is primarily a sculptor, and his practice often revolves around the fields of queer politics, exile and intergenerational trauma, usually with a strong focus on craftsmanship and the confrontation with materials. In recent years he has been interested in exploring how activism can penetrate art practice and vice versa.
Louka Anargyros graduated from the School of Language, Space and Scale and the School of Sculpture Charlottenborg at the Royal Danish Academy of Fine Arts in 2018 after a bachelor degree at Paris' École Nationale Supérieure des Arts Décoratifs.
Previous exhibitions include Power Bottom and Leatherboys at Copenhagen Contemporary and Bestseller at Galleri Bo Bjerggaard (2019).